The One Question Megan Fox Doesn't Want You To Ask About Her Kids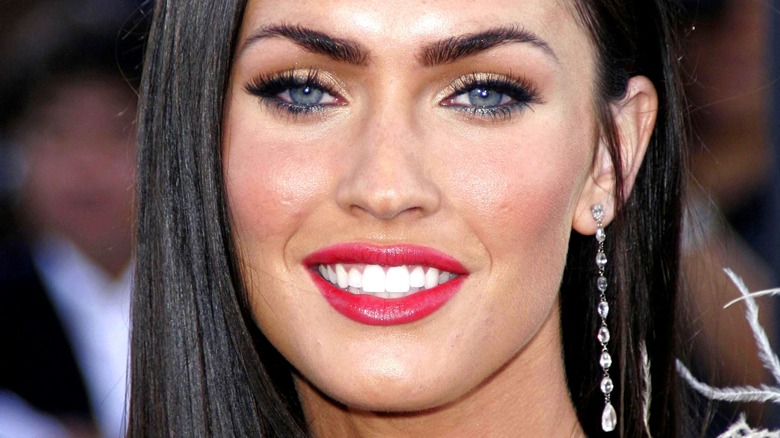 Everett Collection/Shutterstock
Megan Fox is a mom to three children whom she shares with her ex-husband, Brian Austin Green. Fox previously told Entertainment Tonight that getting pregnant was "the first real breakthrough where my consciousness shifted and my mind opened up." She went on to explain how having her kids really changed her. "I was able to see from a bird's eye view and [breathe] and take it in. And then another kid, and then another kid, and with every kid, I feel like that's always been the doorway into a better version of myself," she explained.
Fox and Austin welcomed their son Noah in 2012. After spending a couple of quiet weeks at home as a family of three, Fox shared a post on Facebook announcing the arrival of her baby boy. "He is healthy, happy, and perfect. We are humbled to have the opportunity to call ourselves the parents of this beautiful soul and I am forever grateful to God for allowing me to know this kind of boundless, immaculate love," she wrote (via The Hollywood Reporter). Two years later, son Bodhi joined the family, and, in 2016, son Journey made them a family of five. 
Fox and Green split in 2020 and have co-parented their kids ever since. The former couple has done their best to keep the three boys off social media and out of the public eye — and there's one question in particular that Fox wants people to stop asking when it comes to her kids.
Megan Fox is tired of people asking where her kids are
In October, Megan Fox fired back at a fan who commented on one of her Instagram posts asking where her kids were. "Wait wait wait. I ... have kids?!? Oh my god I knew I forgot something!! Quick, someone call the valet at the Beverly Hills Hotel. That's the last place I remember seeing them. Maybe someone turned them into lost and found," Fox wrote in a sarcastic response (via Entertainment Tonight). The post has since been deleted as Fox eventually wiped her Instagram clean. 
Interestingly, this wasn't the first time that Fox has spoken out about people asking this particular question. In an interview with InStyle in July 2021, Fox talked about being asked where her kids are whenever she's out. She mentioned the double standard about how her ex isn't asked where his kids are when he is out, but she's always expected to be with her brood. "I have to leave and sometimes I don't want them photographed and they don't come with me. This whole year I've been very surprised by how archaic some of the mindsets still are in some people," she said. 
Megan Fox & Brian Austin Green co-parent their kids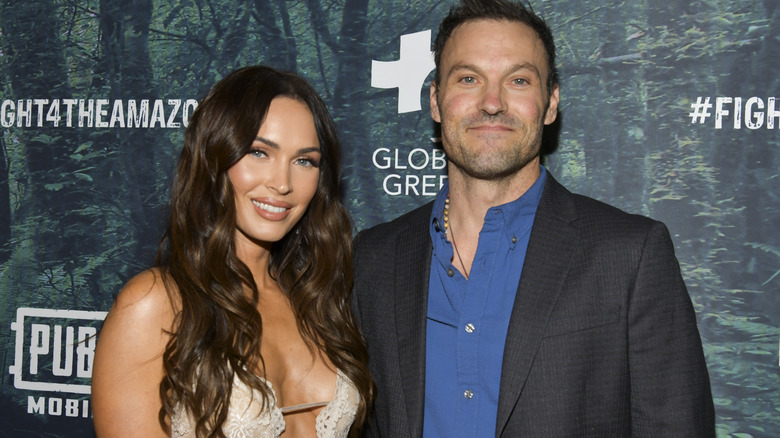 Rodin Eckenroth/Getty Images
Since their split, Megan Fox and Brian Austin Green have been dedicated to co-parenting their three kids together. Although both parties have moved on romantically — as of this writing, Fox is engaged to Machine Gun Kelly, while Green is dating and has a child with "Dancing With the Stars" pro Sharna Burgess — the former couple seems to have figured out how to ensure their boys are well cared for. "We co-parent really well together," Green told E! News in October 2022. "We don't fight over time with the kids. We try and alternate holidays between Christmas Day, Christmas Eve, but we're open to things changing. I'm very aware of — and so is she — that our schedules are insane. So when we do get time, cherish it. It's an amazing thing and we support the other parent having time," he added.
Fox and Green have also proudly blended their families, which makes a much easier transition for the kids. "Megan, MGK, Brian, and Sharna are all cordial," a source told Entertainment Tonight in October, adding that "Megan and Brian have a healthy co-parenting relationship."