Vanderpump Rules: When Did Schwartz & Sandy's Finally Open?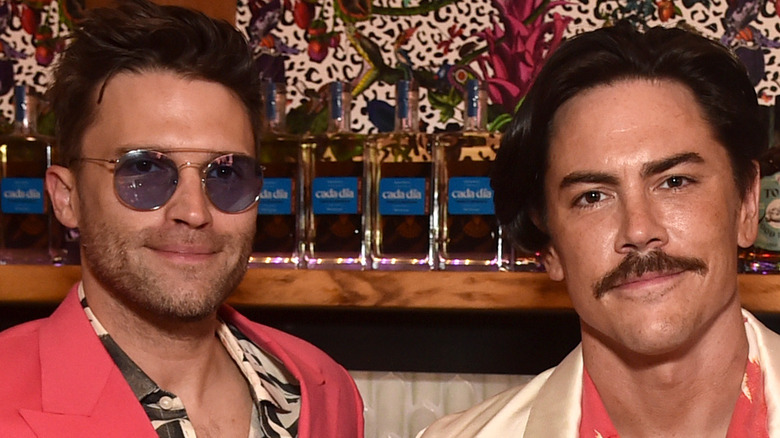 Alberto E. Rodriguez/Getty Images
In the latter seasons of the hit reality show "Vanderpump Rules," much of the plot was dedicated to Tom Sandoval and Tom Schwartz's plans of opening their very own bar. It wasn't a rash decision, as the two already have experience running their own business. In 2018, they opened a restaurant called TomTom, which was a joint venture with their former boss, Lisa Vanderpump.
But the best buds insisted that they wanted to have something they could truly call their own, leading them to kickstart a brand new venture: a bar named after them, Schwartz & Sandy's. Speaking with Andy Cohen in January 2022 Schwartz described their bar as "a funky, vibrant, cozy dive lounge nestled under the Hollywood Hills in one of my favorite parts of Hollywood, Franklin Village," which would serve "some playful, fresh cocktails." At the time, they were pegging the opening date to be sometime in spring 2022, and even boasted that they were "currently below budget." They also said that they made the project their top priority. "We are working on the project every single day. We love it," Sandoval shared, with Schwartz noting, "It's intense, though, and I kinda need a hug, but we love it."
But, come spring 2022, Schwartz & Sandy's still wasn't open. What gives?
Schwartz & Sandy's opened in late 2022
Tom Sandoval and Tom Schwartz's bar, Schwartz & Sandy's, opened in 2022, but it didn't happen in spring 2022 as they had anticipated. At BravoCon 2022, Sandoval revealed that it took them a long time to set it up due to a series of unforeseen setbacks.
"There's always things that come up," he shared. "There's things that you know, that you don't know. Then there's things you don't know you don't know. One of the things we didn't know we didn't know is how hard it is to find back-of-the-house staff, cooks, right now. So that has slowed us up."
Luckily, they were able to find solutions to those road bumps, and come November 2, 2022, Schwartz & Sandy's was finally open to the public. "The day has finally arrived," a post from the bar's official Instagram account read. "We open tomorrow [November 2] at 5 pm. We will be open Wed, Thurs, Fri and Sat at 5 pm. Accepting walk ins and reservations." Meanwhile, in Schwartz's Instagram post about the launch, he described the process of opening a bar as "a nightmare & a dream Come true all rolled into one."
Schwartz & Sandy's almost ruined Tom Sandoval and Tom Schwartz's friendship
While Tom Sandoval and Tom Schwartz were able to manage to open the bar of their dreams, they did admit that it put a strain on their friendship — to the point that they almost turned their backs on one another.
"It put our friendship to the test," Schwartz revealed on the "Scheananigans with Scheana Shay" podcast. "Because opening a bar or restaurant, it's an all-consuming, ever-demanding, unrelenting process," he shared. Luckily, they were able to work it out by communicating properly. "We're very good at letting the other person talk and just listening ... I probably should've done that with Katie," Schwartz noted.
Speaking of Katie, Schwartz's ex Katie Maloney blamed the Schwartz & Sandy's for the demise of their marriage. "I'm trying to be excited for Tom, but this bar has a very complicated history," she said in an episode of "Vanderpump Rules," adding that the bar "put a massive strain on our relationship." And, even though no third party was involved in their divorce, Maloney said that the "bar was the other woman in our marriage." However, Schwartz was adamant that he didn't prioritize the bar over his ex-wife. "I just don't want you to ever think that I chose this place over you because I didn't," he told Maloney. But, in his confessional, he made another stunning revelation: ""I'm so madly in love with this whole bar, this lounge, the concept, but sometimes I ask myself, 'Was it worth it?' and I don't know.""