Inside Tom Sandoval And Tom Schwartz's Friendship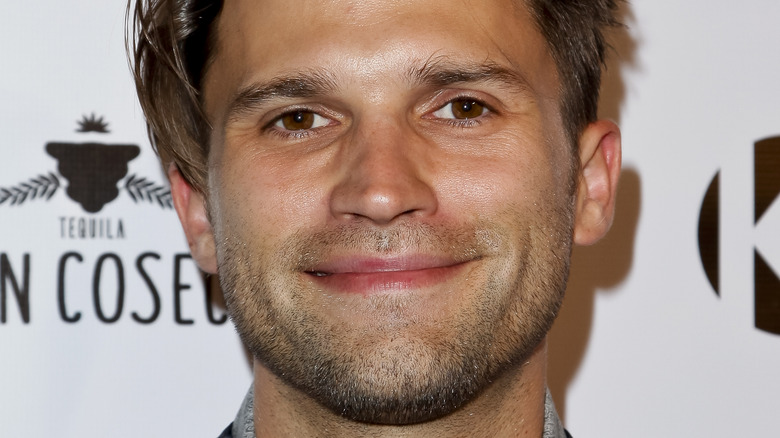 Tibrina Hobson/Getty Images
Since "Vanderpump Rules" first premiered in 2013, the bromance between Tom Sandoval and Tom Schwartz has burned bright. They probably had the least dramatic, tightest, and most consistent relationship of the cast. As any fan knows, the restaurant employees had seemingly jumped into co-worker relationships at one point or another, inevitably resulting in tears, feuds, and fights.
"You're all sleeping together; what am I going to do? Fire the whole company?" Vanderpump asked in the trailer for the show's premiere. However, Sandoval and Schwartz always had each other's backs. They offered a Prada jacketed shoulder to cry on, even when the going got tough. There were the inevitable hiccups along the way; still, for the most part, Tom Tom enjoyed the most enduring and endearing love story of all.
Their bromance often usurped the romance between Schwartz and his wife, Katie Maloney, and Sandoval and Ariana Madix's relationship. In the end, though, the guys' friendship managed to outlast Schwartz's marriage. Maloney went public with their divorce in March, announcing they were splitting after twelve years together. Maloney posted a statement on Instagram. "This ending is not met with resentment or animosity, no sides to choose," she wrote. Maloney claimed they'd always stay close and retained a "deep admiration" for each other. The bromance between the Toms lives on, however, and it's even more robust than ever. The ups, the downs, and all the goof-arounds — we're taking you inside Tom Sandoval and Tom Schwartz's friendship.
Tom Sandoval and Tom Schwartz's friendship isn't just for the cameras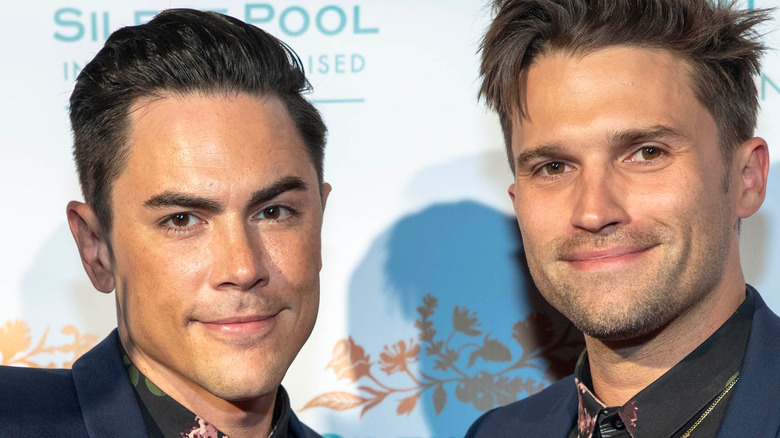 Eugene Powers/Shutterstock
Tom Sandoval and Tom Schwartz's friendship started before filming "Vanderpump Rules" as they shared an apartment with Jax Taylor. However, Taylor was the third wheel as it was all about Tom². Their bromance really blossomed after Schwartz became a full-time cast member in Season 3. The bartender had previously featured mainly as Katie Maloney's boyfriend and Sandoval's BFF roomie, and the cameras offered a peek into the chaotic and cluttered bachelor pad they shared together.
"It's so funny because, even before the world saw that apartment, that was after a makeover," Sandoval said of his dingy little apartment (which Ariana Madix's brother Jeremy Madix now inhabits, per Bravo) in an interview on the "So Bad It's Good with Ryan Bailey" podcast. 
Sandoval went on to explain his strong and genuine bond with Schwartz to podcast host Ryan Bailey.  Sandoval confirmed that he and Schwartz are just as tight off-camera as on; they're like the Ben Affleck and Matt Damon of reality TV. "The reality is that we're very, very, close," he told Bailey. "We text numerous times throughout pretty much every single day. We're very, very, very close." But, now that the two have enjoyed the fame of "Vanderpump Rules" over the last decade, will Sandoval and Schwartz's friendship continue to grow?
Tom Sandoval and Tom Schwartz mean serious business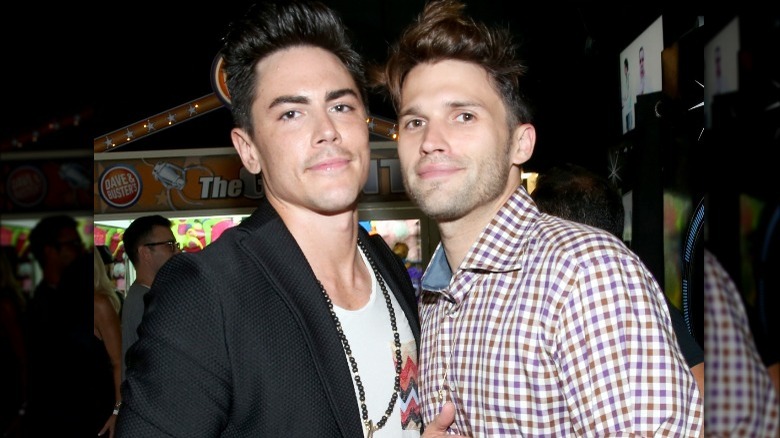 Mark Davis/Getty Images
Tom Sandoval and Tom Schwartz's friendship is so strong they've gone into business. After working as junior business partners with Lisa Vanderpump at TomTom, Sandoval and Schwartz sought to open a bar and lounge in North Hollywood's Franklin Village called Schwartz & Sandy's, per Bravo.
The couple's plans were delayed due to the COVID-19 pandemic after all of Hollywood went into lockdown, and the hospitality business was forced to shut its doors. However, Tom² still managed to stay together and nurture their bromance. And, it clearly proved testing at times for Katie Maloney to be stuck playing second fiddle to her husband and his BFF. "[Schwartz] is doing a photo shoot for no reason," she revealed on her podcast "You're Gonna Love Me" in 2020, via Bravo. "Just him and [Sandoval] taking photos. I think it's like, their engagement shoot or something. His husband."
It looked like trouble was brewing for Tom² after Sandoval and Maloney locked horns over the concept and name for the two Toms' new business venture. For a hot minute, it looked like Schwartz would be forced to pick a side. However, following his split from Maloney — confirming what we all suspected about their marriage woes — it was back to bromance as usual for Sandoval and Schwartz once again.