Why Beyonce And Jay-Z Kept Their Wedding A Secret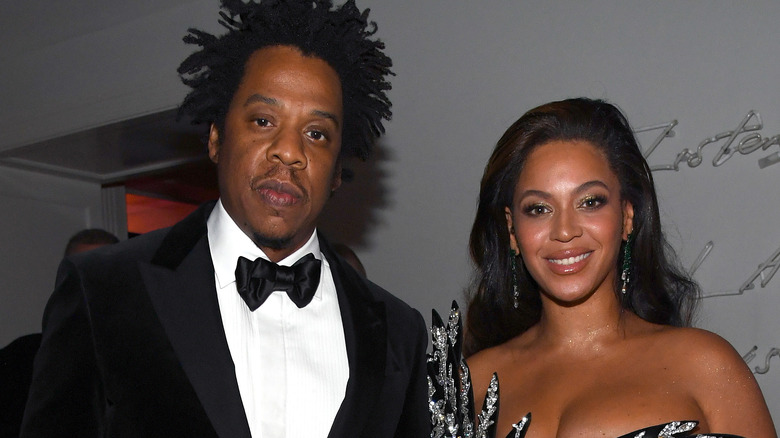 Kevin Mazur/Getty Images
Beyoncé and Jay-Z's relationship has dominated headlines since the early 2000s, sparking romance rumors long before they were official. Later, their musical collaborations such as "Crazy in Love" and "'03 Bonnie and Clyde" only increased the public's interest. And while it was hard to get either star to admit to a relationship at the time, Beyoncé later cleared up the timeline during a 2008 interview with Seventeen. "I was 18 when we first met, 19 when we first started dating," shared Beyoncé, which means they started dating around 2001. 
Recent years have seen the couple reach unparalleled levels of fame, which has only left the world wanting to know even more about their courtship. With that said, the musically inclined pair have managed to maintain a somewhat reasonable veil of privacy around themselves and their three kids — at least until they felt like sharing more. Of course, we're talking about the 2016 album "Lemonade," where Beyoncé made the shocking revelation about Jay-Z's cheating, which he later seemingly confirmed on his own album, "4:44."
Unfortunately, Bey and Jay's wedding, which occurred on April 4, 2008, came years before they started opening up to their fans. Instead of throwing a big, luxurious affair covered by every news outlet, the power couple decided to wed in secret. And while their fans would have likely loved to have been able to follow along with every detail, they had a great reason for keeping their wedding under wraps. 
Beyoncé is reportedly not 'traditional'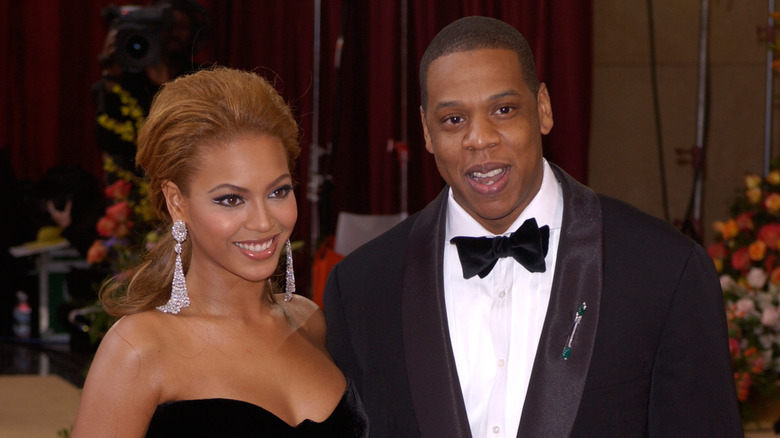 Featureflash Photo Agency/Shutterstock
It goes without saying that a wedding between two of music's most famous stars would generate a ton of press. However, Beyoncé and Jay-Z's wedding garnered a whole new level of attention — largely due to their efforts to keep things low-key. The world first caught wind of their plans when various outlets, including Today, reported that the couple had obtained a marriage license on April 1, 2008. And while the couple didn't immediately confirm the news, People reported weeks later that the musicians threw a small yet lavish ceremony in Jay-Z's penthouse in front of 40 of their nearest and dearest. "It was a very emotional wedding — lots of crying — and really very spiritual," shared an anonymous guest. 
Months more would pass without either party offering up an official confirmation, although Jay-Z alluded to their union in August of that year. "I just think it's really a part of your life that you gotta keep to yourself," Jay-Z shared with Vibe (via NBC New York). "You have to have something sacred to you and the people around you. I shared so much of my life... I should have something to hold on to." Two months later, in October, Beyoncé finally admitted to marrying Jay-Z while speaking to Essence, sharing that their wedding was small because she wasn't a "traditional" woman, who needed a big spectacle of a wedding. "It's been my day so many days already," said the singer (via MTV).
Beyoncé and Jay-Z's wedding isn't so secret anymore
Beyoncé and Jay-Z might have originally gone to great lengths to keep their wedding under wraps, but it's not much of a secret any more. Over the years, the famous pair have shared glimpses of their big day with their millions of fans. For example, Beyoncé first included footage of their wedding in the visuals for their 2014 "On The Run" tour, as reported by Hello! The next year, Jay-Z shared similar footage in a now-deleted Instagram post, commemorating their seventh wedding anniversary. Beyoncé also included brief imagery from their wedding in her 2016 video for "All Night," as part of her "Lemonade" album.
And while it's great that Bey and Jay have become more comfortable with sharing their special moments with their fans, they aren't the only ones who've given fans a closer look into their relationship. In 2020, Beyoncé's mom, Tina Knowles posted a super sweet snapshot of their wedding to her Instagram. "Happy anniversary to Bey and Jay. it seemed like yesterday these guys walked down the Aisle. Those are my arms fluffing her dress!!!" Knowles wrote. "Such beautiful memories of that day now it's twelve years later ! Three gorgeous babies later and love still prevails."