Tom Brady And Gisele Bündchen's Son Benjamin Isn't Interested In Football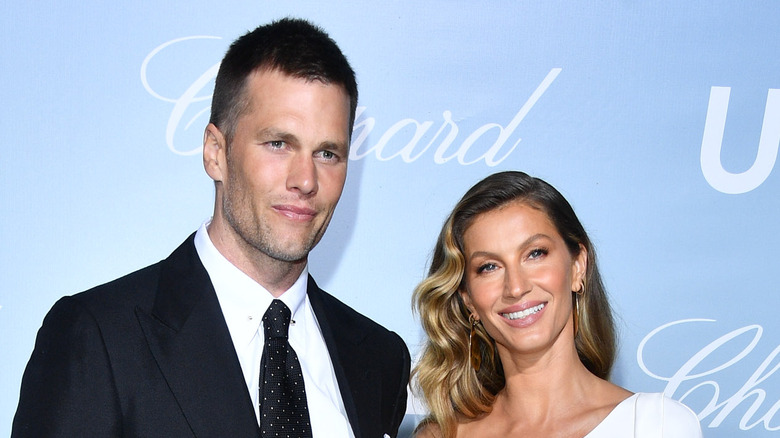 George Pimentel/Getty Images
There's no shortage of children at Tom Brady's house. The Brady bunch includes his son, Jack, who he shares with his ex-girlfriend, Bridget Moynahan, and Benjamin and Vivian, who he shares with ex-wife Gisele Bündchen. It's a safe bet that the only thing Brady loves more than football is his brood, as his Twitter bio says, "Family and football." And throughout the years, the athlete has offered fans a glimpse of his family life across his social media accounts.
When the star quarterback and his wife divorced in October 2022, the two made it clear that they were focused on putting their differences aside to raise their children. "We are blessed with beautiful and wonderful children who will continue to be the center of our world in every way," Brady said in a statement posted to his Instagram story about the divorce. "We will continue to work together as parents to always ensure they receive the love and attention they deserve."
After announcing that he was retiring "for good," Brady has been spending a lot of quality time with his three little ones. He recently took Jack, Benjamin, and Vivian on a snowy adventure, capturing the kids playing in the snow and sledding down hills on his Instagram story. The former football player also spent some one-on-one time with his daughter, taking her to her horseback riding lessons. But because their father is a star football player, people have wondered if his children will follow in his footsteps — becoming professional athletes in their own right.
Tom Brady had a hard time accepting his son Benjamin's disinterest in football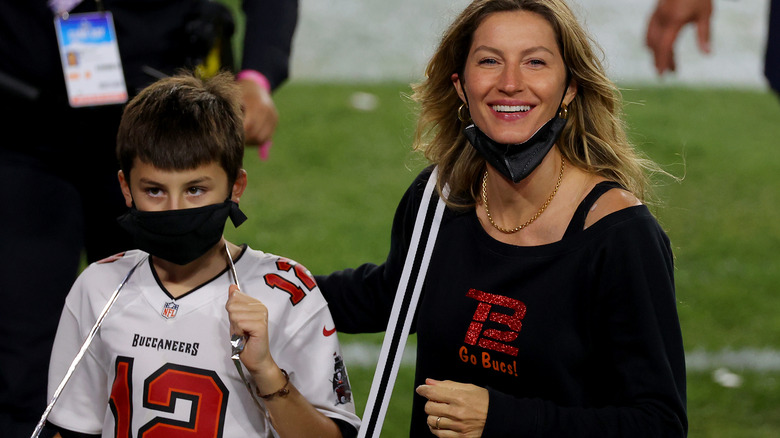 Kevin C. Cox/Getty Images
According to ESPN's "Man in the Arena" special, Tom Brady and Gisele Bündchen's first child, Benjamin, was delivered in their home. At first, the former NFL quarterback didn't like the idea of home birth, but Bündchen managed to convince him. "Me being there with G at his birth in our home, it lives in my mind," he said. "I think we brought this boy into the world in the most precious way."
But it seems that Benjamin isn't interested in football. "When Benny came along, I thought he would be just like Jack," Brady told Men's Health, indicating that Jack might carry on his professional sporting legacy. The star quarterback admitted that it was difficult for him to grasp that Benjamin isn't interested in the sport, but now he has a newfound love for those differences. "The reality is that Benny just likes different things," he continued. "And it's great because now I just have to go do what he wants to do."
Although Benjamin has different career aspirations than his father, Brady is still a proud father. "Happy 13th birthday to the newest teenager," the former New England Patriots quarterback captioned his son's birthday post in December 2022. "You are so special and loved. There is no greater gift than being your dad. We love you so much Benny."
Tom Brady's son Jack is on the path to continuing his father's legacy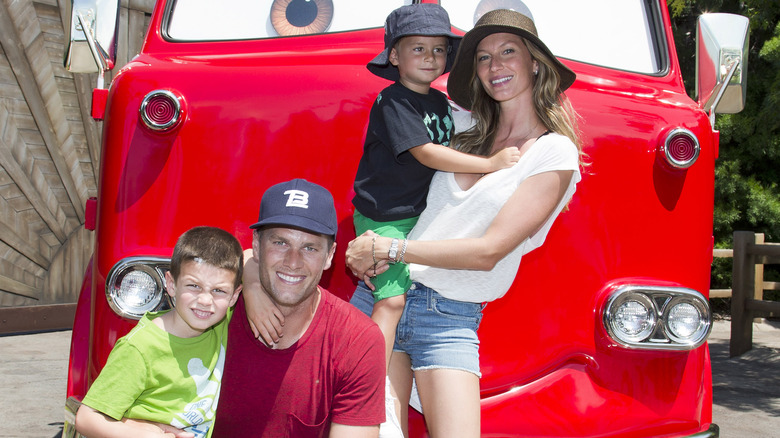 Handout/Getty Images
In 2018, Tom Brady admitted that he feels like his three children only watch football because he plays it. "My oldest son Jack really loves soccer," he told People. "He wants to be an Olympics soccer goalie." He also revealed that Benjamin was into hockey, indicating that his son is still a sports fan — even if it's not football.
The former Tampa Bay Buccaneers quarterback mentioned on the October 3, 2022, episode of the "Let's Go!" podcast that Jack has taken an interest in more sports other than soccer, which includes American football. "I don't give a s*** how well he does," he said, adding that he loves how his son has taken an interest in team sports, specifically. "I just love watching him and seeing him enjoy it with his friends and the camaraderie at a young age."
In August 2021, Brady took to his Instagram stories to show that Jack attended Buccaneers practice. "Got a new ball boy this week," he wrote in one of his stories that day. After rumors suggested that the quarterback's son was employed by the NFL team, it was explained that Jack was just helping out around the field as he was a special guest at team practice.