Ex-NFL Running Back Peyton Hillis Breaks Silence On His Recovery After Near-Fatal Drowning Rescue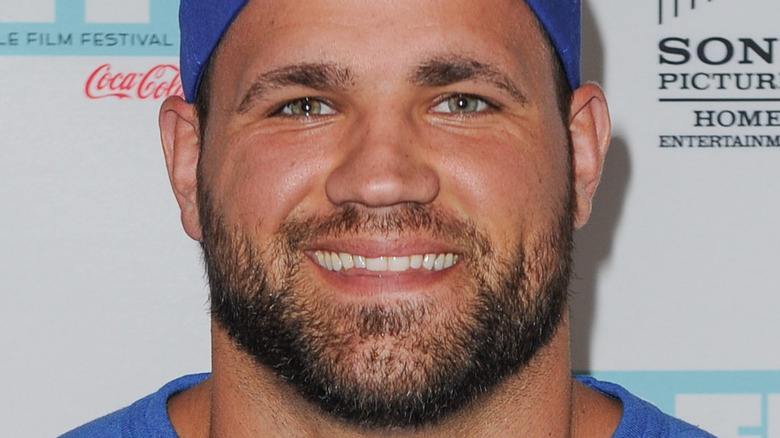 Ernesto Di Stefano Photography/Getty Images
On January 4, Peyton Hillis underwent a horrifying ordeal after saving his two children from drowning on a beach in Pensacola, Florida. KNWA first reported that the former NFL running back was able to retrieve his children but was unconscious afterward and had to be airlifted to a nearby hospital. The following day, Hillis' uncle, Greg Hillis, shared that while the football player was doing better, he was still in the ICU and was having issues with his kidneys and lungs.
Two weeks later, Hillis' sister, Hayley Davis, shared on Facebook that he had been released from the hospital and was on the mend. "All I can say is GOD HAS BEEN SO GOOD TO US!! Peyton was discharged today from the hospital!!!!!!!!!!!!! Everything health wise is looking good and has all improved — truly a miracle!!" she wrote. Davis described being out in the water, her mother pulling her out, and seeing Hillis unmoving on the sand. "I just kept praying that Peyt would be ok and I'm so happy to say Yahweh provided," she stated. Now that the near-fatal accident has been put behind them, Hillis took to social media to express his gratitude.
Peyton Hillis is thankful for all the support he's received since his hospitalization
In what could have been a tragic incident, Peyton Hillis was able to make a full recovery after nearly drowning during a vacation with his family. Following his sister Haley Davis' post on Facebook, Hillis gave fans an update of his own. "I just wanted to come on here and thank everyone for all the prayers and love y'all have given me. It's really made all the difference. I also want to thank my brave sister, mother, sister in law, my kids, and my girlfriend who has saved my life in more ways than one," he tweeted. Hillis went on to thank the staff at the Pensacola, Florida hospital for taking "such great care" of him. He explained why he has avoided the press regarding his near-drowning. "I haven't taken any interviews on this because I'd like to keep my family out of the public eye because it was a very traumatic time for us," he wrote.
Although he didn't allow any reporters in the hospital, Hillis did open his doors to a fellow pro football legend. Emmitt Smith shared a picture of him paying a visit to Hillis. "I had the opportunity to visit a recovering hero this week, Peyton Hillis. Stay strong Peyton! Praying for you, your family and wishing you a speedy recovery," he captioned. Hillis received many well wishes from fans and football players alike, and thankfully he is expected to make a full recovery.