Courtney Love And Her Daughter Frances Bean Cobain Have A Dicey Relationship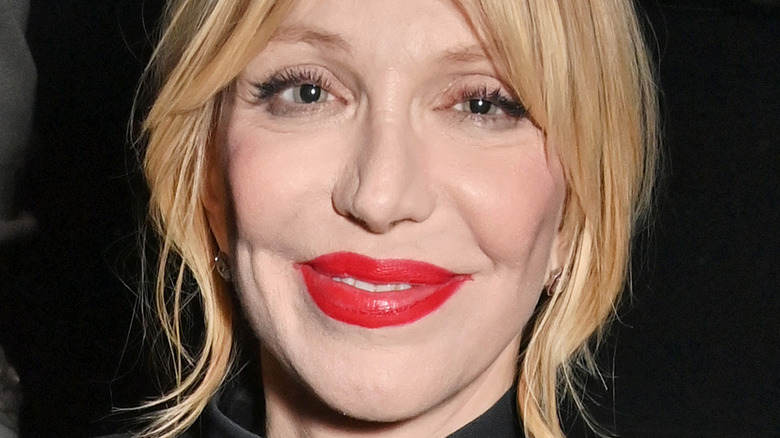 David M. Benett/Getty Images
This article includes allegations of drug misuse and of child abuse. 
Frances Bean Cobain has dealt with more than her fair share of tragedy throughout her 30 years. It's not exactly surprising, then, that when it comes to her relationship with her mother, Courtney Love, things have almost always been a little dicey. So, what do we know about the ups and downs they've gone through?
Public speculation over Frances' well-being began back in 1992, shortly before her birth. While Love was still pregnant, Vanity Fair interviews regarding Love and her late husband, Kurt Cobain, featured commentary from insiders who alleged she'd been using drugs during her pregnancy. One source claimed to have spent time with the then-expecting couple and said they were on a drug binge. "It was horrible ... [Love] was pregnant and shooting up," they said. Granted, another source said that while he was certainly concerned about the unborn child, Love, herself, had seemed adamant about stopping her use. "She wanted to get off drugs," he revealed. Yet another person corroborated that. "Lately, [Love's] been asking for help," they said. Even so, the widespread concern captured the attention of authorities, and at just two weeks old, Cobain and Love lost custody of their daughter.
Frances was ultimately reunited with her family, but that was just the beginning of her rollercoaster formative years. From her father's death to yet another custody issue, she went through a lot ... and at times, that's led to a not-so-great relationship with her mother.
Frances Bean was present for her mother's overdose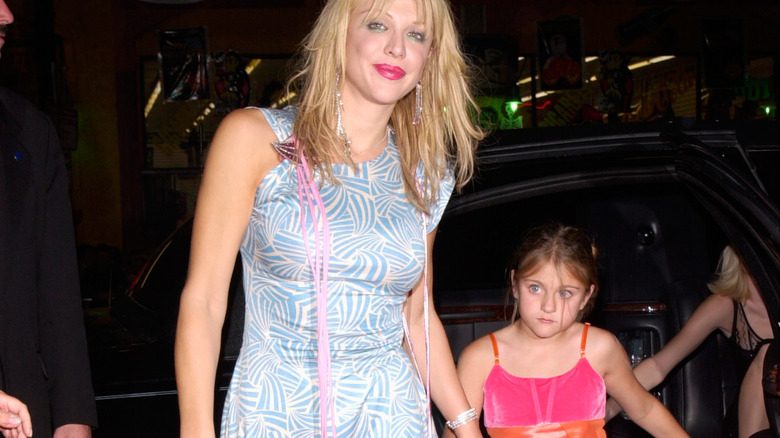 Featureflash Photo Agency/Shutterstock
Sadly for Frances Bean Cobain, her experience of being removed from her parents' care wasn't a one-time thing. In fact, just over a decade after she was removed from Kurt Cobain and Courtney Love's custody, it happened again. 
Back in October 2003, Love came into contact with authorities not just once, but twice, within the space of a few hours. First, she was arrested for allegedly trying to break into the home of a friend, while reportedly on drugs. Then, shortly after her release, she called 911 for assistance with an overdose. As a result, in the weeks that followed, Love lost custody of Frances for a second time. Ahead of one of the custody hearings, Love revealed to People that Frances had been with her at the time of the overdose ... and that by keeping her informed throughout the ordeal, she "made it fun." However, Love also pointed out that it was the first time Frances had seen something like that. "That's the only time my daughter has ever, ever, ever pitched in on one of my little crises," she claimed. 
That may be so, but it certainly left a mark on Frances. In an episode of "RuPaul What's The Tee?" more recently, she revealed, "Some kids were like, 'F*** I didn't do, like, my essay,' and I'd be like, 'F***, I had to call the paramedics [to get] my mom's stomach pumped last night!'" (32:25). 
Bean ultimately sought emancipation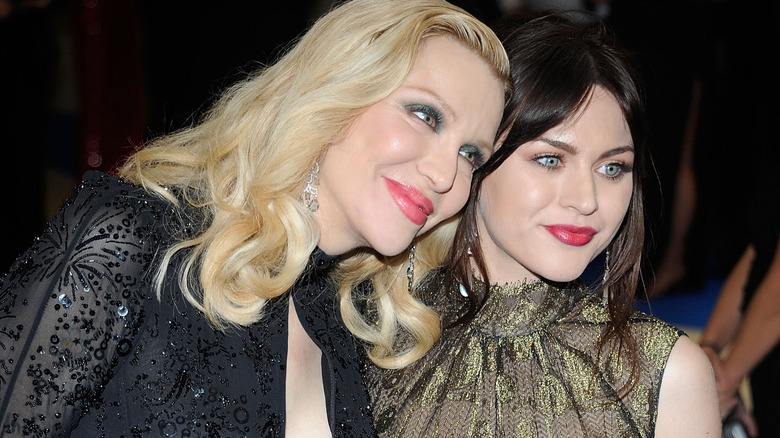 Rabbani And Solimene Photography/Getty Images
Frances Bean was ultimately returned to Courtney Love's guardianship in 2005, but once again, it was short-lived. However, in 2009, it was Frances who made the request to live with relatives on Kurt Cobain's side of the family. Though the reasons for her request weren't widely known at the time, there was some more clarification in 2012 when Frances was a legal adult.
According to court documents published by The Fix (via MTV), Frances had a lengthy list of complaints against her mother. For starters, she claimed that Love's neglectful behavior had killed two of her pets, with the careless placement of medication poisoning one, and piles of belongings smothering the other. But, it wasn't just the animals' welfare Frances had been concerned about. On top of Love's own constant use of prescription medication, Frances also noted that Love had a terrifying habit of smoking in bed ... and falling asleep while doing so. "I am constantly worried that she will start a fire (which she has done at least three times) that will threaten our lives," she said, according to the published court documents. 
Sadly, we're still not sure these two are in a great place. Sure, in 2019, Cobain told RuPaul that her mother, if at times misguided, was "a really good person" (28:16). At the time of writing, however, neither follows the other on Instagram. And, while Frances has posted pictures of her late father on occasion, the same can't be said for Love. 
If you or anyone you know needs help with addiction issues, help is available. Visit the Substance Abuse and Mental Health Services Administration website or contact SAMHSA's National Helpline at 1-800-662-HELP (4357).