Lizzo's Stage Name Has Nothing To Do With Jay-Z (Despite What You've Heard)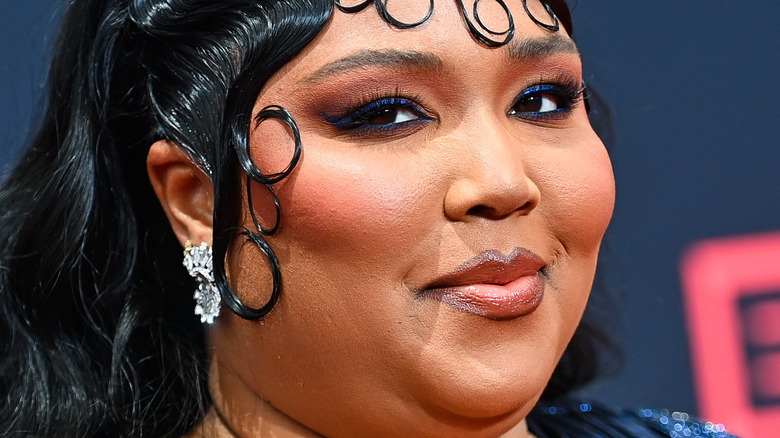 Paras Griffin/Getty Images
In recent years, Lizzo has become one of the most well-known names in the music business. As of 2023, she has been nominated for 13 Grammy Awards and taken home four. Additionally, the performer has scored two No. 1 hits on the Billboard Hot 100 with the songs "Truth Hurts" and "About Damn Time." At the 2019 BET Awards, Lizzo discussed how she's achieved career success while being her authentic self. "I've just remained myself and true to myself. I never changed for the trends, I never tried to change myself because I didn't know who else I could be," Lizzo said to Access Hollywood. "And the fact that people are finally embracing me, it just goes to show, stay true to yourself."
In April 2022, as Lizzo debuted her shapewear line called Yitty, the singer shared an Instagram post honoring her late aunt, who started calling her "Yitty" in childhood. "Thank you for giving me the nickname Yitty," Lizzo wrote. "It used to be the nickname that made [me] yell at my brother sister when they teased me... and now it's the nickname that makes me feel proud. Its the nickname that makes me feel connected to my family." Lizzo's stage name is also a nickname that originated while she was growing up.
Lizzo's stage name stemmed from a middle school nickname trend
Lizzo's stage name began back in her childhood years. In a 2020 "CBS Mornings" interview, the singer clarified that her birth name is Melissa Viviane Jefferson and said her father dreamed about having a baby named Melissa before she was born. Furthermore, this middle name is an homage to Lizzo's grandfather, whose first name was Vivian. She went on to state that Lizzo emerged during her time as a middle school student, and it has no relation to Jay-Z's hit, "Izzo (H.O.V.A.)," although many fans have assumed this is the case. "Contrary to popular belief — everyone thinks that [name]  came from Jay-Z's song, but it did not," Lizzo said. 
In her hometown of Houston, the "Good as Hell" singer and her friends would put a unique twist on monikers, which is how her stage name came to be. "Me and my friends, we all had this thing where we would just put 'o' on the end of our names," she said before adding, "So I just went by Lisso." Eventually, her title evolved to Lizzo as the nickname "got real swagged out," Lizzo said. She's kept this nickname ever since.
Lizzo has another nickname from her significant other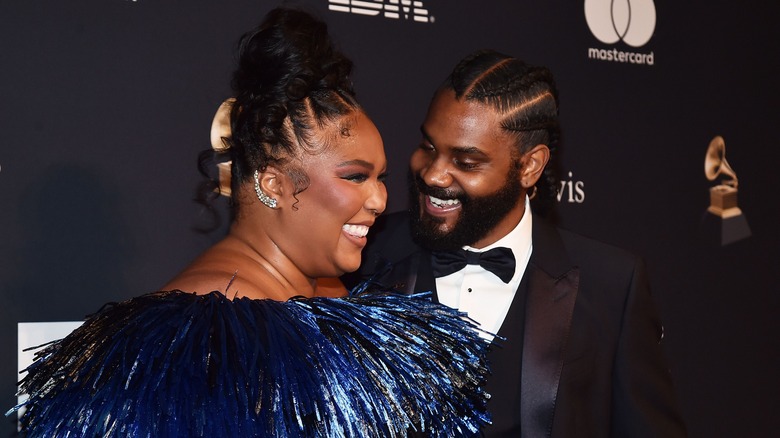 Alberto E. Rodriguez/Getty Images
Aside from her stage name, Lizzo has another nickname given to her by someone special. When she did an interview with "Audacy Check In" in September 2022, Lizzo expressed her affection toward her boyfriend, Myke Wright, and said he has a cute name for her. "Well, I am in love," Lizzo said. "He has his own name for me. He calls me Melly." Lizzo added that the name "is so cute" and confirmed that Wright is the only man who's called her Melly before.
This nickname was incorporated into the lyrics for one of her recent tracks on her latest album, "Special." In the song "2 Be Loved (Am I Ready)," Lizzo sings, "He call me Melly (Ayy), he squeeze my belly (Yeah)" as a reference to Wright's sweet nickname for her, per Genius. In addition, in the music video for the feel-good title track "Special," Lizzo plays two roles: a superhero, as well as a waitress who wears a name tag labeled with the name "Melly."