What Is The Real Meaning Of About Damn Time By Lizzo? Here's What We Think
Kevin Mazur/Getty Images
Lizzo is gearing up to share new music with the world. Her upcoming album, called "Special," will be released on July 15, writes Nylon. Lizzo's last album was 2019's "Cuz I Love You," which earned her a 2020 Grammy Award for Best Urban Contemporary Album, per the Recording Academy. She's kept eager fans happy with some singles, like the Cardi B collaboration "Rumors" in 2021. But on March 13, the fans' patience paid off when the pop star tweeted a pic of herself joyfully smiling in a studio. She added, "IM OFFICIALLY DONE WITH MY ALBUM YALL." 
A little over a week later, on March 22, she appeared on "The Late Late Show with James Corden" and opened up about her upcoming album, "Special." "Three freakin' years, baby, I've been working on this album. I feel amazing," Lizzo said. She played a sample of a track called "About Damn Time." Lizzo, Corden, and fellow guest Gabrielle Union couldn't help but get up out of their seats and dance along to the tune. She has since put out the full version of "About Damn Time," a feel-good bop about staying upbeat while emerging after trying times.
About Damn Time is all about feeling joyful after a time of transformation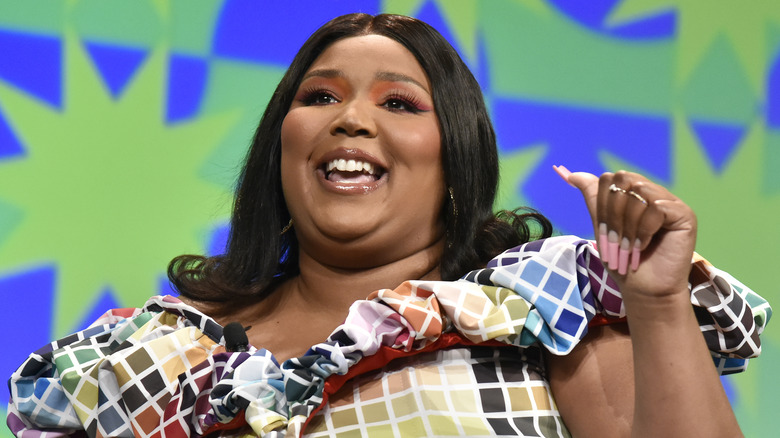 Tim Mosenfelder/Getty Images
"About Damn Time" is the latest single Lizzo has shared with the world. "Oh, I've been so down and under pressure / I'm way too fine to be this stressed, yeah / Oh, I'm not the girl I was or used to be / Uh, b****, I might be better," Lizzo sings on the track, which was released on April 14, per Billboard. These lyrics reflects the singer's evolution and growth since her last album drop, which took place three years ago. She goes on to sing, "Turn up the music, let's celebrate / I got a feelin' I'm gon' be okay / Okay, alright / It's about damn time." After this period of transformation, Lizzo voices that it's time for herself and listeners to have some fun and let loose.
Lizzo was a guest on the "New Music Daily" show in April 2022, and she talked with Zane Lowe about the inspiration behind the sound of "About Damn Time." "This was intentionally disco-funk, something to walk to, coming out of this dark time," Lizzo said of the song while referencing healing from the global COVID-19 pandemic. This new song is a sample of how "Special" will contain uplifting songs that a wide audience can jam out to. To celebrate the new album, Lizzo has announced a tour of North American, to kick off September 23 in Florida, according to Rolling Stone.
Fans have been waiting for this one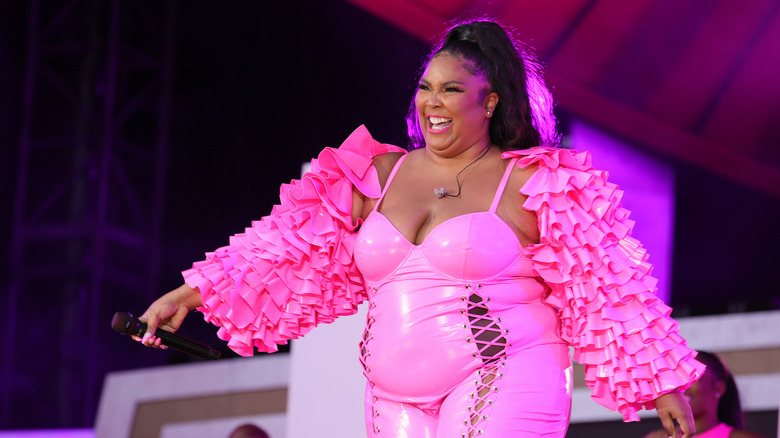 Theo Wargo/Getty Images
"Special," Lizzo's hotly-anticipated album second album, is expected to release in July 2022, according to a glamorous announcement on her Twitter. She talked about the dedicated effort making the album required. "I've written ... probably almost 175 to 200 songs," Lizzo said in an April 2022 SiriusXM interview. "And I think I just needed to go through some things. I needed to go through life and get a lot off my chest," she added. The title of Lizzo's recent single from the album, "About Damn Time," speaks to the meticulous process that led to her completing the album.
Lizzo's fans anticipate that the record will be well worth its three-year wait. Not only will the album be meaningful, but it will contain songs that audiences can celebrate. "I took off a lot of songs that didn't match this new vibe that I was in, especially after writing 'About Damn Time,' " Lizzo said to ET Canada in April 2022, before adding, "I only want songs that are love frequency ... and also bangers." After listening to "About Damn Time," we can't wait to hear the rest of the catchy tracks that will make this summer "Special"!