Kris Jenner Reveals 'What's Going On' With Kanye West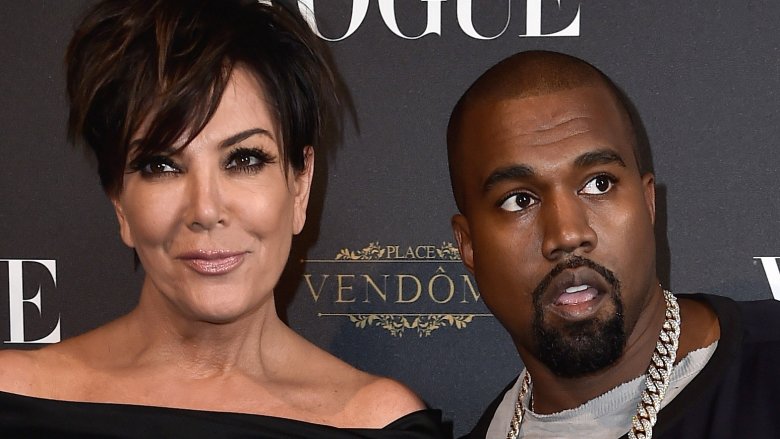 Getty Images
Kris Jenner just spoke up about son-in-law Kanye West's recent behavior.
Jenner visited The Ellen DeGeneres Show and was quickly hit with questions about daughter Kim Kardashian's husband regarding his odd tweets and controversial comments. When asked by host Ellen DeGeneres "what's going on" with West, Jenner said, "You know, Kanye has a lot of love for all of you, all of his fans, and everybody who's been there to support him forever. And I know that he will explain himself in his own way, and I think that anything he does — and I just think this is important to say — he always does things with really good intentions."
Jenner, who also broke her silence on reports that Tristan Thompson cheated on daughter Khloé Kardashian while she was pregnant, added, "So I'm gonna let him explain himself when the time is ready."
As Nicki Swift previously reported, West has faced much criticism in recent weeks for his strange behavior. In late April 2018, West parted ways with his longtime manager, Scooter Braun, as well as his lawyer, tweeting out, "I'm nobody's client."
At the time, he further explained, "Yes I got rid of my last lawyer why? Because he wouldn't come to work full time. I also asked my last manager to come work full time for Yeezy of course the last lawyer and manager said no," adding, "So now I hired a CEO and a CFO and i have two full time lawyers as of now."
His tweets have also been somewhat erratic, covering everything from his dreams for his apparel company and his potential presidential campaign to his love for President Donald Trump and his MAGA cap.
However, it was West's comments while appearing on TMZ Live that really got people upset. He said, "When you hear about slavery for 400 years. For 400 years?! That sounds like a choice." He continued, "Like, you was there for 400 years and it's all of y'all?"
After facing swift backlash, West attempted to clarify his statements on Twitter. "To make myself clear. Of course I know that slaves did not get shackled and put on a boat by free will," he wrote. "My point is for us to have stayed in that position even though the numbers were on our side means that we were mentally enslaved."
He tweeted, "The reason why I brought up the 400 years point is because we can't be mentally imprisoned for another 400 years. We need free thought now. Even the statement was an example of free thought. It was just an idea." He went on, "Once again I am being attacked for presenting new ideas."