Chase Stokes Heats Up With Kelsea Ballerini In New Kissing Snap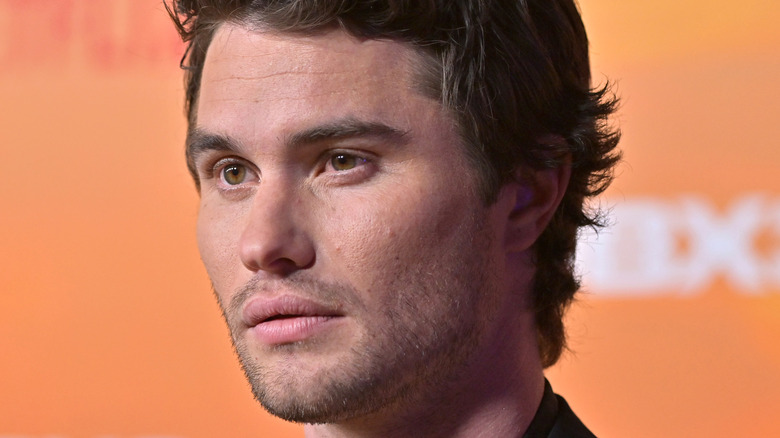 Charley Gallay/Getty Images
While filming the Netflix original series "Outer Banks" in 2019, Chase Stokes crossed paths with his co-star Madelyn Cline for the first time. Portraying star-crossed lovers John B and Sarah Cameron, Stokes and Cline have kept fans on their toes with their complicated love story. As with many Hollywood actors who meet on set, Stokes and Cline soon became more than just co-stars. In June 2020, the pair confirmed they were dating. Cline told ET of their initial decision to keep their romance private, "I think we were just wanting to kind of give it some time and enjoy it while it's new and fresh and just kind of keep that to ourselves."
In the following months, Stokes' relationship with Cline became increasingly serious, with the pair doing things like walking the red carpet and shooting a music video together. Sadly, though, in November 2021, it was confirmed that the pair split. "They were trying to work things out privately but broke up a couple of months ago," a source told People. Although working together after a breakup can be difficult, Cline and Stokes seem to have it all figured out. "We made a promise to each other before we even started dating that the work was always going to come first," Stokes said in an interview with Entertainment Weekly.
But while Stokes has had no problem working with his ex-girlfriend, the "Tell Me Your Secrets" actor is basking in the euphoria of his newly found love story.
Chase Stokes' relationship with Kelsea Ballerini might be getting serious
Taking to his Instagram story recently, Chase Stokes posted a picture of himself and Kelsea Ballerini sharing a sweet couple moment. In the picture, Ballerini is seen with her hands around Stokes' neck as she plants a kiss on his cheek. Stokes captioned the cute photo, writing a simple "imy," which is short for "I miss you." The heartwarming post comes amid Ballerini's Heartfirst Tour across the United States and Canada.
This, of course, is not the first time Stokes has shown off the country singer on his social media. Back in January, the "Valiant One" star sparked relationship rumors after sharing an Instagram carousel featuring a photo of himself and Ballerini at a football game. Though nothing was said at the time, the country singer has since confirmed she started a relationship with Stokes in December 2022 after sliding into his Instagram DMs. "I've never seen his show, but I just knew of him, and I just swan dove right on in," she told the "Call Her Daddy" podcast. "His handle is '@hichasestokes,' and I said, 'Hi, Chase Stokes.'" The "Outer Banks" star has also previously acknowledged his relationship with Ballerini, telling People earlier in February, "Kelsea is a lovely, lovely girl. She's great. We're having a good time."