Raising Suri Alone Wasn't Easy For Katie Holmes After Leaving Tom Cruise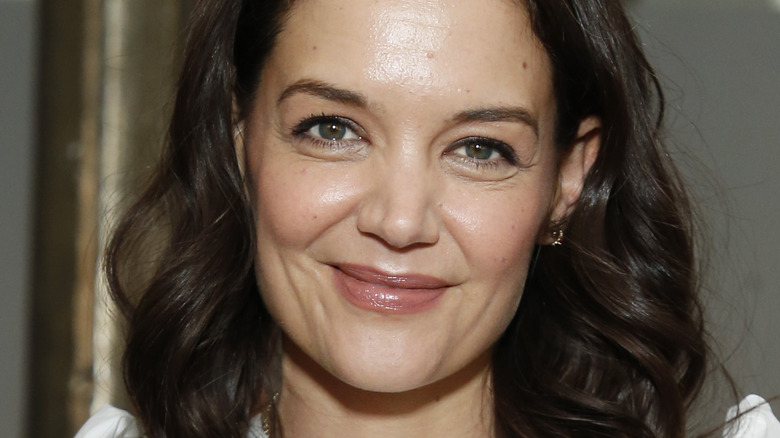 John Lamparski/Getty Images
Katie Holmes' controversial split from Tom Cruise, albeit seamless on paper, was a complicated one. The former Hollywood "it" couple parted ways in 2012 after six years of marriage and finalized their divorce just 11 days after they announced their separation — much to everyone's surprise, including Cruise himself.
According to the "Mission Impossible" star, he never saw the divorce coming, admitting in an interview that he "didn't expect it." He was apparently blindsided by Holmes' demand to break up, but the same can't be said for the "Dawson's Creek" alum. Reports at the time claimed that Holmes concocted an elaborate plan to escape from her ex-husband, which included renting a secret apartment in New York City, as well as using a burner phone to communicate with her legal team and keep everything under wraps.
Despite having a prenup that supposedly guaranteed Holmes $3 million for each year they were married, along with ownership of one of their properties, she didn't receive any sort of payout. Instead, their divorce settlement required Cruise to pay $400,000 annually to financially support their child, Suri — an amount many balked at, considering that Cruise has a net worth of hundreds of millions. It also granted Holmes full custody of their child, with Cruise being granted sufficient visitation rights. And, while the two told the public they were "committed to working together as parents," it was apparently only Holmes doing the heavy lifting, and Cruise not doing anything besides bankrolling.
Katie Holmes found single parenthood intense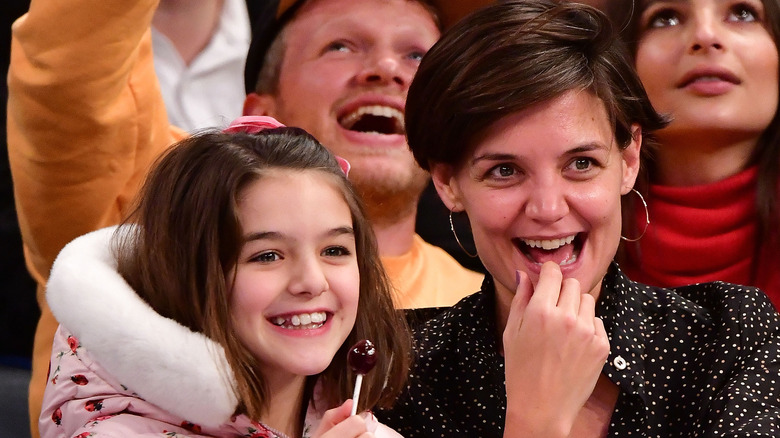 James Devaney/Getty Images
Single parenthood is tough for anyone, but it's especially challenging if you do it after such a highly controversial divorce. Speaking with InStyle, Katie Holmes described her experience raising Suri as "intense" when she parted ways with Tom Cruise since everyone's eyes were on them. "It was a lot of attention, and I had a little child on top of it. We had some funny moments out and about in public," Holmes recalled. Luckily, the mother-daughter duo received lots of love from the people around them, allowing them to pull through.
While Holmes had plenty of help, including her own mother, she couldn't help but feel traces of self-doubt while raising Suri. "Am I enough? Am I doing enough? Have I seen her enough?" she told People in 2014, two years after her divorce from Cruise. "Guess what? You're not enough, she hasn't seen you enough, you're horrible: That's how it can feel sometimes." But she hasn't let that interfere with her desire to become the best mom she can be. "You do the best you can. Some days you feel really good about yourself and some days you don't."
But now the two have reached a point where they're each other's best friend. "You'd struggle to find a mom-daughter duo who are more in sync with each other," an insider close to Holmes and Suri shared with Us Weekly. "They're a real team — their connection is a beautiful thing to witness."
Is Tom Cruise still involved in raising Suri?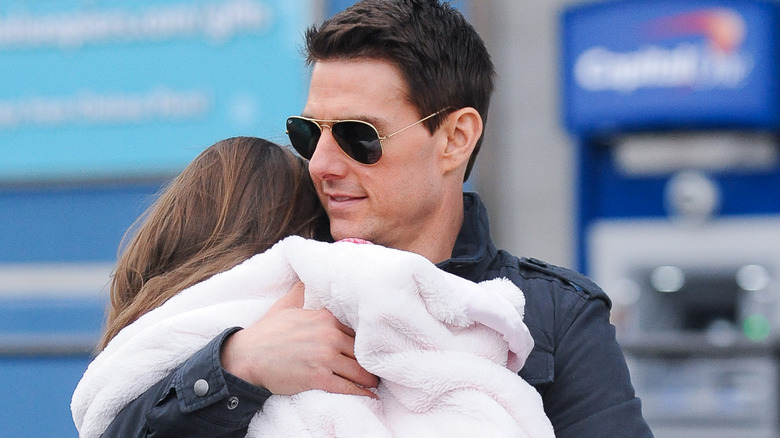 Ray Tamarra/Getty Images
While Tom Cruise was granted 10 days per month to spend time with daughter Suri, he has apparently not taken advantage of his visitation rights, resulting in him being estranged from Suri entirely. In 2018, a source told Us Weekly that Cruise hadn't seen his daughter in a decade, primarily because of his religion. "Every person is allowed to see their child if they wanted to," they said. "He chooses not to because she is not a Scientologist."
It's worth noting that one of the key reasons for Cruise and Katie Holmes' divorce was that the "Batman Begins" actor didn't want their child to be involved with the church. What's more, actor Leah Remini, who was once involved with Scientology, shared with the New York Post that the religion "considers Katie a suppressive person which is an enemy and therefore Tom believes, like all Scientologists, that he can't be connected to Suri." But Remini believes Cruise has a "master plan," which involves waiting until Suri is old and mature enough to "lure her into Scientology and away from her mother."
Even without Cruise's involvement, Holmes has long proven that she's capable of raising Suri all on her own. "The number one thing is making sure my child feels loved and good about herself," she told Elle UK of her parenting philosophy. "And that what she does and who she is, is special and important, and should be celebrated. And my mom always said, 'No one loves you like your mother.'"