Tom Cruise Reportedly Doesn't Pay Katie Holmes That Much In Child Support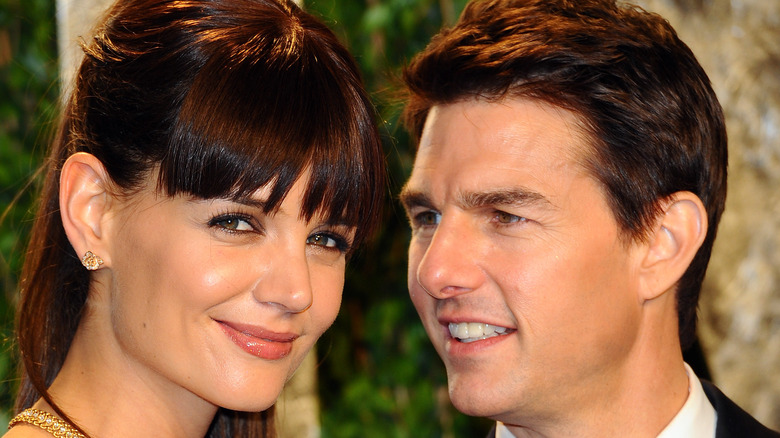 Anthony Harvey/Getty Images
It was the year 2012 when Tom Cruise and Katie Holmes blindsided the world with the announcement of their breakup. One of the most beloved couples in Hollywood at the time, nearly everyone was shocked when the two revealed that they were going their separate ways. Surprisingly, even Cruise himself "didn't expect" that Holmes, the woman he jumped on Oprah's couch for, would ask him for a divorce.
To this day, the former couple remains tight-lipped about the main reason behind their split, but Cruise once confirmed that it's because Holmes wanted their daughter, Suri, to be as far away from Scientology as possible. While the "Mission Impossible" actor initially maintained that "there is no need to protect my daughter from my religion," he eventually admitted that his deep involvement with Scientology "was one of the assertions" for the divorce. What's even more surprising is the two managed to reach a settlement in record time — only 11 days after their divorce announcement.
But while there were barely any complications regarding the divorce settlement, Holmes and Suri reportedly got the short end of the stick in terms of the money they would receive from Cruise.
Tom Cruise reportedly only pays $400,000 a year in child support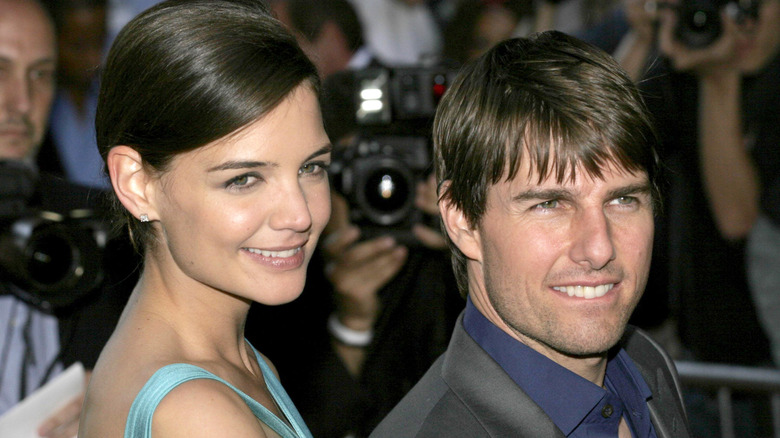 Everett Collection/Shutterstock
There's no escaping the fact that Tom Cruise is one of the richest and highest-paid celebrities in the business, with an estimated net worth of a whopping $600 million. Yet, even though he has the finances to set his daughter with Katie Holmes, Suri, for life, he's paying his child considerably less than expected.
According to documents obtained by TMZ at the time of their divorce settlement, Cruise was only ordered to pay $400,000 to his ex-wife for child support until Suri turned 18, amounting to $4.8 million. And while Cruise's net worth in 2012 was only around $250 million, he's obviously more than capable of shelling out more cash. Then again, aside from the $400,000 annual payout, he's also responsible for paying for Suri's education, medical expenses, insurance, and other necessities. Cruise and Holmes also reportedly arrived at a compromise regarding Suri's education. They agreed not to enroll her in "residential school," including Scientology, which was already a win for Holmes.
Meanwhile, Holmes was granted full custody of Suri and did not receive any financial compensation from Cruise, as stipulated in their prenuptial agreement. But it was probably what she wanted, as a source divulged that the "Dawson's Creek" alum felt trapped during their marriage. "Every move she made and everything she did was controlled," they told Us Weekly, adding that Holmes' priority was "protecting her daughter." Holmes also "felt she had to get out to save her daughter" and wanted to be "in charge of how Suri is being raised."
Do Tom Cruise and Katie Holmes co-parent Suri Holmes?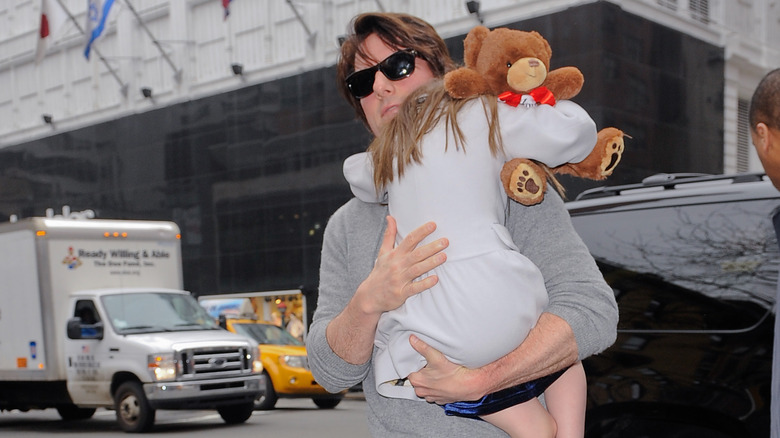 Ray Tamarra/Getty Images
Even though Katie Holmes was granted full custody of Suri, Tom Cruise was still allowed to see his daughter 10 days out of every month. But the kicker is he apparently doesn't want to, or at least Scientology doesn't allow him to. In 2016, InTouch reported that the actor hadn't personally seen or spoken to his daughter in over two and a half years. It may be because Scientology has a "disconnection" rule, which prohibits members from being in contact with anyone who has either left the church or expressed disdain for the religion. "Tom eats, breathes, and sleeps Scientology," the insider added. "He's disconnected from Katie, and then de facto from Suri, because of her connection to Katie. He hasn't seen her since she was 7." But in 2019, the same year Suri turned 13, a source close to the actor told Hollywood Life that Cruise "still loves" his daughter and "thinks about her all the time." He apparently "never intended to be estranged" from her and hopes to rekindle their relationship someday.
As for Holmes, she wants to be the best mom she can be. "My child is the most important person to me, and her upbringing is paramount to my work right now," she told Town & Country. "It's very important that I'm present and she has a stable, innocent childhood. I feel so blessed to do what I do, but there's nothing in the world better than watching your child succeed."