Selena Gomez Had Drama With Kendall And Kylie Jenner's Kardashian Sisters Too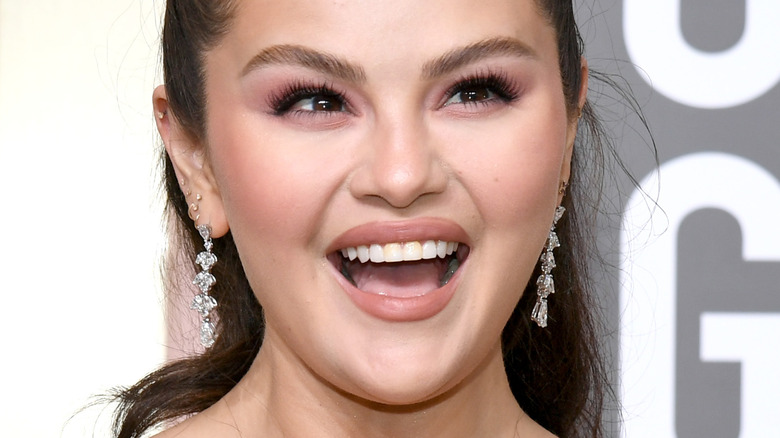 Jon Kopaloff/Getty Images
If it seems like there's been a lot of drama surrounding Hailey Bieber and Selena Gomez recently, you'd be correct in thinking so. While there's always been tension between the two, a lot of it has been because of fans and their guessing games or because of subliminal messaging or quotes from either star. This kicked up a bit after Bieber went on the "Call Her Daddy" podcast in September 2022 and addressed the rumor that she stole Justin Bieber from Gomez. Things seemed to be put to rest a month after that when the two women took a photo together. Not enemies right? Well, now the drama is even hotter thanks to Kendall and Kylie Jenner.
In January, Hailey posted a now-deleted TikTok (featuring Kendall & Justine Skye) that fans perceived to be a dig at Gomez, but both ladies agreed in comments that it was all chill between them. However, in February, after Gomez posted about a laminated eyebrow mishap, Kylie took to Instagram stories to seemingly shade Gomez. Kylie posted a screenshot from a Facetime call between her and Hailey, focusing in on their eyebrows, captioning the pic, "This was an accident?" Fans took the post as a jab at Gomez. 
While Kylie later claimed that fans were "reaching," these moments are like scenes right out of "Mean Girls," and it's kind of exhausting to keep up with. But, as it turns out, Gomez has had some run-ins with the other members of the Kardashian-Jenner clan.
Kourtney and Khloé Kardashian have made indirect digs at Selena Gomez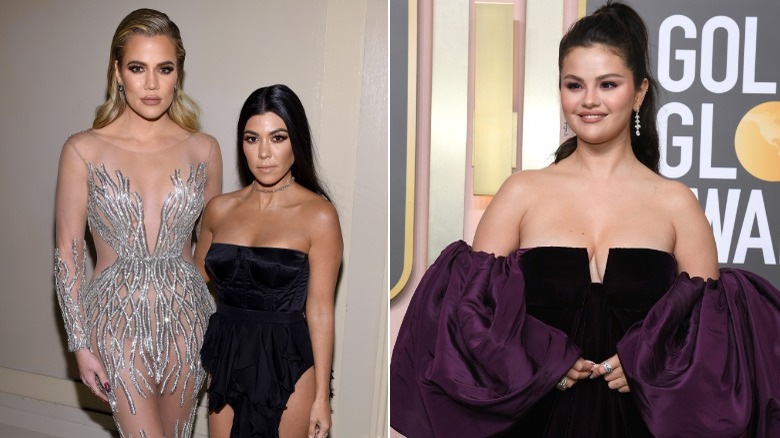 Dimitrios Kambouris & Jon Kopaloff/Getty
Before she was (potentially) the focus of Kylie Jenner's Instagram story, Selena Gomez's presence got Kourtney Kardashian a bit heated. The oldest Kardashian did have a fling with Justin Bieber in 2015. Weird but true, and this alone could be a sore spot for Gomez. However, in 2018, Kourtney posted a photo posing with designer Domenico Dolce, one-half of the Italian luxury brand, Dolce & Gabbana. That's the same Domenico Dolce who commented on an Instagram post from @TheCatWalkItalia' featuring Gomez saying, "è proprio brutta." This roughly means, "She's so ugly."
Commenters got really upset with Kourtney about the photo-op. Some wrote that she was hanging out with a bully, and others pointed out what he'd said about Gomez. "How can you associate yourself with men who have no maturity and class and make fun of women's bodies? Shame on you as the mother of a daughter," someone wrote in the comments.
When it comes to Khloé Kardashian's "drama" with Gomez, it definitely falls in the more petty category. In 2014, Gomez unfollowed her little sisters, Kylie and Kendall Jenner (who were 16 and 18 at the time). This came after Gomez hung out with them at Coachella and deleted pictures she took with them from her socials. "You want to play in the 20-year-old pool ... Well, I'm still in my 20s & I'm better at this game than you," Khloé tweeted. "Don't f*** with my little sisters!"
Selena Gomez accidentally praised Kim Kardashian, who doesn't like her bff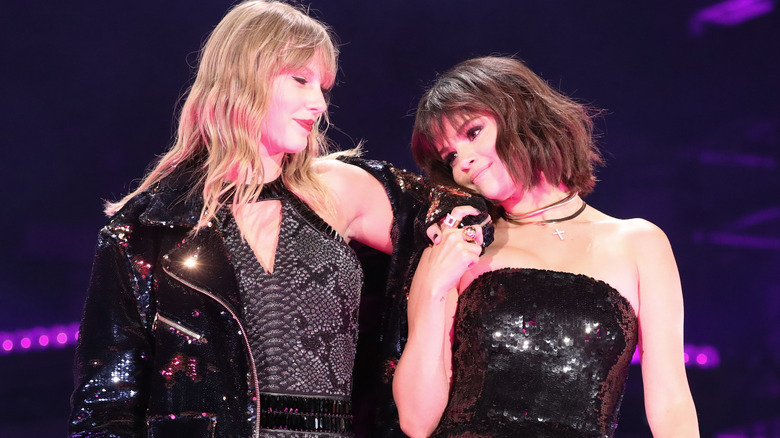 Christopher Polk/tas18/Getty Images
In 2019, Gomez posted an Instagram story of her in a SKIMS bodysuit. It wasn't some accident like she was "caught" wearing SKIMS. She wrote "legit" and "so freaking comfortable" at the top of her photo and tagged SKIMS as well. However, Gomez didn't leave the SKIMS shoutout up for too long. It was deleted and instead, Gomez posted a photo of her and her bestie Taylor Swift with one of her cats. She wrote a grateful message alongside the photo, talking about how Swift has been Gomez's "ride or die" and how much Swift has taught Gomez. 
Kim Kardashian was, of course, on one side of a very public feud between Kanye West and Swift, with Kim leaking part of a call West had with the "Look What You Made Me Do" singer about the song "Famous." While Swift turned this all around to make one of her best albums, "Reputation," (which has snake themes throughout the visuals), the divide has been very prevalent between Kim and Swift. So it makes sense that Gomez would realize her lapse in judgment and make sure people knew where she stood.