Some Of Courteney Cox's Friends Co-Stars Were Noticeably Absent From Her Walk Of Fame Ceremony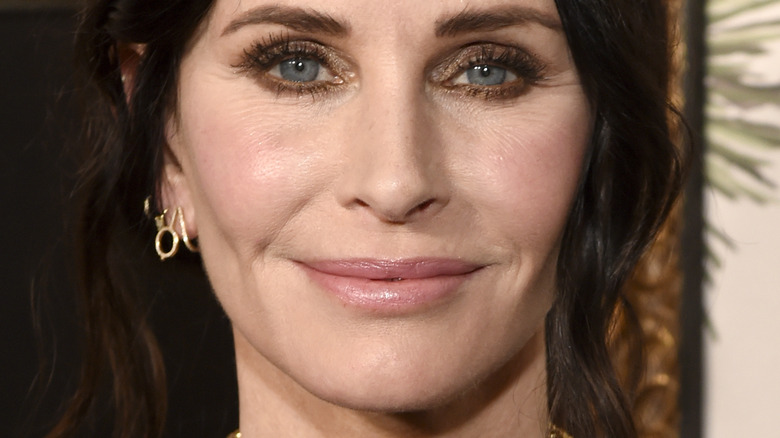 Michael Kovac/Getty Images
Courteney Cox literally cemented her name into Hollywood history when she received her star on the Hollywood Walk of Fame. The "Friends" actor was awarded the incredible honor on February 27th in front of a sea of fans and some fellow stars.
According to the Hollywood Walk of Fame, Cox received a star due to her work as an actor, producer, and director. Cox was incredibly emotional as she received her star and delivered a speech to the crowd of people, per MaximoTV. She said, "Everyone thinks I got my start as the girl who danced with Bruce Springsteen on stage. I really got my start when I was chosen, at twelve, to be Anna in 'The King and I' at Camp Mac." Cox reflected on how her passion for acting started at such a young age as she went on to thank several people who helped shape her career throughout the years. Many of those individuals were in the crowd, including some of her "Friends" co-stars.
Cox is undoubtedly best known for her role as Monica Geller on the NBC series. The group worked together for 10 years and were just as supportive of one another off-screen as they were on-screen. Because of this, many fans of the series expected all five of her "Friends" co-stars to show up as she received this high honor. While some of them did, others were noticeably missing from the ceremony.
The men from Friends missing from Courteney Cox ceremony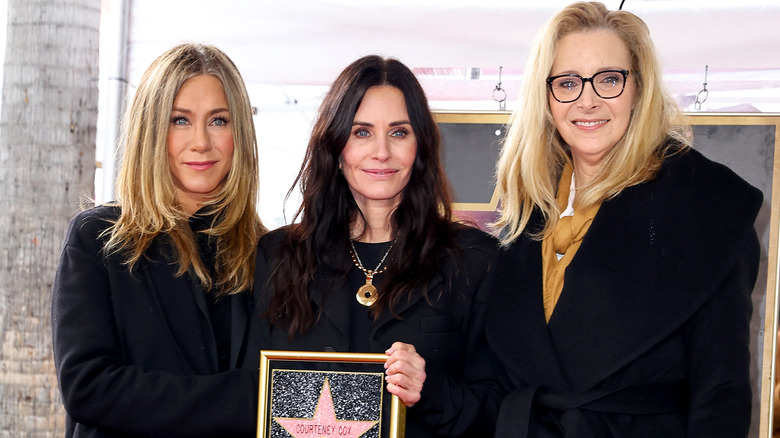 Leon Bennett/Getty Images
Could we be any more sad? A group of famous "Friends" was missing from Courteney Cox's Hollywood Walk of Fame ceremony. Actors David Schwimmer, Matt LeBlanc, and Matthew Perry were absent from the celebration, per Page Six. It shocked many because the group starred alongside Cox in the hit NBC series and were expected to attend. It's unclear why they were missing, but fans still got a taste of a "Friends" reunion because Jennifer Aniston and Lisa Kudrow were there to support the "Cougar Town" actor.
The two famous actors even gave a speech in honor of their dear friend, per MaximoTV. In the speech, the duo revealed how "nervous" they were to meet Cox because, at the time, she was the only castmate on "Friends" that was famous. Aniston shared, "From the very beginning she made it very clear that this was a true ensemble." The speech was playful until the very end when Kudrow and Aniston expressed their gratitude to Cox.
Kudrow said, "Courteney, we just want to say that we are deeply, deeply proud to know you. You are the definition of a truly beautiful, talented, and, what's most important, a truly good and decent human being. And thank you for enriching our lives personally." Of course, BFF Aniston had to add to Kudrow's sentiment. Aniston said, "Thank you for enriching our lives with your work. We are so proud of you. We love you. Your sisters from another mister."