Melissa Gorga Denies Feud With Kyle Richards Over Her Ozempic Comments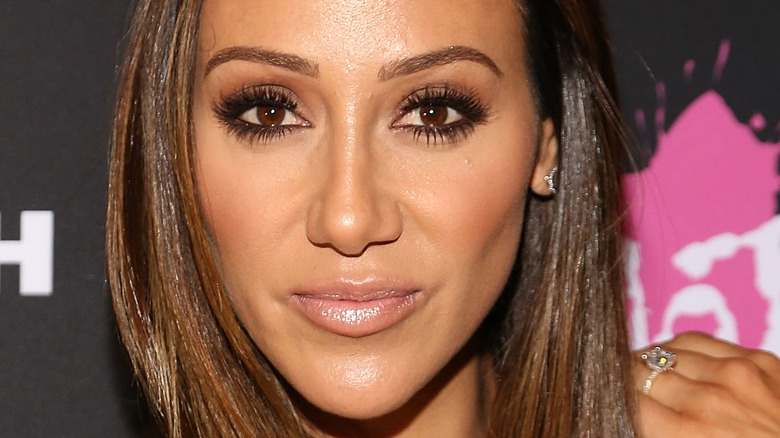 Manny Carabel/Getty Images
Melissa Gorga, star of the "Real Housewives of New Jersey," has denied rumors of a feud with "Real Housewives of Beverly Hills" OG Kyle Richards. It all started with Gorga's remarks about a new drug that has recently gone viral: Ozempic. While originally created to treat patients with type 2 diabetes, the injection has gained popularity in Hollywood circles for weight loss. During a January 26 appearance on the radio show "Jeff Lewis Live," Gorga speculated that Richards might be using Ozempic to achieve her body. "I'm not gonna lie, when I first saw her, I was like, 'Ooh, she's taking that stuff,'" Gorga stated on the show. "And then, when [she denied it], I'm like, 'Oh, OK, maybe not.' You know, I don't know. I didn't even text her and ask her."
The "RHOBH" star must have heard the comments made by her fellow Housewife franchisee as she put Gorga on blast when responding to a fan's Instagram comment suggesting she was lying about taking Ozempic. "This is not true," Richards wrote back. "MY fellow Housewives never said such a thing. Another Housewife from a different franchise, aka Melissa, stated she assumed I was, but then texted an apology to me."
Amidst this online battle, Gorga took to her own social media to clear the air between her and the queen of "RHOBH."
Melissa Gorga slams any Ozempic rumors against Kyle Richards
It's not often that there are rumblings of a cross-continent "Real Housewives" feud, but "Real Housewives of New Jersey" star Melissa Gorga has adamantly denied any sort of conflict between her and Kyle Richards. After the Beverly Hills OG's clap back made headlines, Gorga posted an Instagram story on February 28 clarifying what she meant when she made those Ozempic comments.
"What's happening in the press?!! Guys! Don't believe the BS," Gorga warned her followers. "I never said @kylerichards18 was on ozempic! I said she looks so amazing that I thought she was!! But she has totally confirmed that she's not! The girl is working for it... Give the lady some credit! We are laughing at all of this! We are good." She punctuated her statement with a red heart emoji.
In recent months, Richards has been open about her efforts to lead a healthier lifestyle. The "RHOBH" alum revealed that she has been sober for the last seven months and that her routine involves getting to the gym early in the morning, as she revealed on her Instagram Story. Ultimately, the lesson learned here is that we shouldn't comment or make assumptions about someone else's body. Hear hear!