Kyle Richards Puts Melissa Gorga On Blast For Buying Into Ozempic Rumors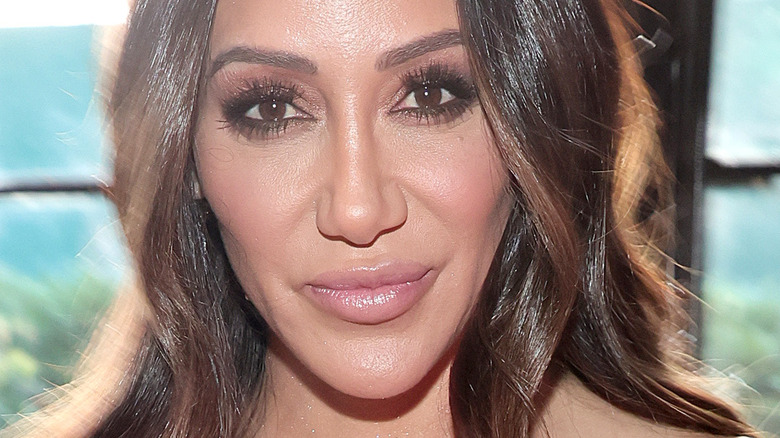 Jamie Mccarthy/Getty Images
There's a new East vs. West Coast beef brewing. A star from "The Real Housewives of New Jersey" has thrown some serious shade on the 90210 — like there isn't enough drama to deal with already in the Garden State — and it's led to a nasty case of "she said, they said." 
Despite "RHONJ" OG Teresa Giudice's wedding drama with Joe and Melissa Gorga, it appears her sister-in-law has totally moved on. Melissa's placed the "Real Housewives of Beverly Hills" cast in her crosshairs, specifically Kyle Richards. But, if she thought Richards would be an easier target than the formidable Giudice, she better think again because the Hilton sister doesn't take it on the chin. "Shahs of Sunset" cast member Reza Farahan learned that lesson after he called Richards "the most overrated housewife." She hit back on Instagram, according to a fan account, mocking the reality star over his canceled show and concluding, "I can't even be offended." Mic drop.
So, it was inevitable that Melissa wouldn't escape unscathed when she made a dig about her rival housewife's recent weight loss. Melissa alleged that the transformation wasn't down to Richards' lifestyle changes alone, but that the newly sober star had chemical assistance from the slimming drug Ozempic. Of course, Richards wasn't going to take that lying down. 
Kyle Richards calls out Melissa Gorga for Ozempic rumors
Kyle Richards has worked hard for her body, and she's not letting anybody claim otherwise. Melissa Gorga landed herself in hot Hilton water after saying she believed Ozempic, a former diabetes-turned-weight loss drug, had caused Richards' transformation. "I'm not gonna lie, when I first saw her, I was like, 'Ooh, she's taking that stuff,'" Gorga admitted on SiriusXM's "Jeff Lewis Live." The reality star added, "And then, when [she denied it on Instagram], I'm like, 'Oh, OK, maybe not.' You know, I don't know. I didn't even text her and ask her." 
The Jersey housewife wasn't the only one to accuse Richards of secretly having a little outside help. "Ozempic body. 100%. You look beautiful, but just tell the truth," one of Richards' followers commented on one of her Instagram pics. "Your fellow housewives have told on you. It's not a big deal, but it is when you lie about it." Richards quickly refuted the rumor. "This is not true," she insisted angrily. "MY fellow Housewives never said such a thing. Another Housewife from a different franchise, aka Melissa, stated she assumed I was but then texted an apology to me." 
Richards has been adamant that her dramatic weight loss is solely down to exercise and not drinking alcohol for seven months. "Truth is, I don't miss [drinking] at all," Richards vowed on her Instagram Story. "I feel amazing, so [I] don't see the point [of drinking again] right now," she said.