Teresa Giudice Still Isn't Over Joe And Melissa Gorga Wedding Slight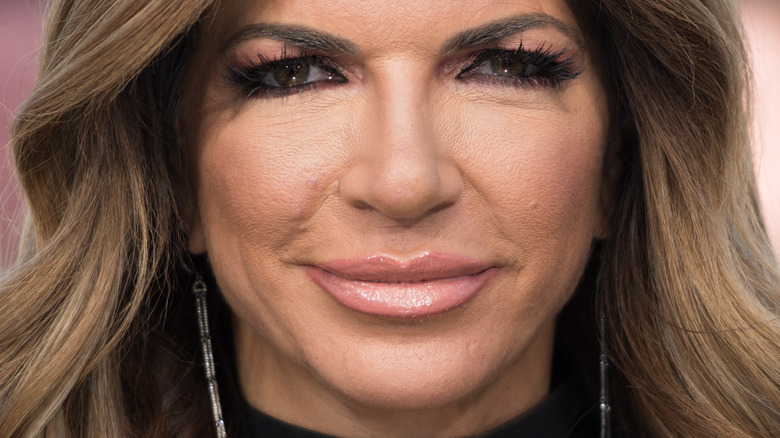 Noel Vasquez/Getty Images
The family feud between "Real Housewives of New Jersey" stars Teresa Giudice and Melissa Gorga continues. On January 18, the Jersey OG took to her podcast to reflect on her rocky relationship with her brother, Joe Gorga, and sister-in-law, especially when the couple skipped out on her recent wedding.
Over the years, "RHONJ" has documented the on-and-off friendship between Giudice and Melissa since the latter joined the cast in Season 3, with their on-camera fighting sadly influencing their real-life relationship. When Giudice tied the knot with husband Luis Ruelas in August 2022, the Gorgas skipped out on the lavish affair due to an alleged betrayal, as reported by People. The trailer for Season 13 of "RHONJ" teases a blow-out fight between Giudice and the Gorgas before the day of the nuptials, which may explain their absence.
Since then, the sisters-in-law have been going back and forth in interviews about who truly betrayed who, but Giudice is finally dishing her side of the story once and for all.
Teresa confirms the wedding-day drama was the last straw
Paul Zimmerman/Getty Images
During a recent episode of her "Namaste B$tches" podcast, Teresa Giudice revealed why she and Melissa Gorga have not been in contact. Melissa Pfeister — the podcast's co-host — quizzed the reality star on the state of their relationship, with Giudice revealing that the Gorgas skipping her wedding was the final nail in the coffin for their relationship.
"I'm going to make this clear one last time, and after this, that's it. I'm not talking about this anymore," Giudice began. "To me, family was important, and finally, it's like the ultimate betrayal. My only brother, my only family, my only sister-in-law, did not show up at my wedding." The Jersey Housewife said her feelings were even further hurt when she saw the Gorgas allegedly "saying terrible things on social media" about her wedding the day before the nuptials. Pfeister then pointed out that some sources have claimed that the Gorgas weren't invited to the big day, which Giudice adamantly denied. "It's just heartwrenching to me," she concluded. "I need to heal myself. I need to protect my family, and I need to just keep the toxicity out."
Ahead of the wedding drama, teased to air in the upcoming season of "RHONJ," Melissa has responded with shade towards Giudice on her own podcast. Of course, relationships and family dynamics are complicated, but it looks as if viewers may get the final piece of the puzzle when Season 13 of "RHONJ" premiers in February.