Mildred Baena: Who Is The Mother Of Arnold Schwarzenegger's Son Joseph Baena?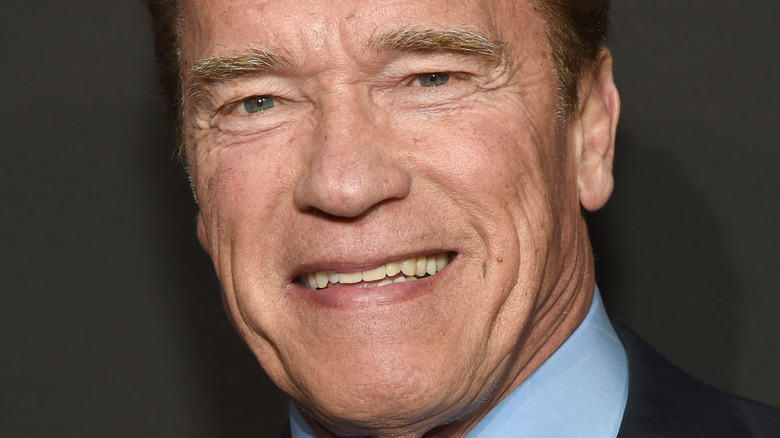 Michael Kovac/Getty Images
Arnold Schwarzenegger's love life has been notoriously turbulent, even before he turned into a household name. In addition to writing his name in Hollywood history as "The Terminator" and other blockbusters before becoming governor of California, the Austrian native also made headlines for his personal life. In 2011, the Los Angeles Times reported Schwarzenegger and Maria Shriver's divorce came after she learned he had fathered a son outside of the marriage. "After leaving the governor's office I told my wife about this event, which occurred over a decade ago," he revealed.
The news continued to send shockwaves across the world as details emerged. Schwarzenegger's child, Joseph Baena, was born on October 2, 1997, just five days after Shriver gave birth to the couple's fourth child, Christopher, on September 27, 1997, according to CNN. "It's a very tough situation for him. It's a very tough situation for my kids, very tough situation for my family. It was tough for everybody," Schwarzenegger said on "The Howard Stern Show" in 2015 (via People).
Schwarzenegger himself had no knowledge of having a fifth child until Baena was about 7 or 8. "He started looking like me ... I put the things together here," he said on CBS News' "60 Minutes" in 2012. Baena's birth certificate listed his father as the man his mother was married to during the affair, according to CNN. How was Baena around Schwarzenegger enough that he recognized himself in the boy? Well, that's what made things even more complicated.
Mildred Baena was a longtime staffer of the family
The woman Arnold Schwarzenegger had an extramarital affair with in the mid-1990s was Mildred Baena, who'd worked for the family as a housekeeper since 1991, the Los Angeles Times reported. Mildred never asked him to provide for Joseph, but Schwarzenegger started to give her money once he realized. But they never discussed the situation. "I gave it to her and she knew what it was about," he said on "60 Minutes." 
That way, Schwarzenegger and Mildred entered into an informal (and secret) custody agreement and she continued to work for him and Maria Shriver. Mildred retired in January 2011, just months before the news leaked. That's also when Joseph learned the truth about his father's identity. "I was in the eighth grade ... And I get called out of class to leave," he told Men's Health in 2022. "And my mom's there, and she's like, 'We gotta go — everyone is finding out about you and who your father is."
Mildred raised Joseph largely by herself. "She was really the only person I had," he said. Hailing from Guatemala, Mildred instilled in him an appreciation for his roots. "That's a huge part of me," Joseph said. After leaving the Schwarzenegger-Shriver household behind, Mildred attended culinary school, from which she graduated in May 2017. "I'm so dang proud of my momma! ... I could[n't] be happier for her as she continues to live out her dreams as a chef!" Joseph gushed on Instagram.
Joseph Baena is also close with his father
Joseph Baena wasn't raised by Arnold Schwarzenegger, but the two became close later on. From the moment he found out about the identity of his father at 13, Joseph was okay with the situation. "Cool!" he simply replied when Mildred Baena broke him the news, she recalled to Hello! in 2011. But learning he was the son of a famous actor and politician also made him feel he had a lot to prove to him. "It took a little while for me and him to get really close ... I was always nervous," he said on the "Unwaxed" podcast in 2022. "I didn't want him to think bad of me."
With time, Joseph and Schwarzenegger bonded over their passion for fitness and acting. "Now it's, like, awesome. Now I'm so close to my dad," he told hosts Sophia and Sistine Stallone. Joseph often shares glimpses into his relationship with Schwarzenegger on social media, showing that father and son often workout together. "You have to go all out and absolutely NO cheating when you train with him, so you know I'm going to be hurting tomorrow," Joseph captioned an Instagram selfie of them.
Even if Joseph feels like a true Schwarzenegger, he opted to not use his father's last name professionally. The aspiring actor wants his accomplishments to his own. "When I go to auditions, they don't know who I am, because we don't have the same last name," he told Men's Health.