6 Reasons Why Adele And Rich Paul's Relationship Will Work (& 2 Reasons Why It Won't)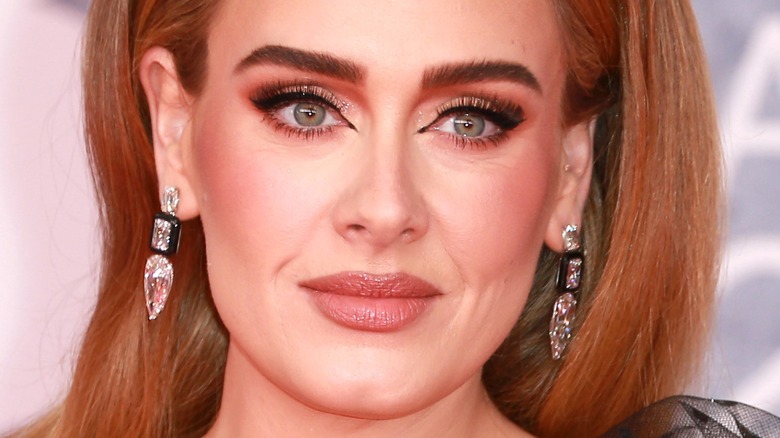 Fred Duval/Shutterstock
Adele has a voice that will stop you in your tracks. Her emotional hit ballads earned her a rightful spot as one of the music industry's most respected artists, not to mention the tear-jerking piano skills that set her apart from mainstream musicians. She's won 16 Grammys out of her 25 nominations, even breaking the record for the most Grammys won by a British artist in a single night. We've seen Adele go through major life transformations, from finding her voice and transforming her body, to her grueling publicized divorce. Through it all, she has given us hit after chart-topping hits about her successes as well as her heartbreaks.
Following Adele's divorce from her ex-husband Simon Konecki — and a soulful and emotional album that followed — she found love again with NBA agent Rich Paul. The pair sparked romance rumors in the summer of 2021 after attending an NBA game courtside. Ever since that public outing, the couple has been going strong — though they have kept their relationship largely private despite their public personas. The rumor mill has buzzed with reports that Adele is engaged to the sports agent ever since she donned a diamond ring at the 2022 Brit Awards, but the "I Drink Wine" singer has neither confirmed nor denied the rumors. Grab your glass of wine in true Adele fashion — because we're breaking down six reasons why Adele and Rich Paul's relationship will work (& two reasons why it won't.)
They both have demanding careers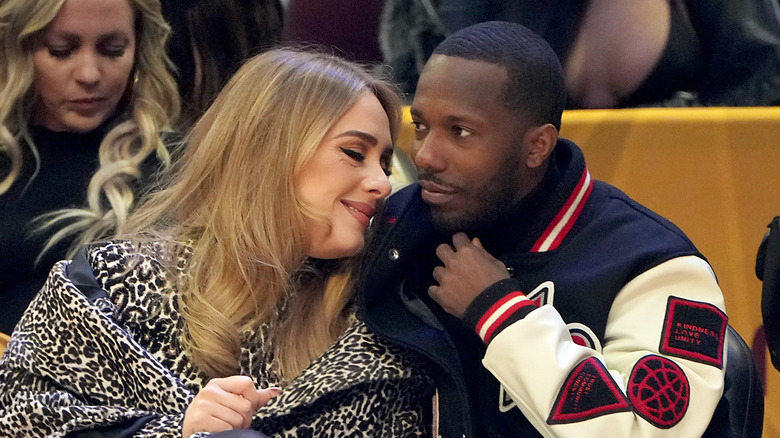 Kevin Mazur/Getty Images
Being a public figure comes with its own challenges when it comes to finding love. With Adele dating one of the NBA's most high-profile agents, there's no doubt the duo has had to weather their fair share of obstacles between their respective careers. The pair first met via mutual friends at a party when Rich Paul caught the singer's eyes when she noticed him dancing. After going public in 2021, the two have had to balance their careers and their love life, which often has them spending time apart. 
Rich Paul is well respected in the sports industry, having represented high-profile clients like the legendary LeBron James. Paul runs his own sports agency, Klutch Sports Group, which oversees several trades and negotiations within the NBA league. Because of their demanding schedules, the couple spent months traveling back and forth from Los Angeles to New York to make their relationship work. Adele announced her Las Vegas residency "Weekends With Adele" in 2022 which saw her spending the year performing in Sin City, while Paul frequently travels around to major cities nationwide for his athletes. 
Despite the time the two spend apart with their careers, it seems they found common ground by buying a mansion together. Adele was all smiles when she posted an Instagram snap alongside her beau holding the keys to their Beverly Hills mansion. Their love nest cost almost $40 million, a small feat for the "Hometown Glory" singer, whose Vegas shows are reported to rack in $1 million per show.
They balance each other out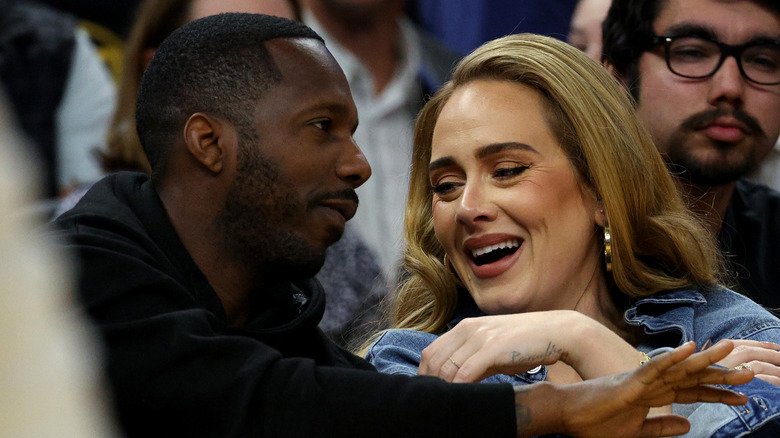 Harry How/Getty Images
Rich Paul brings a breath of fresh air to Adele's life after her long-drawn out divorce from her ex-husband Simon Konecki. The pair met first in 2011 and dated for several years before getting married in 2018. Her relationship with Konecki was starkly different from her relationship with Rich Paul, as she mostly kept her private life out of the public eye with her ex-husband. With Paul, Adele has been seen out and about with her boyfriend's closest friends — including his star client LeBron James — and she seems smitten to say the least. 
An insider revealed that the sports agent's sociable personality has rubbed off on Adele, encouraging her to go out more and be less private with her personal affairs. "She's not as concerned about being private with her life because she's very happy with Rich," the source told E! News, adding that Adele "[enjoys] learning about the sports world and meeting many of Rich's friends. She's going with it and is very happy."
It's often argued that the true test of a relationship is finding someone that makes you feel comfortable. Whereas her relationship with Konecki was often hidden from the spotlight, Adele has enjoyed being open about her life with Paul. "He's hilarious. He's very, very smart. It's quite incredible watching him do what he does. And just the easiness of it. It's been very smooth," the singer said in an interview with Oprah Winfrey. 
Adele canceled Vegas shows over her tumultuous relationship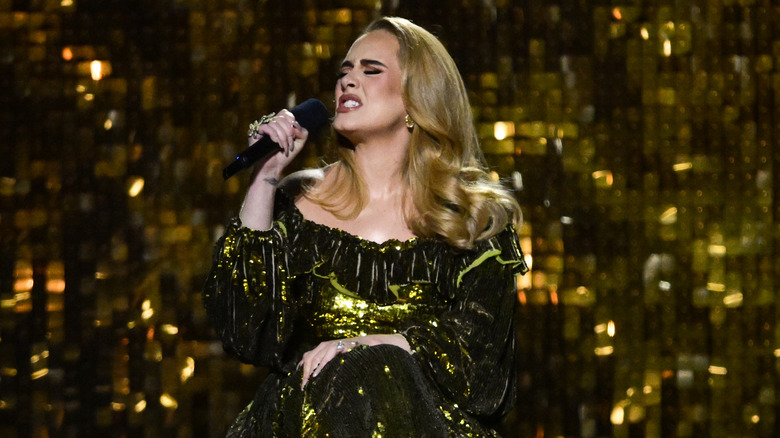 Gareth Cattermole/Getty Images
There was trouble in the water for Adele when she postponed her "Weekends With Adele" residency in Las Vegas in 2022. We mean that literally, since the floating pool that Adele was supposed to be suspended in was not up to her standards. "Adele described the pool as a 'baggy old pond' and refused, point blank, to stand in the middle of it," a source revealed to The Sun of the singer's reaction to the set design. 
The "Hometown Glory" singer took to her Instagram to announce the news of the canceled shows. In tears, the singer blamed numerous COVID cases within her team on the show not being ready. But insiders revealed a different story, with one telling Page Six, "She and Rich had been fighting, and their relationship was volatile before she canceled her dates." The source went on to reveal that Adele was often sobbing on the phone with Rich Paul during rehearsals. "Adele is very emotional and dramatic. He's an NBA guy who has to go on the road — they are very different — and they hit a rough patch," the source said. 
Adele's decision to call off her residency merely hours before it was set to begin was met with criticism from some high-profile individuals. Piers Morgan had some harsh words for the singer, penning in a piece for The Sun, "She has morphed into just another staggeringly rich, privileged, pampered prima donna who thinks it's fine to pull the plug on months of shows at a moment's notice because she can't get everything she demands."
Adele is head over heels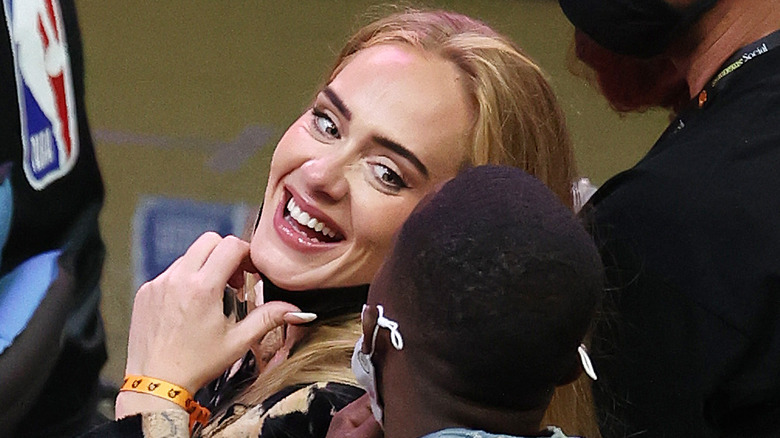 Ronald Martinez/Getty Images
Much to fans' delight, Adele's Las Vegas residency resumed in November 2022, nearly a year after the singer postponed the dates. The "Easy On Me" singer put any relationship rumors to bed when she sang "Happy Birthday" to her man in front of thousands of her fans on stage. "I love you more than life itself, we wish you a happy birthday," the singer gushed on stage. 
Adele and Rich Paul's relationship may have turned romantic in 2021, but the two had been friends for years before they fell in love. The "Hello" singer told Vogue, "He was always there, I just didn't see him," adding, "I just love being around him. I just love it." Adele has battled rumors that she got engaged after she stepped out in 2022 wearing a jaw-dropping ring on her finger, but while she's not admitting anything yet — her happiness is obvious. "I'm not married. I'm not married!" the singer revealed in her Elle interview,  adding, "I'm just in loooove! I'm happy as I'll ever be. I might as well be married."
Adele shared some snaps of her relationship with Paul via Instagram when she posted several sweet candid photos of them together. "Time flies," she wrote as the caption which featured photos of the couple laughing at a fast food joint, sitting side by side at a softball game, and sharing a kiss backstage. The artist even included a photo of her fortune cookie which read, "You have found good company — enjoy."
They are both loving parents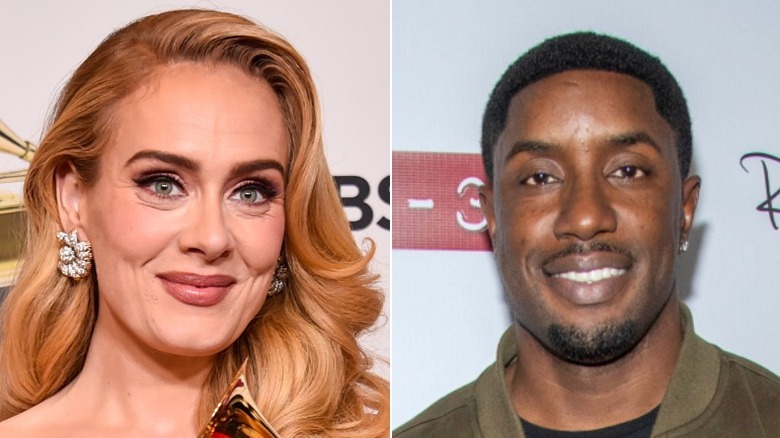 Eugene Powers/Shutterstock & Alberto E. Rodriguez/Getty
Adele and Rich Paul have more in common than their high-profile careers, the two are both parents. The Klutch Sports Group founder has three children, one of them being a daughter in college, so he's no stranger to juggling parenting and a demanding job. "As a young dad, growing a business, it was pretty tough," Paul told E! News. He went on to add, "You know, I have a daughter that's a junior in college so I was a very young dad, but now, different age, different time in my life, different position in my life. I'm really looking forward to being an older dad."
It's no secret the love of Adele's life is her son Angelo, to whom she dedicated her track "My Little Love" following her tough divorce. She sings about the effect the divorce had on her parenting in the song, with lyrics like, "When you lay on me, can you hear the way my heart breaks?/I wanted you to have everything I never had/I'm so sorry if what I've done makes you feel sad."
As for whether or not kids are in the future for these two, it seems likely. "I definitely want more kids. I'm a homemaker and I'm a matriarch, and a stable life helps me with my music," Adele told Elle. The singer revealed in the interview that she was undergoing renovations for her and Paul's Beverly Hills mansion to make it family-friendly for the two parents and their children.
Rich Paul makes Adele feel secure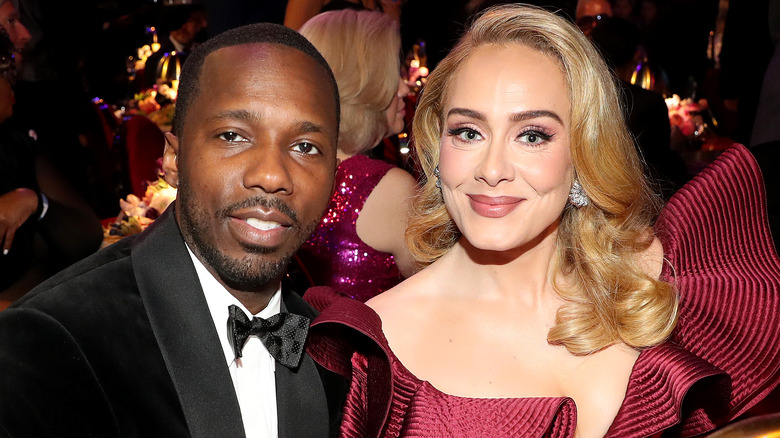 Johnny Nunez/Getty Images
Adele knows heartbreak — just take any one of her dozens of record-breaking ballads she's released for example. The Grammy-winning artist isn't afraid to be vulnerable, but her past relationships have given her a clear idea of the future she needs. "The last thing I need is someone who doesn't know where they're at, or what they want. I know what I want," she says. "And I really know what I don't want," the "Hello" artist said in an interview with Vogue. 
Rich Paul arrived in Adele's life at a crucial moment, after the singer's father passed away at 57 from his battle with cancer in 2021. The singer opened up about her issues with abandonment in relationships in her interview with Oprah Winfrey. She attributed her struggles to her lack of a relationship with her father during her life. "[It's the first time] I've loved myself and been open to loving and being loved by someone else," she revealed. "Maybe I'm getting a different version of him ... It's just timing."
Adele went on to reveal that she has often put up a defense mechanism in relationships out of her fear of getting hurt. "It will be interesting to see what my reaction is like in general to anything that hurts me at all now that I feel so secure in myself and I'm talking outside of romance as well," she told Oprah Winfrey. While Paul grounds her, Adele admitted that she finds stability on her own within herself.
Adele fits easily into the NBA world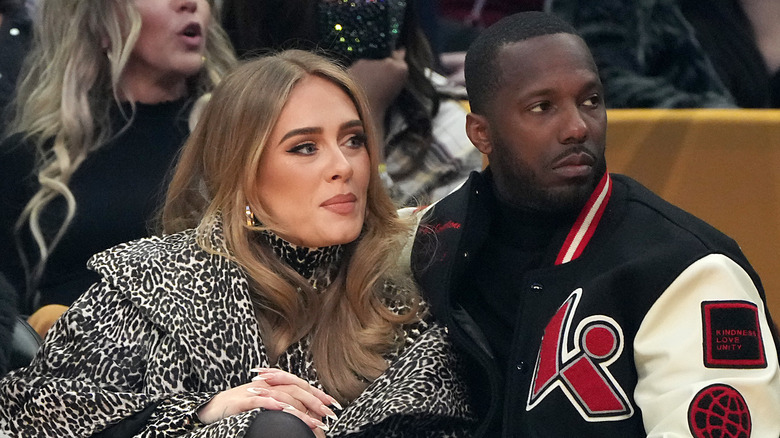 Kevin Mazur/Getty Images
It's not easy to keep up with a partner who manages one of the NBA's biggest legends (aka LeBron James), but Adele seems to be managing just fine. When they first were spotted out together during the NBA Finals in 2021, the singer looked to be enjoying the game while cozying up to Paul. Adele has admitted to Elle magazine that she's actually a sports fan, saying, "Lucky for him, I love basketball," revealing that she roots for the Phoenix Suns. 
Adele fits into the world of the NBA pretty well, given that she has been out and about with Paul's inner circle several times since they went official. The same year the pair started dating, Paul took her as his date to his client Anthony Davis's wedding. "He was at the table the whole time, and he let her just do whatever she wanted ... She was dancing with everybody," a source revealed to Us Weekly at the time. It wasn't the first time Paul took her as his wedding date to mingle with his basketball friends. The "I Drink Wine" singer looked quite comfortable posing next to her man alongside LeBron James and his wife Savannah at the nuptials of Kevin Love in 2022.
Keeping with her English roots, Adele also keeps up with her home soccer team — Tottenham Hotspur F.C. The singer donned the jersey for the spurs and snapped an Instagram photo following the end of their 2021 season, writing, "You did us so proud! You brought our game home and brought us all together."
They have both overcome enormous obstacles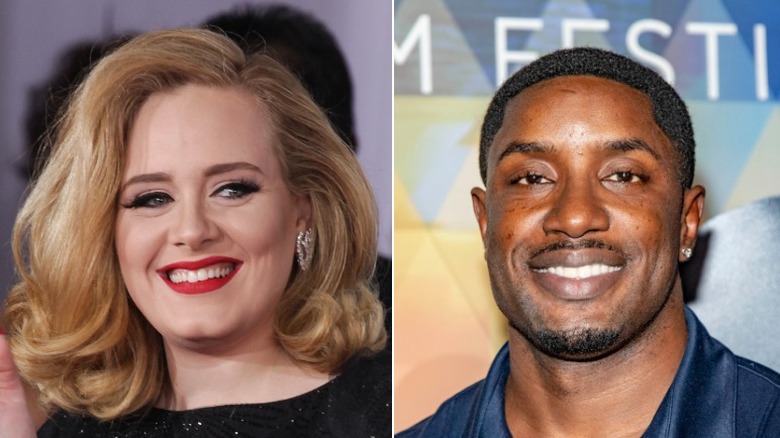 DFree & Eugene Powers/Shutterstock & undefined
Adele has had her fair share of life's ups and downs, from losing her estranged father to cancer to her drawn-out divorce that was scrutinized in the public eye. She also underwent a huge body transformation during her career, battling the public's criticism of her weight throughout her years as a celebrity. "I [wasn't] shocked or even phased by it because my body has been objectified my entire career. I'm either too big, I'm either too small, I'm either hot or not, or whatever — I never looked up to anyone because of their body," Adele told Oprah Winfrey when asked what she thinks about the public's perception of her weight loss. 
But the singer's boyfriend Rich Paul has faced his fair share of problems as well — one that he can't change through diet or exercise. Paul is set to write a memoir about his struggles to be an entrepreneur growing up as a Black man in the United States. The sports agent took to Instagram to express his feelings, writing, "Many people told me I should write a book that tells the story of Klutch Sports Group and what it means to be a successful sports agent. But being an agent isn't my story. Cleveland is my story. My story comes from my family, my community, and the challenges we overcame just to survive being young and Black in America." As of this writing, Paul's memoir is set to be published in the fall of 2023 by rapper Jay-Z, whose track "Lucky Me" inspired the title of the book.