Larsa Pippen Says Michael Jordan Approves Of Romance With His Son Marcus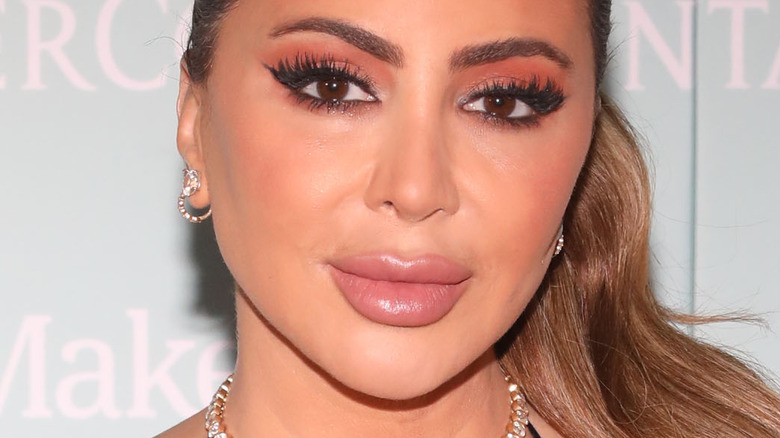 Aaron Davidson/Getty Images
Larsa Pippen can't stop gushing over her new beau, Marcus Jordan. In early 2022, the "Real Housewives of Miami" star finalized her divorce from NBA star, Scottie Pippen, per US Weekly. It didn't take long for Larsa to move on from her marriage, as she was spotted with Marcus just a couple of months after finalizing her divorce, per US Weekly.
At first, Larsa and Marcus were pretty hush-hush about their rumored relationship. In January 2023, they made their relationship Instagram official. Since the post, the reality star and basketball player have been more vocal about their exciting new relationship. Larsa even shared in an interview with Tamron Hall that she thinks she and Marcus are in love. And even though it seems their relationship has been going well, it hasn't come without backlash.
For one, Marcus is 32 years old, and Larsa is 48 years old. That makes a significant 16-year age gap between them. However, Larsa sees age as nothing but a number. She told Hall, "We have everything in common ... Scottie [Pippin, her ex-husband] is 10 years older than me. So I don't really view age as you're mature, you're immature." Age isn't the only controversy the couple has faced, because Marcus is actually Michael Jordan's son. Michael was Scottie's former teammate in the NBA, so this might make things awkward between the two. But, Larsa is opening up about how the Chicago Bulls star truly feels about his son dating his teammate's ex.
Michael Jordan gave his blessing to Larsa and Marcus
Larsa Pippen and Marcus Jordan have faced several challenges in their romance. Their relationship has been criticized, because Scottie Pippen, Larsa's ex-husband, and Michael Jordan, Marcus' father, were former NBA teammates and friends. However, all that changed when Michael's 2020 documentary came out, per US Weekly. And the "Real Housewives of Miami" star's relationship with Michael's son is adding salt to the wound.
Larsa, however, revealed on the "Tamron Hall Show" how she never had any malicious intent toward Scottie when she started her romance with Marcus. She said, "It wasn't like it was planned like that. I think we were just together a lot with friends and it just so happened." Larsa shared that because she dated an athlete, she opened herself to a world of criticism, but still thinks she deserves to find love.
When Hall attempted to bring up how Michael felt about this new relationship, the reality star tried to dodge the question. She said, "I've recently been hanging out with them but I don't really want to talk about them. I feel like it's not about my parents or his parents, they're all happy our family is fine." The reality star shared that she and Marcus are just "happy." Still, Hall pushed one more time and asked Larsa if she had Marcus' parent's blessing. Larsa folded and said, "Yeah I feel like we're great, yeah. We've spent holidays together... it's good. We're in a great place."