JFK Jr.'s Marriage Was Reportedly On The Rocks Before His Fatal Crash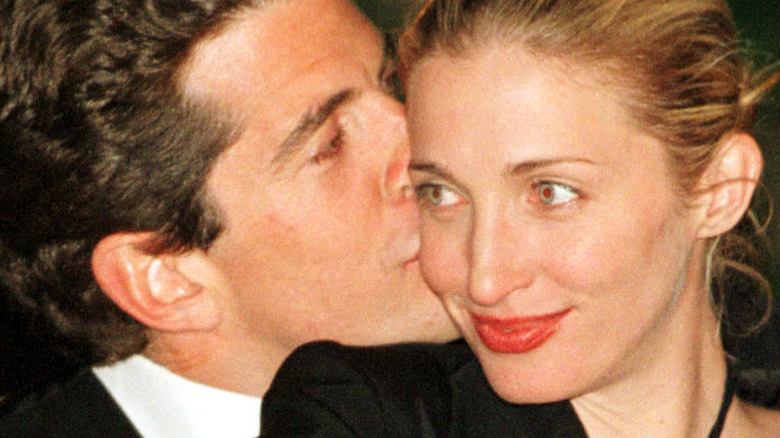 Tyler Mallory/Getty Images
The tragic deaths of John F. Kennedy Jr. and Carolyn Bessette will forever remain a heartbreaking part of American history, but what do we know about the late couple themselves?
When Kennedy first laid eyes on the woman who would become his wife, she was a publicist for Calvin Klein — although that title, while impressive, didn't quite do her justice. According to former colleagues who spoke to The New York Times, Bessette was a source of inspiration to none other than Klein himself. "She was 'The Look,'" they recounted. Kennedy was drawn to the her and soon enough, a love affair between the fashionista and the political heartthrob, who'd spent his early years in the White House, ensued. However, while their relationship may have sounded like a movie plot, it turned out to be significantly more tumultuous than your standard fairytale. From videos of the two fighting in public (at times getting physical), to a brief break-up that saw Bessette's mother imploring her to move on in a letter subsequently published, the couple had some tense moments. Making matters worse, said moments were often lived out in the public eye ... and this was before they'd even married. 
Despite the tumult, Kennedy and Bessette wed in 1996, and stayed together until their deaths just three years later. However, according to many who were close to the couple, their legal union was much like their early courtship: marred by tensions exacerbated by the press. 
Carolyn Bessette couldn't cope with their high-profile life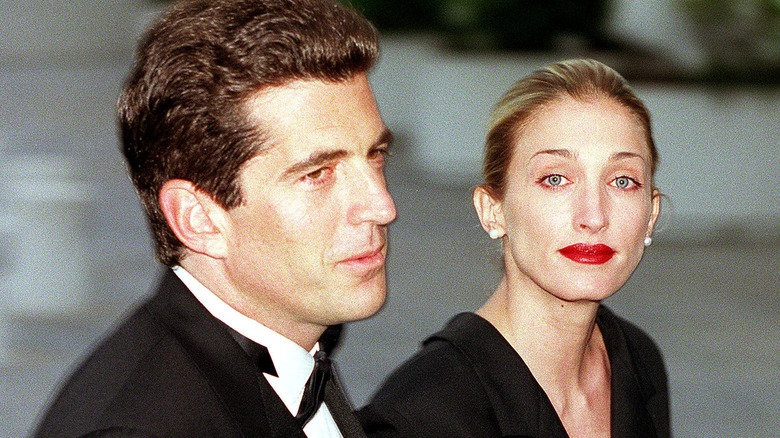 Justin Ide/boston Herald/Getty Images
As soon as news broke that Carolyn Bessette and John F. Kennedy Jr. were seeing each other, the once-low-key publicist was thrown into the spotlight. And, once they were married, things only got worse. 
It's well-documented that Bessette and Kennedy struggled with the press. In fact, on one occasion, Kennedy begged the media to give her some space, even offering to pose for the cameras in return. "I just ask ... any, you know, privacy and ... room you can give her ... would be really appreciated," he asked, in a video (somewhat ironically) captured by the photographers. Unfortunately, the paparazzi weren't exactly compliant — and it wasn't the first time. The couple were routinely snapped outside their home, and sometimes, even authorities wouldn't step in to help. 
That put a massive strain on Bessette, and ultimately their marriage. In particular, Bessette was terrified by the prospect of her children having to live in the same conditions she could barely cope with herself. According to a friend speaking to Vanity Fair, she once complained, "How could I bring a child into this kind of world?" For Kennedy, who was eager to start a family, that became a source of frustration — though it seems that was just the final straw for him. Even outside the topic of children, he felt she'd checked out. "It's got to stop. Otherwise we're headed for divorce," Kennedy is said to have complained to a confidante.
Many insiders believe JFK Jr. and Carolyn Besette would have made it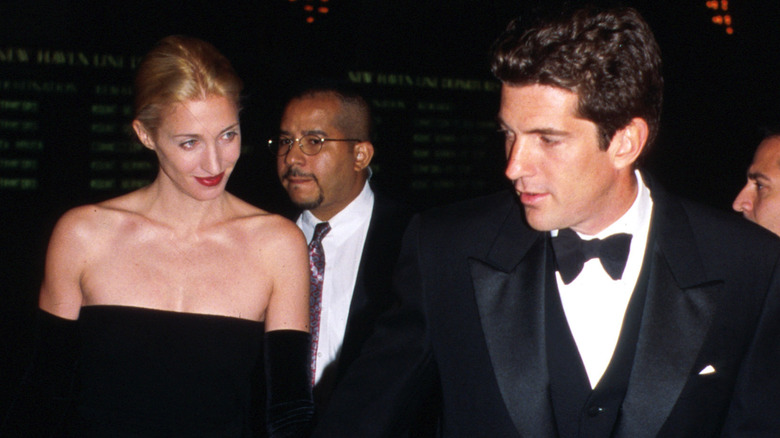 George De Sota/Getty Images
Even in the wake of their marital strife, John F. Kennedy Jr. and Carolyn Bessette seemed determined to make things work, and had begun couple's therapy. For that reason, some close to the pair have theorized that, despite reaching a low point so early on in their marriage, they could've gone the distance. 
"The Real Housewives of New York" alum and Kennedy's cousin through marriage Carole Radziwill certainly falls into that camp. In fact, speaking to Town & Country, Radziwill even mused that at some point, she believed they would have been able to settle down away from the prying eyes of the press. "I'd like to think John and Carolyn would have lots of kids. I know they both wanted that. I imagine the tabloids would eventually tire of them and leave them to live in peace," she shared. 
Biographer Steven M. Gillon agreed there. Speaking to People, he pointed out, "There's evidence his relationship could have been saved." That said, Gillon also noted that other loved ones weren't as convinced, simply because of the nature of their relationship at the time of their fatal accident. "One of John's closest friends told me, 'If anyone tells you they know what was going to happen in that relationship, they're lying. John and Carolyn didn't know what was going to happen in their relationship,'" he reported. Sadly, that's one assessment we'll have to agree with.