How Lady Gaga Got Her Stage Name From A Queen Song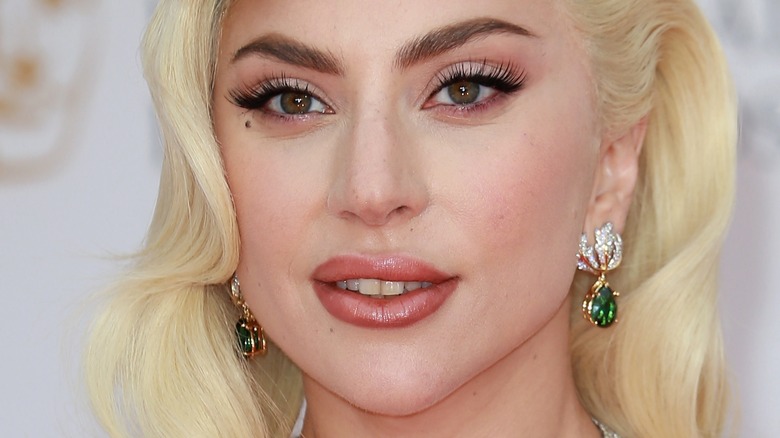 Fred Duval/Shutterstock
Some stage names are iconic: Madonna, Rihanna, Cher, Beyoncé. Technically, the Queen of Pop's first name really is Madonna, while others adjusted their given names to reflect their on-stage alter egos. "A lot of people don't know that Beyoncé is my last name. It's my maiden name," Beyoncé's mother, Tina Knowles-Lawson said on an episode of "In My Head With Heather Thomson." Trust Queen Bey to take a family heirloom and turn it into a unique moniker!
In the case of the famous ladies listed above, their stage names play off what's written on their birth certificates. But some celebrities have taken an entirely alternate route and re-christened themselves. For example, Nicki Minaj grew up as Onika Tanya Maraj, and she's not necessarily a fan of her name switch. "I was always called Nicki at home so I was known as Nicki Maraj but my first producer did not like Maraj and thought Minaj sounded better," the rapper told Trinidad and Tobago Newsday during a 2010 interview. "I still hate the name and I was going to go back to Maraj on the album but people told me no because my fans like it."
Lady Gaga is another whose name as an entertainer is pretty out there. But it works, because — as Gaga herself told Rolling Stone — "I've always been Gaga." We may have gotten that from the meat dress. Still, it's a big leap from Stefani Joanne Angelina Germanotta to Gaga. So, how'd the name come to be?
A music producer came up with Gaga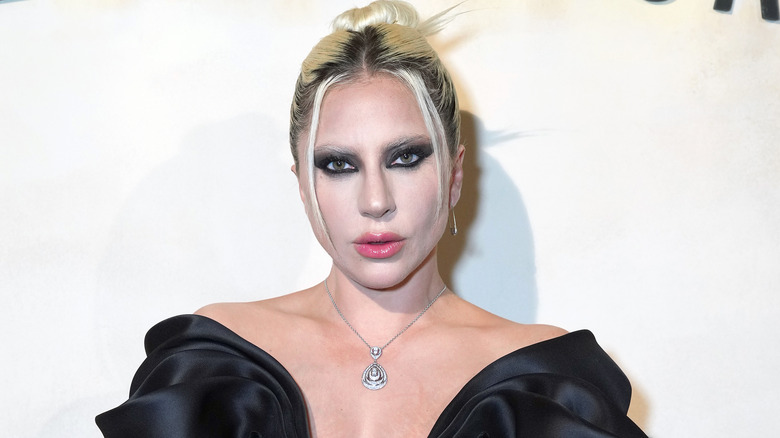 Kevin Mazur/Getty Images
Lady Gaga burst onto the scene in 2008 with "Just Dance," and she's since expanded her career with acting credits in "A Star is Born" and "House of Gucci," both under the name Gaga, of course. But where did Gaga come from? According to IBT, in a 2010 interview with Flybe, the pop icon explained that music producer Rob Fusari nicknamed her Gaga because her voice reminded him of the Queen song "Radio Gaga." "[Rob] started to call me Gaga when I'd come into the studio. When we were getting ready to really start performing, I decided that I'd been playing under my real name for so long I wanted a new way to reinvent myself," Gaga shared. "So I said, 'What about Lady Gaga?' because Gaga is sort of crazy and Lady has such connotations."
However, that wasn't Fusari's take on things. According to Billboard, he sued Gaga for $30.5 million after claiming that he came up with Gaga's moniker. In response, the "Just Dance" hitmaker argued that she'd seen Gaga as part of her core identity since 2004. "My realization of Gaga was five years ago, but Gaga's always been who I am. ...Me and my hair bow, we go to bed together. She sleeps where I sleep," Gaga said, according to Today. As The Guardian noted, Mother Monster went on to win her suit against Fusari because Fusari allegedly didn't pay his share of the profits to the woman who first scouted Gaga.
Lady Gaga has had multiple personas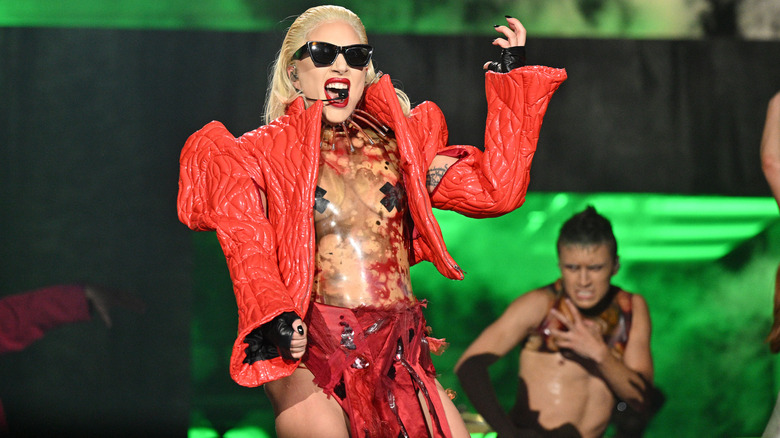 Samir Hussein/Getty Images
As Lady Gaga told Oprah Winfrey in 2010, "Gaga" was always "a nickname [her] friends had for [her] in New York." Yet, while she resonates with her famous moniker, Gaga has gone back and forth on whether she wanted to be called "Gaga," "Lady," or "Lady Gaga." In 2018, she told Vogue that she wanted to be called "Lady." This coincided with her Golden Globe-worthy performance in "A Star Is Born," so maybe Gaga was looking to embrace a more polished brand? Then again, maybe not. After all, she once emulated her male alter-ego, Jo Calderone, who made an appearance in the music video for "You and I." "I actually created this character that was my boyfriend," Gaga told British Vogue, calling him a "jersey boy greaser." As well as Calderone, Gaga also appeared as Yüyi the mermaid, specifically for her Haus of Ü fashion films.
Whether she's slipping into an outrageous costume, wearing an elaborate headdress, or taking on an entirely different name, Gaga is no stranger to reinventing herself. Still, she'll always be "Gaga" to us. And the singer further reassured fans that she plans to stay true to her weird, wacky self. "For a really long time, I felt so misunderstood. I thought the way I dressed, the way I talk, the attitude, they thought it was shallow. But this s**t is deep as f**k," she said at the opening of her Las Vegas residency, according to Yahoo! News. Never stop being you, Gaga.