The View Co-Hosts Pick Clear Side In Selena Gomez And Hailey Bieber Drama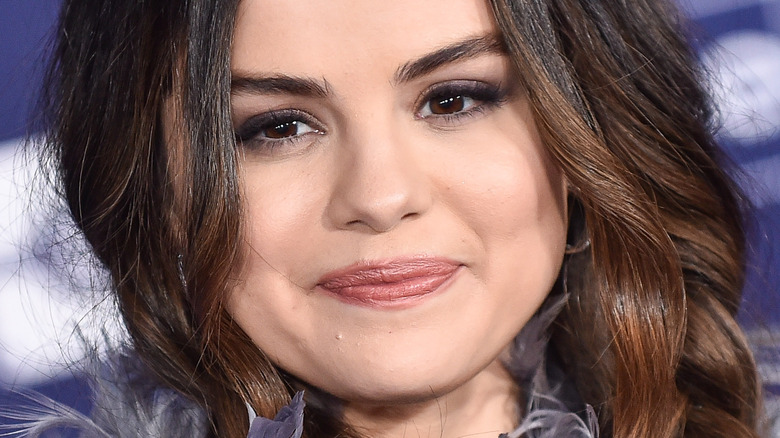 DFree/Shutterstock
Unexpectedly, with chilly February winds blew in a gusto of fresh Selena Gomez-and-Hailey Bieber drama. After seemingly squashing past rumors of a feud via a now-famous photo-op last fall, the two appeared to reignite it last month via an online back-and-forth. Bieber kicked it all off with a TikTok vid of her, Kendall Jenner, and Justine Skye lip-syncing to an audio saying, "And I'm not saying she deserved it, but I'm saying God's timing is always right." Fans quickly noted that Bieber posted the now-deleted video while Gomez was in the news for addressing body-shaming trolls on TikTok. Bieber, underneath a resurfaced clip of her TikTok, denied that the video was "directed at anyone."
Fans kept going down the rabbit hole, however, finding more supposed evidence of a feud between the Golden Globe-nominated actor and the Rhode founder. A close friend of Bieber's, Kylie Jenner entered the chat just after she lost the title of Instagram's most-followed woman to Gomez in late February. After Gomez casually mentioned in another TikTok that she had accidentally over-laminated her eyebrows, Jenner posted two Instagram Stories — one, a close-up of her brows with "this was an accident?" written over them, and the other, a screenshot of her and Bieber Facetiming, zooming in on their eyebrows. 
Many called out Bieber and friends for their supposedly "mean girl" behavior, accusing them online of envy. And we all know ... it wouldn't be a girl fight without "The View" hosts chiming in with their takes.
The View panelists call Hailey Bieber and Kylie Jenner 'shady'
The panelists of "The View" have spoken ... and they are Team Selena all the way. On a March 1 segment addressing social media's new favorite girl-fight, the daytime talk hosts agreed that Hailey Bieber and Kylie Jenner were being sus as heck toward Selena Gomez in their social media digs. 
Conceding that she was already a Gomez stan, Alyssa Farah Griffin noted, "It did seem like they were kind of ganging up on her ... it was mean-spirited. They were mocking her eyebrows." Griffin also praised Gomez for promoting body positivity through her Instagram, oft-posting photos of her sans makeup, while Jenner, in her opinion, posts "a lot more, just like ... thirst traps" — projecting the supposed message that "someday you could look this good if you have enough money to buy it." 
While co-host Joy Behar chided Griffin for taking her anti-Jenner rant too far ("The fans get on to that and like it and do what's happening with Selena."), Sunny Hostin was Camp Selena as well. Calling Jenner's Instagram "Eyebrow" Stories a total "shade post," Hostin mused, "It says more about them than it says about Selena," praising Gomez for not meeting "their energy with her energy," to which Sara Haines agreed, "Absolutely."
It appears the Internet, in general, is pro-Gomez. The "Calm Down" singer has gained ten million followers (and counting) since the supposed new feud began, while Jenner has lost 500,000.