How Vanessa Trump Insulted Her Future Father-In-Law When She Met Don Jr.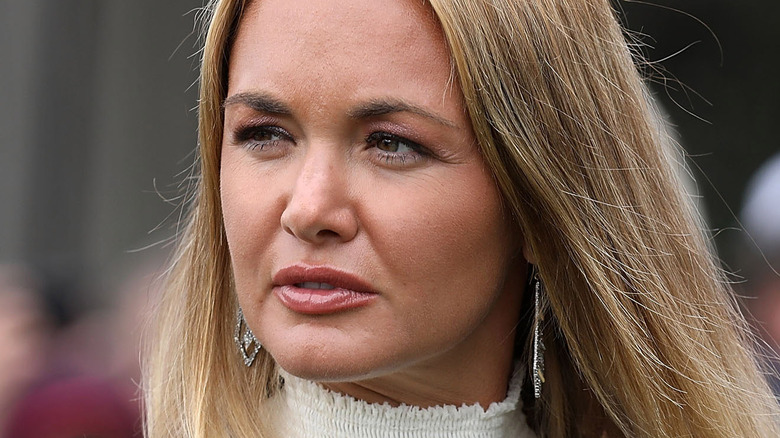 Chip Somodevilla/Getty Images
Once upon a time, before Donald Trump Jr. and Kimberly Guilfoyle became the "it" couple of the MAGA community, he was married to Vanessa Trump. The duo married in 2005 but called it quits in 2018, after former President Donald Trump was already in office. Vanessa became well-known because of her high-profile marriage, though she hails from an interesting pedigree herself. 
Her father, a lawyer named Charles Haydon, invested a significant sum of money into Rao's Speciality Foods, the brand famous for its marinara pasta sauce, leading to a remarkable financial boon for the whole family. On top of that, her marriage to Don Jr. wasn't her only notable romance; she once reportedly dated Leonardo DiCaprio and several other noteworthy characters. Plus, she had a rich, full New York life of her own. Vanessa worked as a model, an actor, and a designer. 
While Vanessa had a great life, things really kicked into high-gear when she married Don Jr. — but the way she insulted Donald Trump during their meet-cute is worth a story.
Vanessa only remembered Don Jr. because of his dad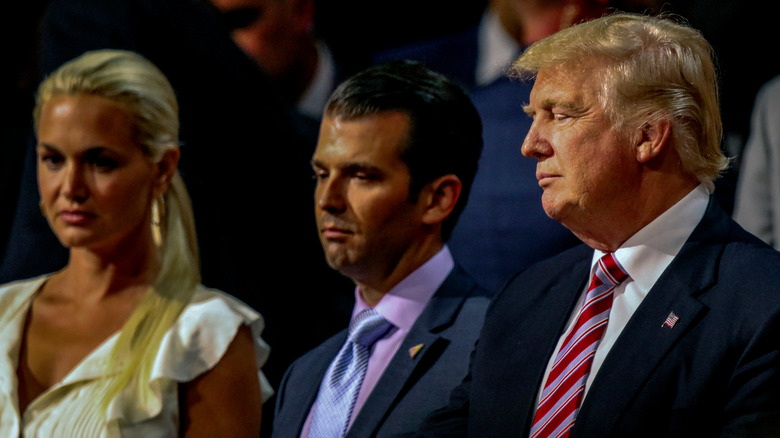 mark reinstein/Shutterstock
Vanessa Trump and Donald Trump Jr. met in 2003. They were at an event when Donald Trump himself tried to orchestrate the romance, which didn't quite work for Vanessa. "I'm at this fashion show," she told The New York Times in 2006. "Donald Trump comes up to me with his son: 'Hi, I'm Donald Trump. I wanted to introduce you to my son Donald Trump Jr.'"
After a short conversation, they got back to the fashion when, during intermission, Donald approached Vanessa again, apparently not recognizing her from earlier. "Donald comes back up to me again, 'I don't think you've met my son Donald Trump Jr.,'" She said, and her response to Donald was: "Yeah, we just met, five minutes ago."
They didn't connect again that night but considering they ran in the same elite social circles in New York, it was only a matter of weeks before they met up again at a party, completely by accident. Vanessa claimed that neither she nor Don Jr. recalled meeting at the fashion show. "We talked for an hour," she said, until something tipped her off and she told Don Jr. that she did remember him from the fashion show and said he was "the one with the retarded dad!" Umm, yikes.
Don Jr. proposed to Vanessa with a free ring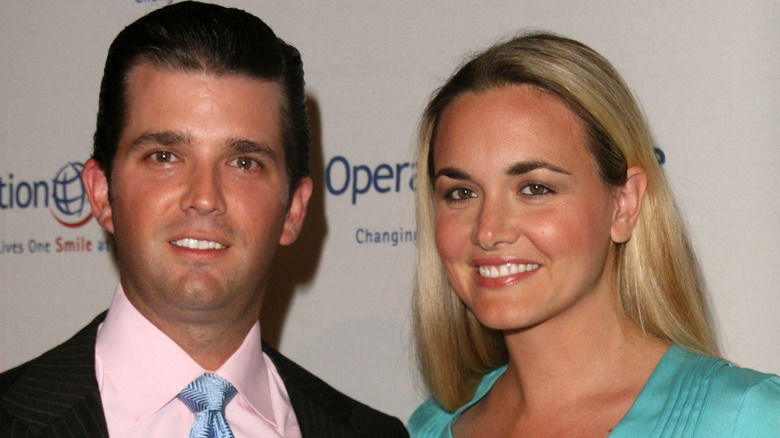 s_bukley/Shutterstock
While Donald Trump might have brought Vanessa Trump and Donald Trump Jr. together, he apparently wasn't a fan of how Don Jr. acquired Vanessa's engagement ring. Don Jr. got the engagement ring, worth $100,000, for free from the New Jersey jeweler Bailey, Banks & Biddle. He got the ring in exchange for publicity for the brand. Don Jr. showed up at Short Hills Mall to photographers and a camera crew, while he selected Vanessa's 4-carat ring.
While Donald has always been one for wrangling deals, he seemingly found his son's free ring stunt a little tacky. While Vanessa said yes, who knows how she really felt about the whole situation. Apparently, she and Don Jr. had relationship struggles even before they got married. "People were telling her not to marry him before the wedding," a source told Page Six, so obviously it wasn't a match made in heaven, no matter how good a deal the ring was.