How Evan Peters And Emma Roberts' First Kiss Went Totally Wrong
Tinseltown/Shutterstock
Evan Peters and Emma Roberts have had quite a few kisses in their time. The two first met on the set of the movie "Adult World" back in 2012, and then sparked a romantic relationship shortly thereafter. The two ended up getting pretty serious, too, as they got engaged in 2014, but were on and off for several years before they finally called it quits and went their separate ways after around seven years of dating. People confirmed the romance was officially off after fans questioned if they'd split when Roberts was spotted getting cozy with Garret Hedlund, with whom she would later welcome son Rhodes.
But it turns out these two didn't exactly have the most romantic of first kisses, which, well... may have been a bit of a tell-tale sign of what was to come for the duo. In fact, it turns out their first kiss was just downright awkward, something Peters himself has even attested to.
Evan Peters called his first kiss with Emma Roberts 'awkward'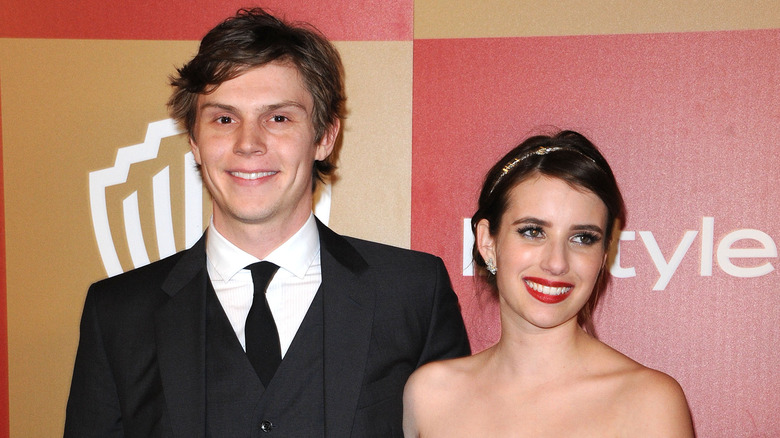 DFree/Shutterstock
Evan Peters got very candid about the first time he and his ex-fiancée Emma Roberts locked lips during an appearance on Chelsea Handler's "Chelsea Lately" in 2014, explaining he was trying to impress her when they first met and was majorly crushing on her. (Hey, who could blame him? She's gorgeous!)
The actor recalled, "I tried to be cool and funny and flirt a little bit, but it didn't go over very well because I was just saying the wrong things, basically." Their first kiss actually came about as part of "Adult World," with the director telling Peters to have an unscripted kiss with his co-star. "I got really awkward and really weird and forgot what to do, and then I kissed her," he said. Although he admitted it felt pretty nice, it was no turn your world upside down, fireworks-bursting smooch. "It was super awkward and so I felt weird about it. So I was like, 'That was like kissing Cloris Leachman.' And she was super pissed off," he shared. Yeah, we can imagine that went down like a lead balloon.
But, regardless, Roberts admitted she always knew they'd end up dating — and she was pretty awks, too. "On set... I would try to flirt with him, which ended up looking like I had something in my eye. He literally didn't speak to me the entire movie, like, thought I was so weird," she told "Chelsea Lately."
Working with Emma Roberts got easier for Evan Peters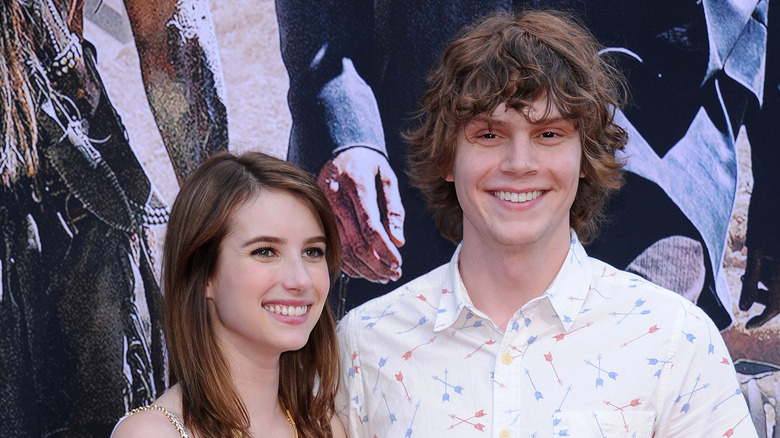 DFree/Shutterstock
It sounds like things only got better for Emma Roberts and Evan Peters after that, though — at least when it came to working together. While they were still engaged, Peters spoke out about working with Roberts on "American Horror Story: Coven," and revealed he couldn't get enough of hitting the set with his (then) other half. "It's really amazing. You're at set and you're in a city that you don't really know that well. It's nice to have your best friend there to go to dinner with and check out the city," he told People in 2014. "On set if you're having a bad day or whatever, you can go to somebody and talk to her and she's right there." Adorable!
Of course, we know these two didn't end up working out and going the distance, and Roberts reflected on their tough split while chatting with Cosmopolitan in 2019. "I think that no matter who you are or what you do or wherever in the world you are, anything ending is hard," she said. "Losing something is hard."