Russell Simmons' Daughter Aoki Got Accepted To Harvard At A Young Age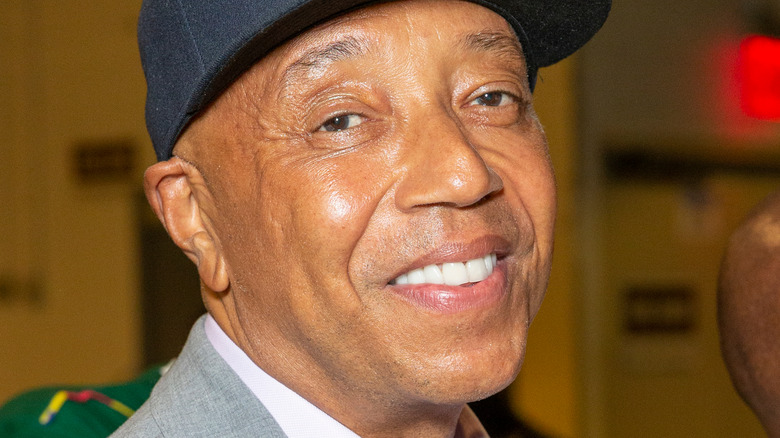 lev radin/Shutterstock
Kimora Lee Simmons and Russell Simmons have a complicated history. The model and Def Jam Recordings founder sparked controversy as soon as they met, given she was a teenager. But they went on to marry in 1998 nonetheless, though the marriage didn't last. They separated in 2006, two years before Kimora filed for divorce. In addition to co-parenting Ming Lee and Aoki Lee, Kimora and Russell continued to work as partners in their shared business ventures. 
Their relationship took a downturn in 2021 when Russell sued Kimora and now-estranged husband Tim Leissner in what became a complex deal involving their business partnerships. Kimora and Russell's legal battle aside, the former couple has largely remained on good terms since going their separate ways, choosing to prioritize their daughters amid the divorce. "Kimora and I talk about pretty much everything," he told JET in 2009. "We are the best of friends. And that's very helpful to the girls." Besides their status as business partners, Kimora and Russell continue to be involved in each other's personal lives as well.
Russell even treats Kimora's children with Leissner and Djimon Hounsou like his own. "Morning inspiration @aokileesimmons and my God children kenzo and Wolfe lee," Russell captioned a 2019 Instagram photo of his youngest with Kimora's sons. And despite their ups and downs, Kimora and Russell do have a lot to be proud of when it comes to their daughters, with Aoki even being admitted into Harvard University at an impressive age.
Aoki Lee Simmons was just 16 when she was accepted
Aoki Lee Russell received confirmation she had been accepted in Harvard University in early March 2019, a feat she shared with her Instagram followers. Aoki was born in August 2002, making her just 16 when she read the acceptance letter on her computer. "I'm going to Harvard baby! Insert emotional crying face ... thank you so much to every single person who helped me along the way. I am excited and honored and so so grateful," she captioned a video that captured her reaction (lots of happy tears) upon hearing the news.
The person behind the camera was Kimora Lee Simmons, who is loudly cheering. Aoki's then stepdad Tim Leissner and brother Kenzo Lee Hounsou were also there to celebrate Aoki's achievement. Kimora also took her excitement to social media, praising her daughter's dedication over the years. "You did it! It took years of super dedication and lots of tears! But HERE YOU ARE!!!" she captioned her Instagram post. Kimora didn't waste the chance to brag a little more, sharing that Aoki also got into "Dartmouth, Vassar, Barnard etc!"
Russell Simmons also used the occasion to poke fun at the so-called college admission bribery scandal that affected several celebrities, most notably Lori Loughlin and Felicity Huffman and her husband William H. Macy. "So blessed @aokileesimmons made it into HARVARD and Kimora Myself or Tim didn't have to pull any strings or pay anyone to get her in," he wrote on Instagram. 
Aoki Lee Simmons is also pursuing a modeling career
Aoki Lee Simmons started attending Harvard University in fall 2019 to pursue a degree in computer science, according to her LinkedIn. Her profile also lists some of the other professional roles she's taken on over the years, including an internship at the New York City Office of the Mayor and time spent working as a field archaeologist in Spain in 2018 (when she was 15, mind you).
Alongside those impressive achievements, Simmons also lists another career: fashion model. Since 2020, she is represented by ONE Management, the experience section notes. Simmons made her runway debut in 2021 at the Paris Couture Week. Since embarking upon her modeling journey, Simmons has faced criticism for reportedly disregarding her education in exchange for a field that requires none. In August 2022, Simmons took to her TikTok to defend her choice.
In the video, Simmons is addressing a fan who asked, "You're so articulate and obviously educated ... how can u choose modeling?" Simmons starts off by arguing models can very well be articulate and educated. But then she notes that she's always been passionate about modeling and fashion.  "You can be good at something and not want to do it forever, and you can be bad at something and still pursue it," she said. Indeed, Simmons has been accompanying her mother to shows since she was a toddler, so it's not like her choice came completely out of the blue.