Harry And Meghan Receive King Charles Coronation Invite Amid Royal Eviction Drama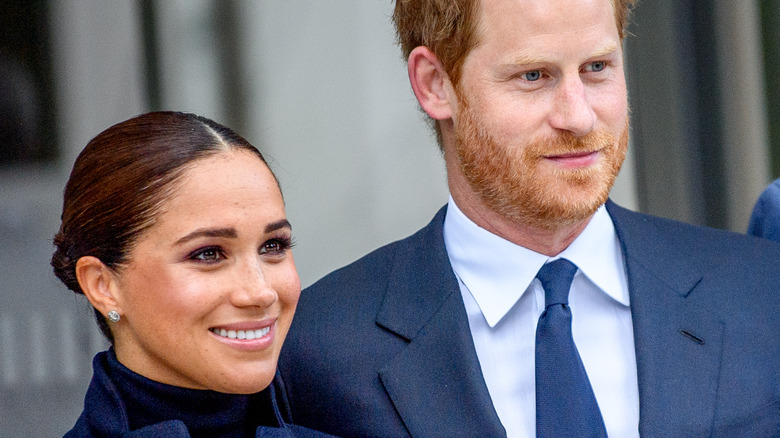 Roy Rochlin/Getty Images
King Charles III is readying the stage for his coronation, slated for May 6, 2023, at Westminster Abbey. It's been a long time coming for Charles, who holds the record as the longest waiting heir-apparent in Britain's history following the record-long reign of his mother, Queen Elizabeth II. While it's no doubt very exciting for him, the poor guy can't bask in the joy of his pending coronation thanks to the major media frenzy surrounding his son, Prince Harry, and his wife, Meghan Markle.
The now-California-based couple has created a media presence based on talking about their experience in the royal family. There was the interview with Oprah Winfrey, of course, followed by their Netflix series, as well as Harry's contentious memoir, "Spare." These were combined with an extensive press tour, giving them both (but especially Harry) a platform to talk about his family. Whether or not Harry and Meghan expected repercussions from all of this, they certainly got them. Charles evicted the couple from their Windsor home, Frogmore Cottage, and is turning the keys over to the disgraced Prince Andrew. Despite this dig, Harry and Meghan did receive an invitation to the coronation, and it has naturally caused a huge uproar.
Prince Harry and Meghan Markle haven't confirmed their attendance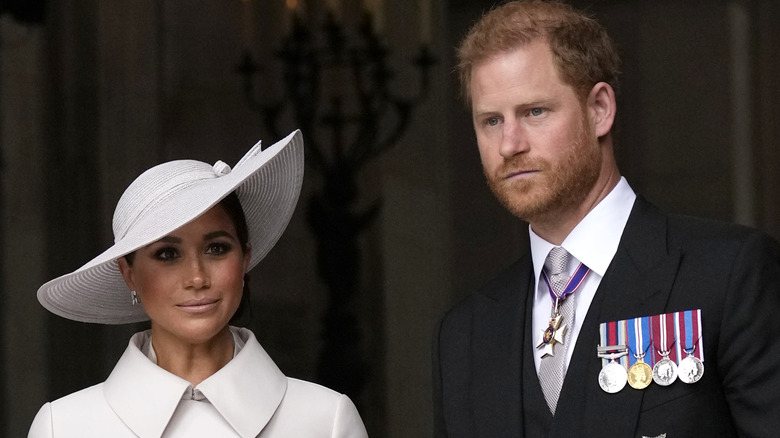 Wpa Pool/Getty Images
Prince Harry and Meghan Markle, the Duke and Duchess of Sussex, have received their official invitation to King Charles III's coronation in May 2023. Harry and Meghan's spokesperson confirmed to Harper's Bazaar that Buckingham Palace has been in touch with the couple about their attendance. Now the ball's in Harry and Meghan's court. "An immediate decision on whether the Duke and Duchess will attend will not be disclosed by us at this time," the spokesperson said. While Charles evicted them from Frogmore Cottage, the pair won't have to vacate their former home until after the coronation, so Harry and Meghan will have a familiar location in which to stay, should they decide to attend. Plus, the grounds of Windsor are guarded, so they will have protection if and when they return to England, while they still have access to Frogmore.
But the goal of the royal family is to have Harry and Meghan's presence at the event be as neutral as possible. The family is concerned that the couple's presence will detract from the focus of the coronation. Hugo Vickers, a source close to the royals, told Page Six, "Nothing must deflect from the actual coronation, it's very important." So, the royal family is hoping that the focus can remain on Charles.