Prince Harry And Meghan Markle Might Make Their Late-Night TV Debut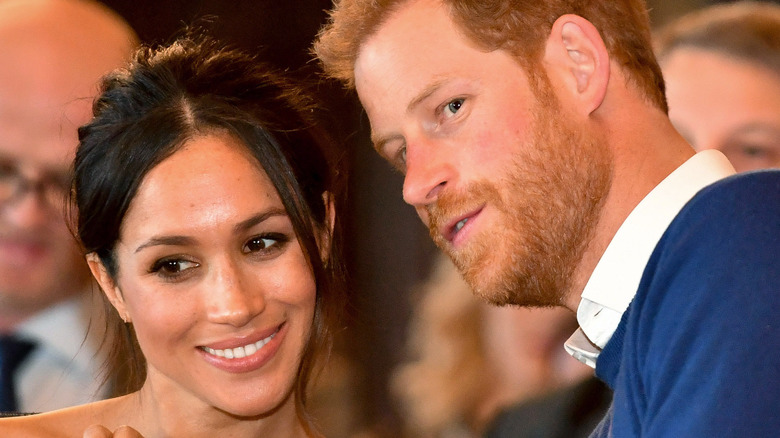 Wpa Pool/Getty Images
With the highly-anticipated release of their Netflix docuseries "Harry & Meghan," it comes into question whether Prince Harry and Meghan Markle will do a round of press to promote it. Many celebrities are obligated to do so in their contract, but is there an exception for royals?
Fans may recall the last time the couple did a big interview together was in 2021 when they sat down with Oprah Winfrey. The bombshell interview revealed reasons as to why the couple decided to step down from their royal duties. From racism and mental health struggles to the British media, all aspects greatly affected the couple and their well-being, per AP News. The talk with Winfrey did not paint the British monarchy in a good light, and according to Vanity Fair, tensions were said to have risen in the royal family. 
Now, if people thought they knew everything about Prince Harry and Meghan Markle, there are even more details about to be uncovered. Harry and Meghan are giving people access to their private life with their 2022 docuseries. The series, divided into two parts, is diving further into the scrutiny the couple faced and their relationships with the royal family, per Forbes. Even with the Netflix series, it looks like fans can't get enough of Harry and Meghan, because rumors are swirling that they might appear on their first-ever late-night talk show.
Harry and Meghan will not go on a late-night show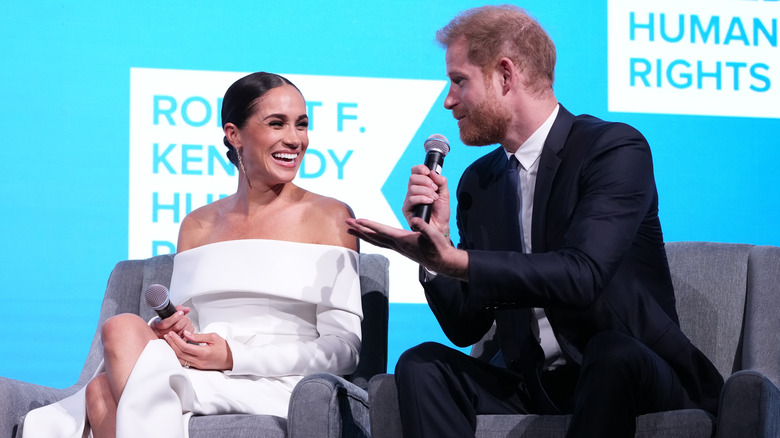 Kevin Mazur/Getty Images
Fans believed Prince Harry and Meghan Markle would appear on "The Tonight Show with Jimmy Fallon" after the show shared a mysterious tweet. The tweet said, "Guess who's making their talk show debut next Thursday? We'll give you a hint..." Well, the hint was two emojis of a crown and suit and tie. Fans flooded the comments with who they speculated could be the next possible guest, and many believed it would be the Duke and Duchess of Sussex. With the release of their Netflix docuseries, it made sense that the couple may be making their late-night debut, but that's not the case.
According to Page Six, Harry and Meghan will not be going on the late-night show. "The Tonight Show" ended up tweeting who was actually going to guest star, and it was just a mix-up of royals. Edvin Ryding and Omar Rudberg, stars of the Netflix series "Young Royals," will be interviewed by Jimmy Fallon instead.
For Meghan specifically, this is the second time fans discovered she wouldn't appear on the late-night show. Page Six noted that the Duchess of Sussex was scheduled to sit down with Fallon, but after the unexpected death of Queen Elizabeth II, Meghan canceled her appearance. Despite Harry and Meghan not appearing on the late-night show, fans still can get their royal fix by watching the Netflix docuseries.