Chris Rock Hits Will Smith Where It Hurts In Netflix Special (Plug Your Ears, Jada)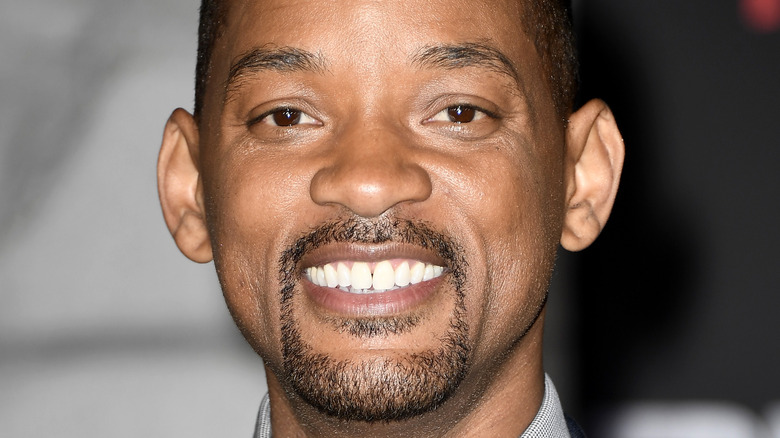 Frazer Harrison/Getty Images
It's been one year since Will Smith infamously slapped Chris Rock at the Oscars. Following a "G.I. Jane" joke about Jada Pinkett Smith's shaved head, Will walked onto the stage, slapped Rock and demanded he "keep my wife's name out your f***ing mouth." As a result of the incident, the Academy banned Will from attending the Oscars for 10 years.
Both Jada and Will have brought up the fiasco, intending to move forward from the uncomfortable moment. According to People, on an episode of "Red Table Talk," Jada said her "deepest hope is that these two intelligent, capable men have an opportunity to heal, talk this out and reconcile." On the other hand, Will took to social media to apologize to Rock. In a YouTube video, he said, "I've reached out to Chris and the message that came back is he's not ready to talk. And when he is, he will reach out. So I will say to you, Chris, I apologize to you. My behavior was unacceptable and I'm here whenever you're ready to talk."
As it turns out, Rock is talking about the incident, and Will and Jada are taking the heat for it.
Chris Rock took jabs at Will Smith during his Netflix comedy special
Chris Rock threw plenty of digs at Will Smith and Jada Pinkett Smith in his recent Netflix comedy special. In the live-streamed event called "Chris Rock: Selective Outrage," the comedian referred to the Oscars slap, saying, "Will Smith practices selective outrage. Everybody that really knows knows I had nothing to do with that s**t. I didn't have any 'entanglements.'" He was alluding to Jada's self-proclaimed "entanglement" with singer August Alsina, which occurred when she and Will took time apart from each other. 
Rock also poked fun at Jada's "Red Table Talk" episode, where the couple talked about the situation. It's worth noting that Will once said that there has "never been infidelity in our marriage." Regardless, Rock said, "We all been cheated on. Everybody in this industry has been cheated on. None of us have ever been interviewed by the person that cheated on us on television. None of us. ...Why the f**k would you do that s**t?" He then weaved in a zinger about the Oscars slap, saying, "She hurt him way more than he hurt me, okay?"
Of course, Rock has cracked jokes directed at the couple on multiple occasions. During his 2016 Oscars monologue, he said, "Jada's mad her man Will was not nominated for 'Concussion.'" He added, "It's not fair that Will was this good and didn't get nominated. You're right. It's also not fair that Will was paid $20 million for 'Wild Wild West,' okay?"