RHONJ's Danielle Calbral Has A Little Known Connection To Caroline Manzo
"The Real Housewives of New Jersey" fans have seen quite a lot of Danielle Calbral since Season 13 debuted on Bravo in February 2023. The season actually brought a couple of new faces to our attention, with both Calbral and Rachel Fuda joining "RHONJ" as full-time Housewives, while Jennifer Fessler landed herself a "Friend of" role.
Calbral, in particular, has made quite the splash so far. She's already ruffled a few feathers among the Jersey ladies and has proven she knows how it all goes down in the Garden State, as she gave the cast a chance to get dramatic when she hosted a mozzarella making party (yes, that's a real thing) for her cast mates during the second episode of the season, titled "Family, Family, Family." As you'd probably expect, though, it all quickly deteriorated into an argument. (See? We told you she knows how it goes down in Jersey.)
But knowing she knows how to facilitate a little drama may come as no surprise after you learn that Calbral actually has a connection to a "RHONJ" OG. Yep, the new star is actually related by marriage to none other than "thick as thieves" matriarch Caroline Manzo, as the two have an association you may not know about.
Danielle Calbral is an extended member of the Laurita-Manzo clan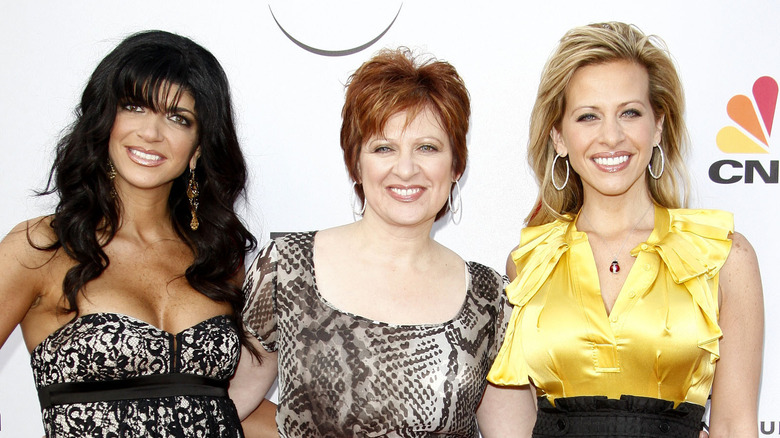 Joe Seer/Shutterstock
Stay with us here, because this connection is a little hard to get your head around. So, if you're a longtime viewer of "The Real Housewives of New Jersey," you'll know that Caroline Manzo has a massive family of 10 siblings (including former castmembers Dina Cantin — née Manzo — and Chris Laurita). Well, this is where Calbral comes in. Teresa Giudice revealed during the first episode of Season 13, "New Friends, Same Jersey," that she knew Calbral before she joined the show, sharing in a piece to camera, "I met Danielle because Danielle's stepmom was married to Caroline Manzo's brother." So, let's break it down a little more. Calbral's dad, Phillip DiPietro, married Cammy DiPetro, who is the ex-wife of Anthony Laurita, Caroline's brother. That makes Calbral Caroline's step-niece. Still with us?
Calbral's step-sister also has a very close connection to the Manzo clan. Longtime viewers will probably remember Caroline's niece, Candice Laurita, from popping up every now and then in the earlier seasons during family gatherings. She also regularly features on Caroline's son Albie Manzo's "Dear Albie" podcast, and is particularly close with Caroline's daughter, Lauren Manzo.
How close is Danielle Calbral to the Manzos?
While we know Teresa Giudice first met Danielle Calbral through her Manzo-Laurita connection, it doesn't seem as though she's all that close with Caroline Manzo these days, as neither follows the other on Instagram. Calbral and Lauren Manzo do both follow one another, though, as do Calbral and Caroline's former co-star and sister-in-law, Jaqueline Laurita, who is married to Caroline's brother, Chris Laurita.
It seems the "RHONJ" newbie also has a close relationship with her step-sister, Candice Laurita, as the latter shared a stunning professional family photo on Instagram in 2020 that showed both sides of the family posing together. In another keeping it in the family twist, the snap also featured Caroline's nephew, Tony, and his wife, Sarah, who was Jacqueline Laurita and her husband Chris Laurita's babysitter for years. Jacqueline shared a photo on Instagram of herself and Chris posing with that side of the family during an event in 2015, and the snap even featured Anthony Laurita (who you'll remember was previously married to Cammy DiPetro, who's now married to Calbral's dad, Phillip DiPietro) and his current wife, Andrea Laurita. Still with us now? 
As the Jersey ladies always like to remind us, it's all about family!