Darcey And Stacey: How Much Plastic Surgery Have The TLC Stars Had?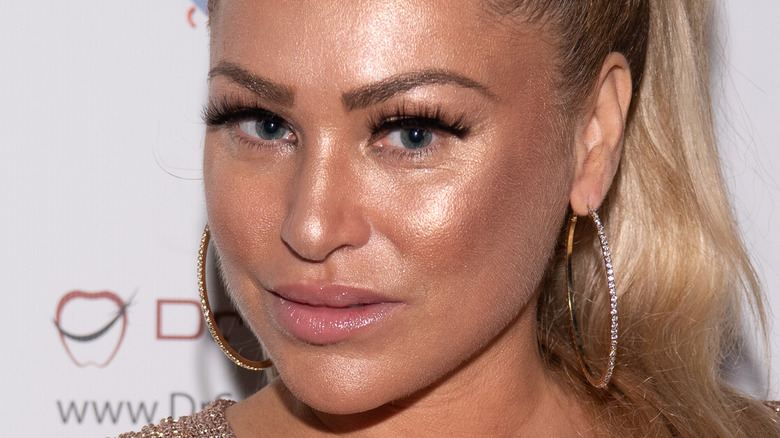 Dave Kotinsky/Getty Images
Twins Darcey and Stacey Silva made their reality TV debut in 2017 on TLC's "90 Day Fiancé: Before the 90 Days." The show followed Darcey's journey to meet her online boyfriend of more than five months, Jesse Meester, and work towards getting him a K-1 visa. And while that relationship didn't exactly work out for Darcey, it did pave the way for a brand new spin-off featuring both Darcey and Stacey. "I'm really super excited about the new show and very grateful to TLC," Darcey later gushed to Entertainment Weekly about the series aptly titled "Darcey and Stacey." She added, "I'm at a stage in my life where I am happy with my life and I'm staying strong for me and my daughters and my family. And I'm so excited to dive deeper into our family life on the new show, past, present, and future."
Alas, the twin sisters' ascent into reality television stardom hasn't been without growing pains – particularly regarding the public's scrutiny of their changing physical appearance. But exactly how much plastic surgery have the Silva Sisters had? The answer may or may not surprise you.
Darcey and Stacey have had three breast augmentations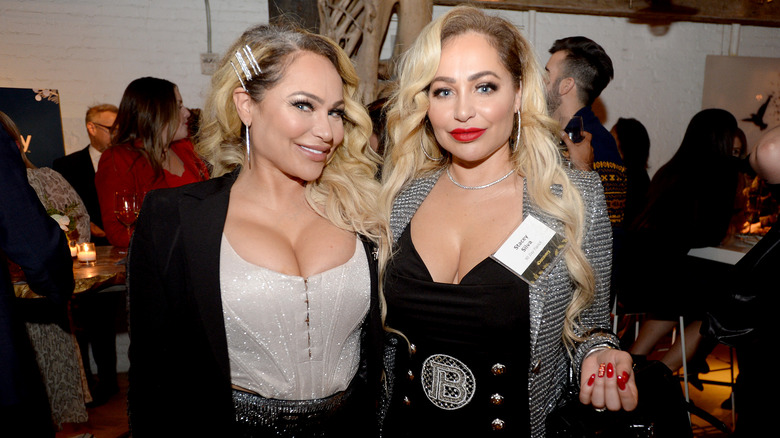 Brad Barket/Getty Images
Maybe the third time really is the charm?
As the story goes, before embarking on their reality television careers, Darcy and Stacey Silva went under the knife for breast implants after waitressing at a Hooters restaurant in Midtown West in New York City. "We actually didn't have big hooters when we worked there," Darcey told the New York Post in January 2023. "And then I think we got boob greed," Stacey quickly interjected about the sisters' penchant for enhancing their breasts. Darcey then revealed that the reality stars had undergone breast augmentation a total of three times. "We breastfed, so we just wanted to fill out extra skin. A couple years after that, we redid them and then went bigger and came to Miami." Stacey confessed about their quest for perfect chests.
Alas, their breasts weren't the only parts of their bodies the twins opted to change with plastic surgery.
Darcey and Stacey got the 'Barbie Touch Up'
Eye lifts, nose lifts, and lip lifts, Oh my!
Breast augmentations are just the tip of the iceberg when it comes to all of the plastic surgery Darcey and Stacey Silva have had. According to Comfort Zone Cosmetic Surgery, the twins got the "Barbie Touch Up," which entails an eye lift, nose lift, lip lift, breast implants, and a Brazilian Butt Lift. But that's not all. Darcey revealed to the New York Post that the twins also had liposuction and fat buccal removal. 
Still, Darcey is adamant that all of the plastic surgery wasn't just for vanity reasons. "You know what, we're embracing ourselves, loving ourselves from within and it just radiates on the outside for us," she told ET in July 2021. "We love ourselves enough to be able to take that journey, that step, and that risk, in a sense, to better ourselves. It wasn't just for outward transformation, it really was from the inside, and I think you have to have a certain kind of understanding that regardless of what can happen, what can't happen, you just gotta sometimes take risks in life," she explained. And fortunately for Darcey, it appears the surgeries were well worth the risk. "Got my Darcey Glow! Feeling sexy, beautiful and snatched!" she gushed on Instagram in July 2021 while showcasing her brand-new face and bikini body. Congrats!