The Truth About Darcey Silva And Her Twin Sister Stacey's Relationship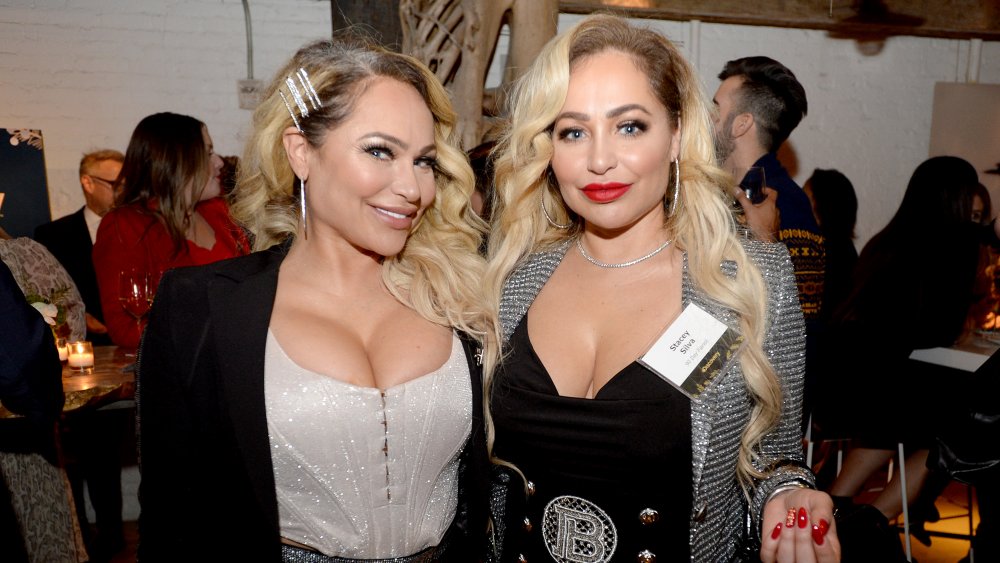 Brad Barket/Getty Images
Darcey Silva of 90 Day Fiancé fame has had her fair share of troubled relationships. The divorced mother-of-two first appeared on the spinoff Before the 90 Days. Season 1 and 2 followed Darcy as she tried (and failed) to make it work with Jesse Meester, a male model 19 years her junior. The two fought about just about everything, from who scuffed up Jesse's new sneakers to how to cook a steak. Things came to an unsurprising but entertaining end when they broke up in a cramped New York City hotel room.
Darcey returned the following season with Tom Brooks, a slightly more age-appropriate boyfriend from England. Even though Darcey and Jesse's steak fight takes the cake as one of the most cringey 90 Day Fiancé moments ever, her relationship with Tom was not without its problems. The pair split soon after Season 3 wrapped, and promptly began trash-talking each other all over social media. Tom claimed he never wanted to be on the show and Darcey said he never loved her. 
While men have come and gone from Darcey's life, the one constant has always been her twin sister, Stacey Silva. In 2020, Darcey hit the 90 Day Fiancé jackpot and scored a spinoff, Darcey & Stacey, which follows the tight-knit relationship between the Silva sisters. Here's everything you need to know about the twins before you tune in.
Darcey and Stacey Silva have the same taste in men
Darcey and Stacey Silva share more than identical DNA, they also share a love of foreign men. When Darcey finally moved on from Jesse and Tom, she fell head over heels for Georgi Rusev, her Bulgarian boyfriend. "He has a lot of great energy. His demeanor's really fun," the reality star told Us Weekly in August 2020, "We had a lot of fieriness with us and he's Bulgarian. He's from there originally, but he lives in the States." At least she doesn't have to worry about why he wants a visa this time.
Though they both like an accent, Stacey's love life is less tumultuous than Darcey... well kind of. Stacey and Florian Sukaj met online and the two got engaged after only six months of dating when Stacey traveled to Albania to meet him face-to-face. Much of Darcey & Stacey focuses on Stacey's exhaustive attempts to finally set a date with Florian. "We had a long engagement and it was a pretty healthy relationship and we both wanted it to work," she told the outlet.
Stacey also added that there has been some "drama" since filming wrapped, but Darcey held her hand through it all. "It's hard to talk about, but you know, it's a part of it, and I lived it and I'm just trying to focus on the moment," she said. "I'm just blessed to have Darcey by my side to be there to support me." Aww.
Darcey and Stacey Silva work together behind the scenes
Before they landed their own TLC spinoff, Darcey and Stacey Silva spent years working together as founders of their clothing brand, House of Eleven. The label sells women's clothing, accessories, shoes, and even a few beauty products. Though sales skyrocketed after Darcey's first season on 90 Day Fiancé, the label turned a profit long before that. Even celebrities have reportedly been spotted wearing House of Eleven clothing, including Demi Lovato, Jessica Alba, and Nicki Minaj, according to Monsters & Critics.
House of Eleven is about more than just making money, though; it's also an homage to Darcey and Stacey's late brother, Michael Silva, who passed away in 1998. The strange name, "House of Eleven," refers to Michael's birthday May 11, and the date of his death July 11, per Screen Rant. As Nicki Swift previously reported, the twins claimed a "lion's share" of profits from House of Eleven sales are donated to cancer charities in Michael's honor. However, that note has since been removed from the label's official website, so it seems they may have changed their business model.