Everything We Know About Darcey And Stacey Silva's New TLC Show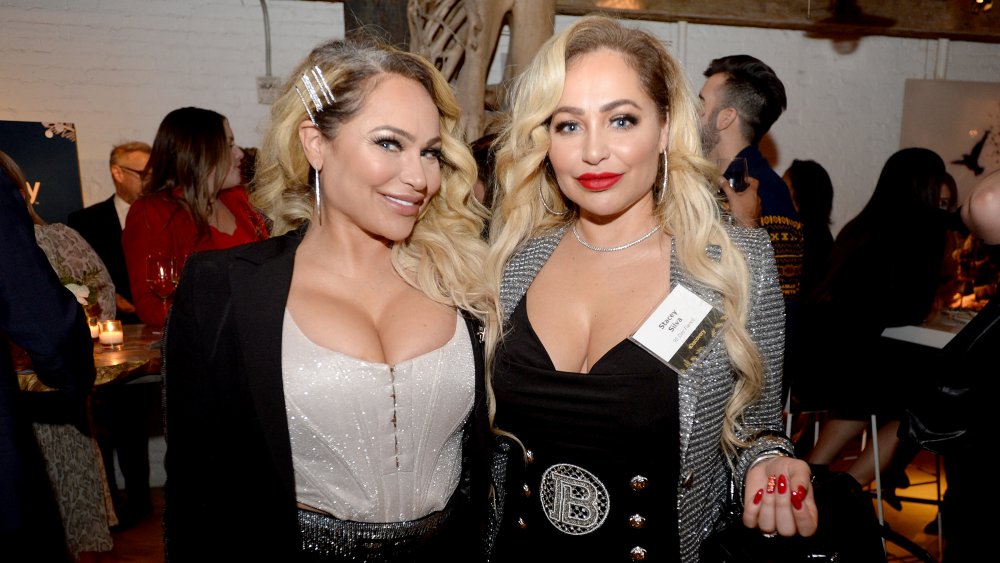 Brad Barket/Getty Images
TLC's smash hit 90 Day Fiancé, a show about Americans securing K-1 visas to marry their overseas partners, premiered in 2014, and since then, it's given birth to an army of spinoffs. Happily Ever After?, Before the 90 Days, What Now?, and Pillow Talk, just to name a few. The newest addition Darcey & Stacey follows twin sisters Darcey and Stacey Silva as they navigate life in their 40s. "I feel like everybody's going to get a sense of who we are as individuals — not only as twins, but as individuals," Darcey told Us Weekly.
In the series, Darcey looks for love (again), and Stacey plans her wedding to long-time fiancé Florian Sukaj. If the trailers any indication, that's easier said than done. Stacey told the outlet viewers can expect "some drama" involving the upcoming nuptials. "It's hard to talk about, but you know, it's a part of it, and I lived it and I'm just trying to focus on the moment. I'm just blessed to have Darcey by my side to be there to support me," she added.
Darcey, who seems to have a thing for non-American men, is looking forward to introducing fans to her new boyfriend, Bulgarian-born Georgi Rusev — who actually lives in the U.S. already. "It's been a really fun, exciting relationship and exciting to see where it goes," the reality star gushed. "He has a lot of great energy. His demeanor's really fun." After Darcey's disastrous relationships with Tom Brooks and Jesse Meester, fans agree that she deserves a little fun. 
Jesse Meester is mad about the spinoff
Darcey and Stacey Silva might be happy about their new show, but at least one person isn't: Darcey's ex Jesse Meester. ShowBiz Cheatsheet reported that he did not hesitate to share his feelings on Instagram as soon as TLC announced the premiere.
In a since-deleted comment, Jesse wrote, "She only had to use, abuse and manipulate 5 guys to get what she wanted all along from the network. Ethics, TLC? When lying and manipulating gets rewarded I will speak up. She still owes me money too, maybe she can finally pay me back now. Been a sugar daddy for her for far too long so she could get help." Jesse, who first appeared on Before the 90 Days as Darcey's love interest, recently appeared on TLC's quarantine inspired hit: Find Love Live. Even though he seemed to hit off with another contestant, it sounds like he's still bitter about the breakup.
Fans cringed through an entire season of Before the 90 Days as Darcey and Jesse engaged in explosive arguments over who dirtied Jesse's new shoes and how to properly cut a steak. There was a collective sigh of relief when they finally called it quits. Here's hoping things go a little smoother for Darcey and her new beau.