How Lionel Richie And Luke Bryan's Friendship Has Grown Beyond American Idol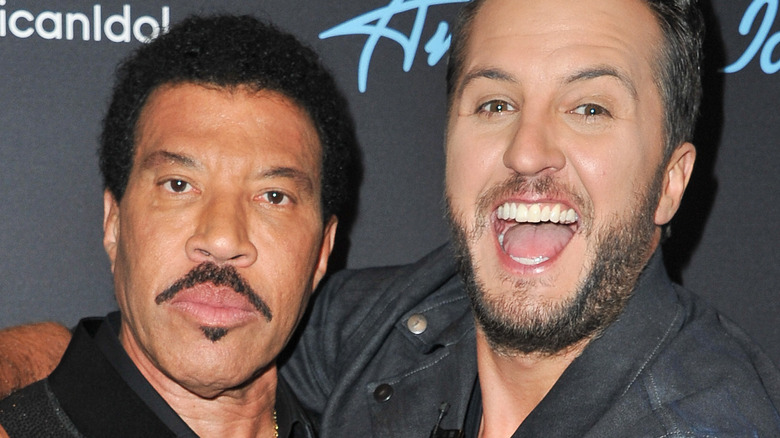 Allen Berezovsky/Getty Images
Lionel Richie and Luke Bryan have been entertaining "American Idol" viewers with their natural camaraderie and good-natured ribbing for six seasons so far and their friendship is still going strong. While many might think the two singer-songwriters met on the competition show, Richie and Bryan were friends for years before their "American Idol" stint. In 2012, Bryan performed for the "Hello" singer at the Academy of Country Music's Lionel Richie and Friends in Concert. "[Your] music has shaped my life. It's inspired me ... Nothing's more rewarding in this business than when you meet one of your heroes and your hero is everything you ever dreamed he would be. And that is you," Bryan told Richie from the stage.
And, ultimately, Bryan has Richie to thank for being chosen as a judge on "American Idol." During an appearance on "Jimmy Kimmel Live" with Bryan and Katy Perry, Richie revealed that he recommended the country star to the producers. "I said, 'Trust me, there is never a dull moment with Luke in the house,'" Richie shared. Bryan and Richie became closer during their years on "American Idol" and they continue to remain tight outside of the show.
Luke Bryan paid tribute to Lionel Richie on multiple occasions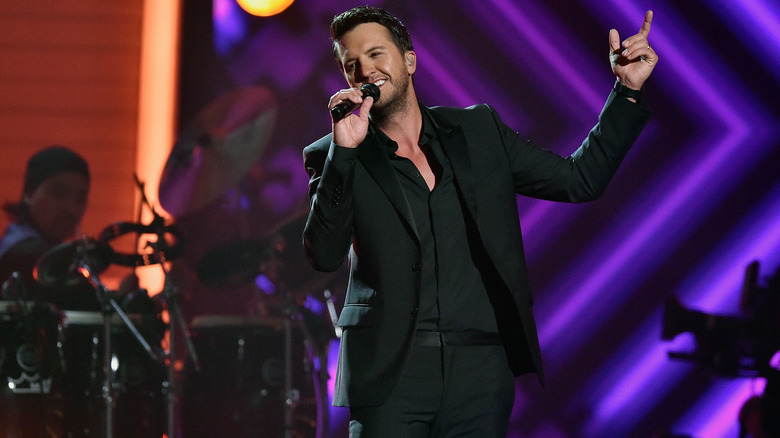 Kevork Djansezian/Getty Images
Luke Bryan isn't just Lionel Richie's friend, he's also a megafan, as well. The "Country Girl" singer was one of many pop stars to pay tribute to Richie during the 2016 Grammy Awards. Bryan took the stage with John Legend, Demi Lovato, Tyrese Gibson, and Meghan Trainor to sing Richie's many hits over the years, with the Grammy award-winner joining them to sing "All Night Long."
In May 2022, Bryan paid another tribute to his fellow "American Idol" judge, who was given the Library of Congress Gershwin Prize. "You know how we all have bad days? I wake up and have a bad day, and then I tell myself, 'Somewhere, Lionel Richie ain't having a bad day, so you better have a good day.' This guy is everything you believe he is, I promise you," Bryan told the audience. The country crooner then sang the hit song "Lady," which was written by Richie and recorded by Kenny Rogers.
Bryan shared a video of him hugging Richie after his performance. "I've got nothing but love for you @lionelrichie! It was an incredible experience getting to honor you at the #GershwinPrize concert," he gushed to his friend. "Love you man!!" Richie replied. A year later, Richie returned the favor by surprising fans during Bryan's concert.
Lionel Richie surprised Luke Bryan concert-goers with a performance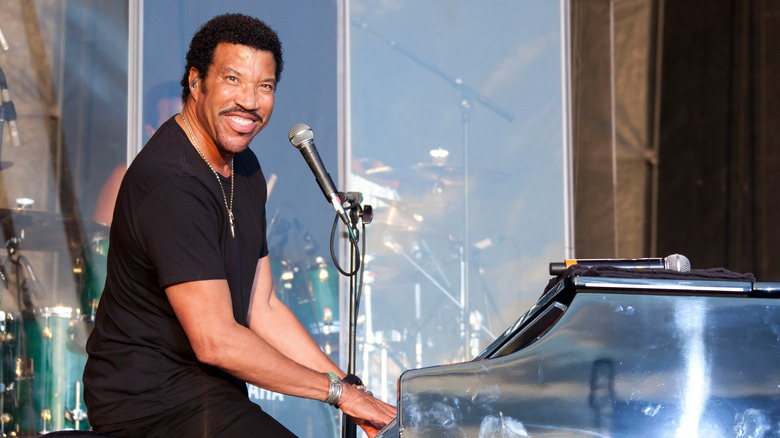 Scott Legato/Getty Images
Lionel Richie was right when he stated that there was "never a dull moment" with Luke Bryan. The two-time CMA award-winner started 2023 with a bang by performing at the four-day Crash My Playa country music festival in Cancún, Mexico — and he had a surprise for his fans. On the last night of his performance, Bryan told the audience, "Are ya'll ready for this? Ladies and gentlemen welcome to the stage, one of music's biggest icons that have ever lived. One of the greatest human beings ever, that's ever lived and one of my best friends in the world. Give it up for Lionel Richie!"
The duo treated the crowd to Richie's well-known hits, including "Brick House," "Dancing on the Ceiling," and "Stuck On You," among other songs. After their performance, Bryan told Richie, "I love you, thank you very much," before referring to him as the "newest member of the Rock & Roll Hall of Fame."
"Thanks to everyone who made it an epic night that I will never forget. @lionelrichie joining me onstage was a bucket list moment. What a pro!" Bryan shared on Instagram. "Just out here in Mexico with my brother @lukebryan," Richie stated, while posting a highlight reel of the epic night. "American Idol" may have brought the two music legends closer, but Richie and Bryan are proving that their friendship has solidified well beyond the show.