Post Malone Didn't Have To Use Creativity To Come Up With His Rap Name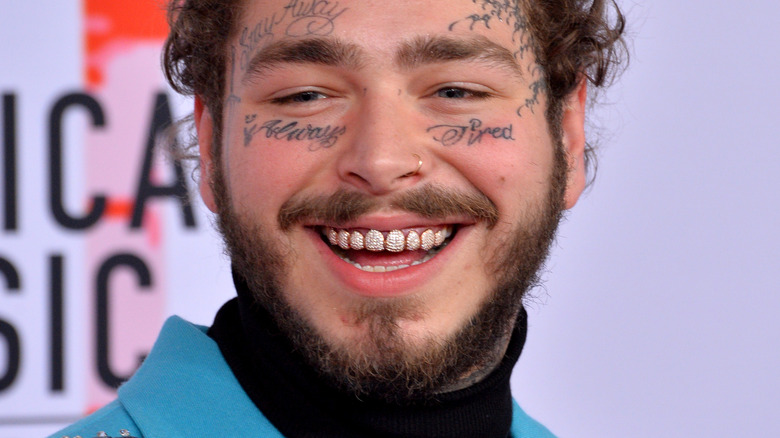 Featureflash Photo Agency/Shutterstock
What's in a name ... or should we say, rap name? The story behind the origin of "Hollywood's Bleeding" rapper Post Malone's name is way simpler than you may think.
In the past, rappers have used all sorts of methods to find the perfect pseudonym that encapsulates their essence as an artist. For example, LL Cool J got his stage name from making an acronym out of the saying, "Ladies Love Cool James," which includes his actual first name. Rapper Jay-Z derived his iconic lettered name from combining his childhood nickname, "Jazzy," and the subway that ran through his neighborhood in Brooklyn, New York.
So, how did the "Sunflower" rapper come up with the label for his own alter ego? Instantly becoming loved for his cuddly and fun demeanor, Malone and his songs have taken over the charts. In total, he has garnered an impressive one billion streams on Spotify on nine of his tracks, as of this writing. That's billions, with a B! His name has even appeared in the Grammys nominations list a total of ten times (with more most likely on the way, given the hitmaker he is!). But how did Malone get the name that lights up stadiums across the world?
Post Malone stuck with his randomly-generated name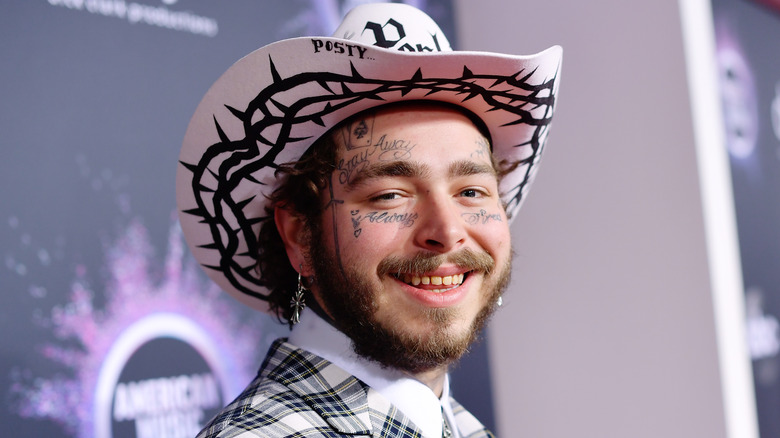 Matt Winkelmeyer/Getty Images
If you didn't grow up with the Internet, random name generators may be foreign to you. But for rapper Post Malone, who spent his youth online, it was exactly that which inspired him when creating his rap persona. In a 2018 interview on "The Tonight Show Starring Jimmy Fallon," the "White Iverson" rapper explained how he used his birth-given name, Austin Richard Post, to influence his rap name.
"I was like 14, and I had started getting into producing, rapping, and singing over my own stuff ... I needed a name, ya know, for my s***** mixtape," he joked. "I ran [my name] through a random rap name generator ... and now I'm stuck with it." And thus, Austin Post would forever be enshrined as Post Malone! The duo would go on to vibe to Malone's then-unreleased "Sunflower" (which would ultimately hit over 2 billion plays on Spotify!).
Besides, what rapper has ever used the name of their birth certificate for their pen name? Fellow "Spiderverse" member Childish Gambino famously put his name, Donald Glover, into a Wu-Tang Clan-inspired name generator in order to get his child-like nickname.
Post Malone has used his pseudonym for good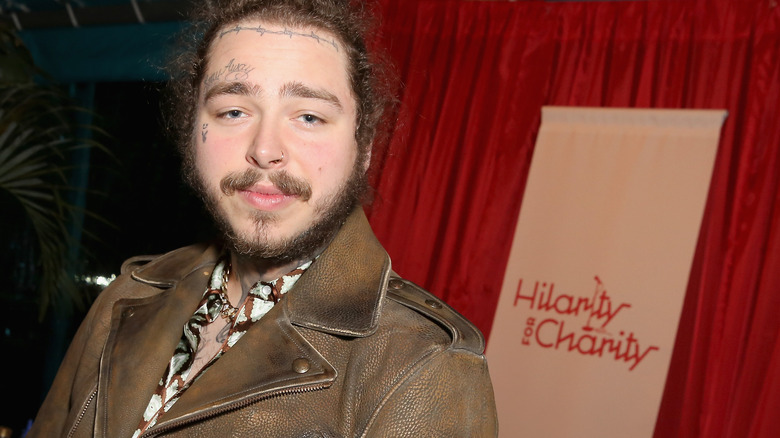 Rachel Murray/Getty Images
Aside from making music, Post Malone has wielded the influence that comes with his celebrity for the benefit of many good causes. In July 2022, the "Congratulations" rapper raised over $200,000 for The Trevor Project, Human Rights Watch, Project HOPE, and United Way through a gaming live stream on Twitch. During the COVID-19 pandemic, Malone pledged $1 million worth of charity donations for his fans to use at any organization of their desire. With the financial straits of the lockdown, the rapper's desire was to make money available to help people.
"Not everyone has the ability to financially support causes that may be close to them or that have helped them in the past," Malone explained in his 2020 statement. "The fans are the absolute best and I want to give them the chance to give to charities that mean something to them."
When people think of Malone, his numerous tattoos are probably one of the first things to come to mind. Surprisingly, he does not have his own name inked, but he does have his daughter's initials tatted across his forehead.