Chloe And Halle Bailey Were Friends With Yara Shahidi Long Before Grown-Ish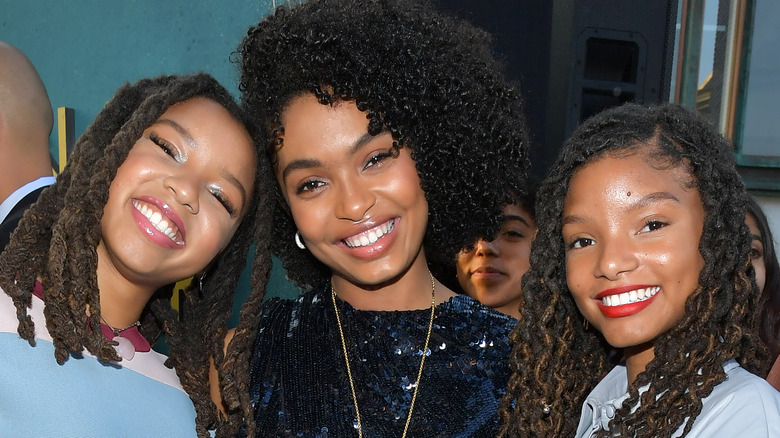 Amy Sussman/Getty Images
If there's one group of girls we would die to hang out with just once, it has to be Chloe Bailey, Halle Bailey, and Yara Shahidi. The trio appeared together on the "Black-ish" spin-off "Grown-ish," which followed Shahidi's character, Zoey Johnson, from the main show as she flew the nest and headed to college. There, she met sisters Jazz and Sky Forster (played by the Bailey sisters), and the show followed the group as they tackled everything from dating, to college athletics, to fall-outs, before switching gears to focus on Zoey's brother, Junior Johnson. The sisters — who make up musical duo Chloe x Halle — stepped back from their main roles at the end of Season 4, likely to spend more time focusing on their blossoming careers as singers and actors. (After all, Halle has been cast as "The Little Mermaid" in Disney's live-action remake, which we're guessing has been taking quite a lot of her time, while Chloe is heating up the charts with her music outside of Chloe x Halle, including duetting with Chris Brown.)
But did you know the three are just as close in real life as they are on-screen (when they're not fighting, we mean)? Only, while you'd be forgiven for thinking these ladies all grew close after working together, it turns out this genetically blessed trio goes way back.
Chloe and Halle Bailey grew close with Yara Shahidi before working together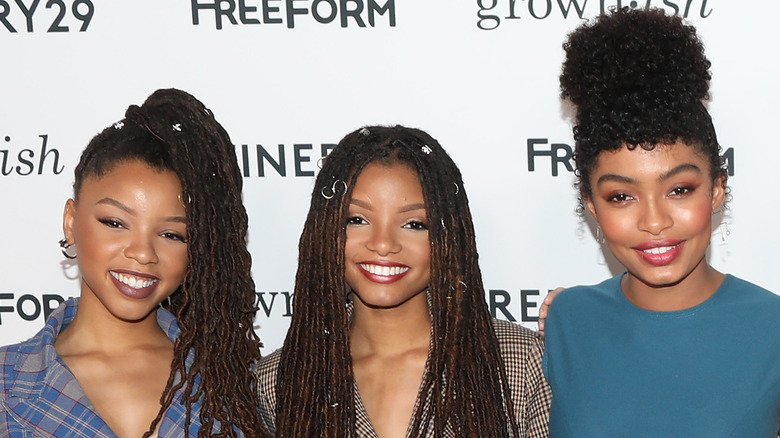 Jerritt Clark/Getty Images
It's true! Sisters Chloe Bailey and Halle Bailey go way back with Yara Shahidi. Of course, Chloe and Halle are sisters, so they've known each other since the latter's birth, but they grew close with Shahidi sometime before 2018 when they started appearing on "Grown-ish." "Yara is one of our best friends, and even before the show we would always hang out together," Halle told Glamour of their close friendship, revealing that "Grown-ish" creator Kenya Barris actually gave her and her sister a part in the sitcom after seeing their relationship with Shahidi firsthand. It sounds like the sisters have made plenty of friends on-set too, though, as Halle noted, "We already knew Yara was an angel, but Francia [Raisa] and Emily [Arlook] and the boys too." Cute!
Halle previously gushed about her and Chloe's friendship with Shahidi during an interview with ABC Radio in 2018, admitting, "We love Yara so much, and just being around her all the time... people saw our connection. So, being able to get that opportunity... it formed naturally, and so, we're so grateful for that."
Yara Shahidi and Halle Bailey bonded further over Disney
We know Yara Shahidi and Halle Bailey go way back, but it sounds like they've only gotten closer as the years have gone by. As we know, Halle is taking on the titular role of Ariel in Disney's "The Little Mermaid" remake, while Shahidi is set to play a classic Disney character of her own... Tinkerbell! Yep, Shahidi will be appearing as the iconic fairy in "Peter Pan & Wendy" and admitted that preparing to play such a beloved Disney character at the same time as her close friend has made for some bonding. "We've talked about how crazy the motion capture process is of playing characters where it's your real-life expression but so much of it is digitized and it's such a crazy experience," she told Entertainment Tonight in 2021, but admitted that her pal has zipped lips when it comes to revealing any further details. "I just love whenever we get to hear updates and, like, she is killing it."
Shahidi previously opened up about seeing her close friend land the role while speaking to E! News in 2019. "I was so happy... the entire cast was," the star confessed, admitting she thought Halle was the ideal actor to play the character. "If you just listen to her voice, she's an ethereal human. When you look at Halle's voice and how she maneuvers, she already embodies the character and I can't wait to see what she brings to it," Shahidi added.