Why KT Smith Called Her Relationship With Morgan Wallen 'Toxic'
Morgan Wallen's ex-fiancée KT Smith needs something "You Proof."
In July 2020, Wallen and Smith welcomed a baby boy, Indigo Wilder. Still, the proud parents made it very clear that, while they had just brought a brand new bundle of joy into the world... they weren't exactly doing it together. "Yesterday was nothing short of complete bliss... Indie Wilder you are your mama's answered prayer times infinity and the cutest little human ham hunk I've ever laid eyes on," Smith wrote in an Instagram post, while never once mentioning Wallen. Meanwhile, Wallen penned his own celebratory post and within it vowed to be both the dad his son deserved and the co-parent his son's mother deserved... heavy emphasis on the word "co-parent."
But why did the pair call it quits in the first place? According to Smith, the couple's past relationship was not just bad — it was downright toxic.
KT Smith said Morgan Wallen 'wasn't the most faithful'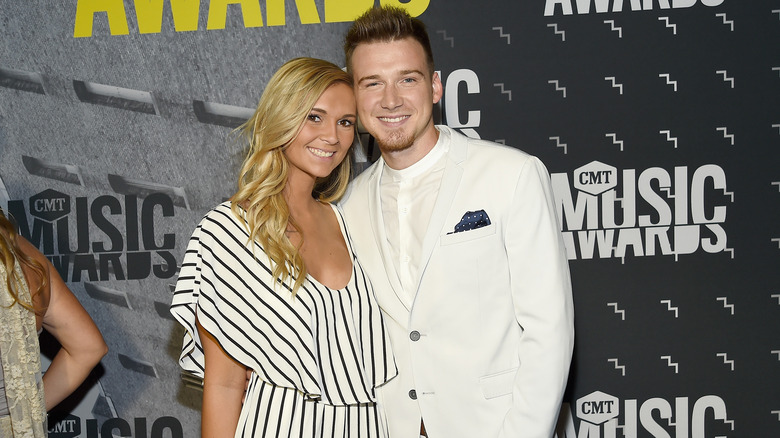 Rick Diamond/Getty Images
KT Smith is mentioning it all.
According to Smith, once the masses caught wind that she was the mother of country singer Morgan Wallen's child, her Instagram following grew exponentially. "Soon after I gave birth, Morgan posted on Instagram that we had a child together, so a lot of my following — literally about 100k came from that," she revealed in a blog post, aptly titled "The Backstory." And that's when she decided to try her hand at blogging and influencing. "A social media management company reached out to me and asked me to work for brands full time, and so I did just that," she explained.
But the real tea came when she got into the "Up Down" of her "toxic" relationship with Wallen. As the story goes, the pair met on Snapchat, quickly became an item, and got engaged only a few short months later. Eventually, they called the engagement off but continued to date for another two years and lived together for another three. "But that third year was rocky. The kind of toxic, trauma bond you hear about on TikTok," she confessed. "We were off and on the third year, still talking 24/7 and seeing each other every time he was in town and I would still go on the road with him.. But being thrown into the spotlight at such a young age is obviously going to come with some bad decisions. He wasn't the most faithful," she revealed. Alexa, play "Toxic" by Britney Spears...
KT Smith and Morgan Wallen are committed to co-parenting their son
Fortunately, it appears the toxicity has subsided now and things are only getting better for the famous co-parents and their son.
"I've got no complaints," Morgan Wallen told Entertainment Tonight in 2022 when asked how co-parenting was going. "I feel very comfortable with it and I'm really proud of the way me and his mom handle it," he added. And it appears Smith would agree. In a blog post titled "Indie's Parents," Smith expressed regret for publicly discussing the negative aspects of their relationship. "Just because I was hurt and bitter at the time, did not give me the right to ever say anything bad," she penned. "Morgan is truly and deep down a wonderful person, who also makes mistakes that can be forgiven — because God always forgives, but more importantly — He loves his son and is a good father," she wrote. 
Here's hoping these two will continue to keep up the good co-parenting work!