Did Tiger Woods' Exes Erica Herman And Elin Nordegren Ever Get Along?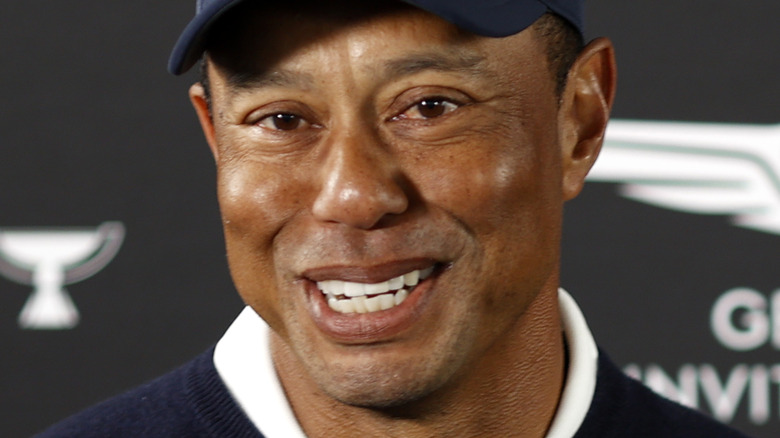 Cliff Hawkins/Getty Images
Tiger Woods and ex-wife Elin Nordegren had a very public and messy breakup. News broke in 2009 that the golfer had cheated on his wife with multiple women, and they finalized their divorce by 2010. It was understandably a difficult period for Nordegren. "In the beginning, you tamp down the animosity for the kids' sake. I'm not going to deny that I went through the wringer," she told People in 2014, while mentioning that the former couple was on relatively good terms. After his divorce, Woods dated Olympic skier Lindsay Vonn for several years, but when they split in 2015 there once again were rumors that Woods had been unfaithful.
By 2017, Woods had a new girlfriend, Erica Herman, and she made her public debut as his official plus-one while attending the President's Cup alongside the other players' wives and girlfriends. The pair met years earlier, while Herman was a college student working at a bar in Orlando. They kept in touch over the years, and the five-time Masters champion hired Herman to operate his The Woods Jupiter bar and restaurant in 2016. "[S]he had a close relationship with Tiger," a former employee of the restaurant told Page Six in 2019.
But that relationship turned sour, too, as fans learned of Woods and Herman's split on March 8 when she moved to terminate her non-disclosure agreement with the golf pro. Now that we know the two no longer get along, we can't help but wonder: Were Nordegren and Herman ever friendly?
How Tiger Woods' family felt about Erica Herman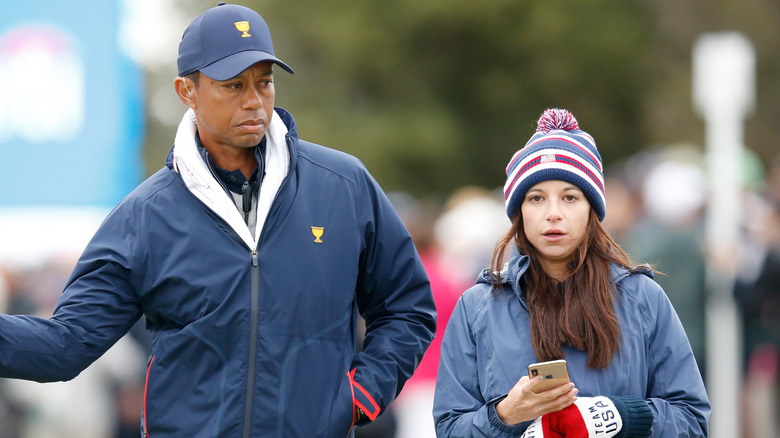 Darrian Traynor/Getty Images
After their breakup, Tiger Woods put in a lot of work to repair his relationship with Elin Nordegren, which ultimately paid dividends in how Erica Herman fit into the picture. "Elin has a friendly relationship with Erica," a source told People in 2021. "Tiger has come a long way and Elin acknowledges that. She is happy that he is dating Erica," the source added. The ex-wife was not the only one who approves of Woods' former girlfriend. "The kids like her," the insider said. In fact, that was an important factor for both the golfer and his ex-wife, as they had prioritized co-parenting. There was a bonding experience between Herman and the family, as early on in her relationship with Woods, she went with him to the Bahamas along with his two kids and Nordegren.
While Herman and Nordegren were seemingly on good terms, Woods' girlfriend had actually formed a bond his kids, too. "They love [Erica]," fellow golfer Arjun Atwal, who is also a good friend of Woods, told Page Six in 2019. "She's more like a friend to them than anything else," he added. Atwal spoke about how instrumental Herman had been in Woods' path to recovery, as he regained his form among the world's best golfers. "She's been 100 percent supportive, when he was down with his health and all that stuff," Atwal said of Herman. "She was right there for him." 
Herman was not the only woman in Woods' life who showed him support, though.
How Erica Herman helped Tiger Woods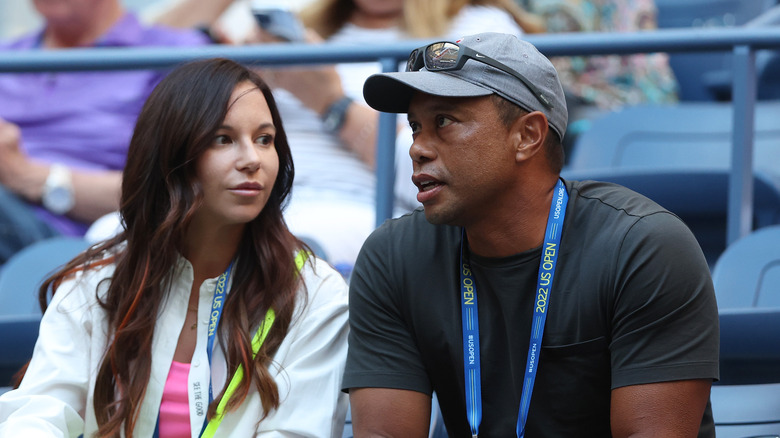 Matthew Stockman/Getty Images
Although Tiger Woods' ex-girlfriend Erica Herman may have been arguably his most key supporter since they started dating, he also turned to his ex-wife Elin Nordegren for help over the years since their split. "She's been one of my best friends and I've talked to her about so many different things and she does the same thing with me," the golf pro said on "Late Show with Stephen Colbert" in 2016. Woods added that he wished the two had worked on their communication earlier, but he was happy to have her in his life. In December 2022, during the PNC Championship, where he played alongside his son, Woods took time to give a shoutout to his ex-wife, as she had just given birth earlier in the week.
Once the golfer's relationship with Herman became official, there was speculation on whether or not the two would tie the knot. "It's not like they're pledging their lives to each other. But she's really nice and Tiger likes her," a source told People in 2018. They added that Woods would not "settle" for a relationship with just anyone.
Years later, Herman proved how indispensable she was to Woods after he was badly injured in a frightening car crash that nearly cost him his golfing career. "Erica dropped everything to be with Tiger the moment she heard what happened," an insider told Us Weekly in 2021. Yet, while she seemed like a wonderful influence in Woods' life, Herman's actions post-breakup indicate there might've been more to the story all along.