The Messiest Part Of Tiger Woods And Elin Nordegren's Divorce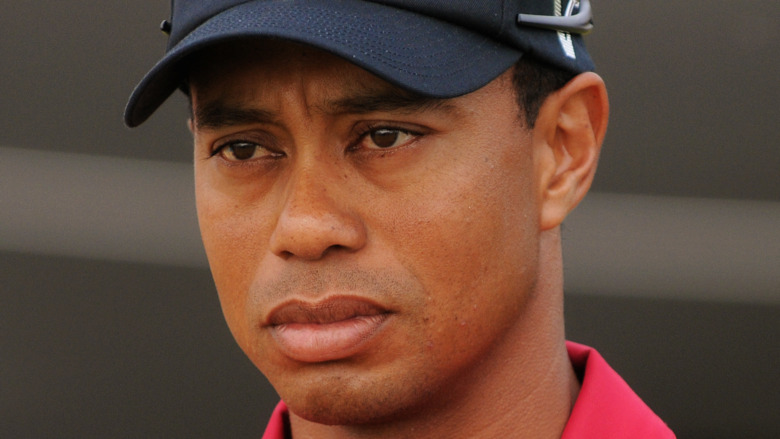 Shutterstock
In February 2021, Tiger Woods crashed his car, seriously injuring himself. The golfing legend has been on the mend amid speculation about the future of his elite golfing career. A source told Us Weekly that Woods is feeling more positive after the accident. "Tiger is in better spirits now that he was directly following the accident," they revealed before adding, "He's seen progress in his recovery, is back at home and is hopeful." 
Woods was thrust back into the spotlight in April 2021 when a pilot, Dakota Atkinson, allegedly photographed Woods' backyard golf course, per the New York Post. The tweeted snap quickly went viral because it apparently shows his pride and joy, the Jupiter Island Practice Facility, being gutted. The tailor-made golf course appears to be undergoing some construction, sparking fears that Woods might have plans to quit the game. Others feel that he may be redoing the course for Charlie Woods, his son with ex-wife Elin Nordegren.
Nordegren, an ex-nanny, has moved on after her divorce from Woods in 2010 with her boyfriend, Jordan Cameron, per Radar Online, with whom she also shares a young son. In the meantime, Woods has seemingly struggled with bad publicity since his divorce. Allan Mayefsky, a partner in the powerhouse NYC-based family law firm Aronson Mayefsky & Sloan, dished about the messiest part of Woods and Nordegren's divorce to Nicki Swift. 
An expert reveals who really paid the price in Tiger Woods' divorce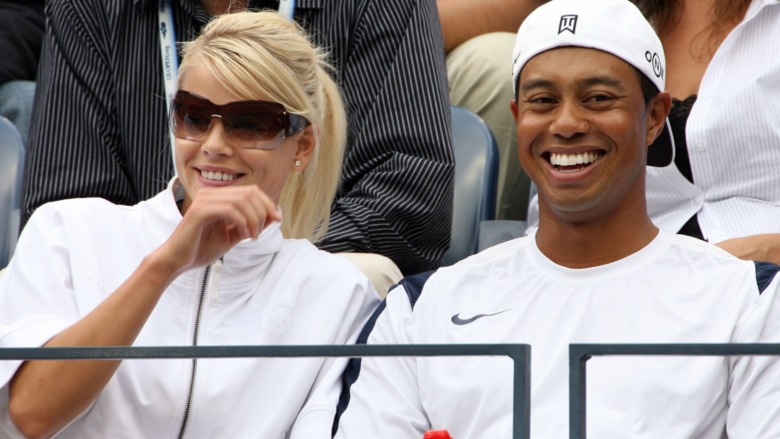 Clive Brunskill/Getty Images
Tiger Woods not only paid Elin Nordegren a hefty $100 million in their divorce settlement, per TMZ, but according to law partner Allan Mayefsky, the divorce impacted more than his personal life. He revealed that the "publicity had a severe economic impact on Tiger through the loss of lucrative endorsements." However, the divorce cost him so much more than money.
Woods and Nordegren's two children, Sam and Charlie, were also affected when their parents' split although "they may have been too young to know or understand what was going on." Divorce expert Mayefsky dished to Nicki Swift that even though it's been more than 10 years since the divorce, "these press reports don't go away and people have long memories." The kids may have already learned all about their parents' messy divorce and "may have seen some of that publicity directly, with the potential for significant stress and embarrassment." Mayefsky added, "The effect on the children of public divorces and revelations of infidelity and misconduct should always be considered by parents when going through obviously difficult and highly emotional circumstances."
However, Woods and Nordegren are trying to co-parent successfully. According to Us Weekly, the golf pro said, "We communicate so much better now, it's incredible." A source also told People that the former couple was on the "same page" about splitting their time between homes during the coronavirus lockdown. Go Elin and Tiger!