Tom Brady Wisecracks In Response To NFL Comeback Rumors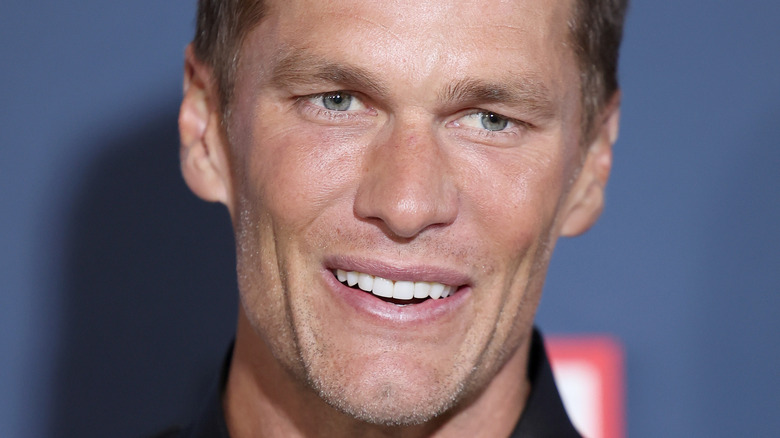 Phillip Faraone/Getty Images
On February 1, 2022, star quarterback Tom Brady announced his retirement after 22 years of playing in the NFL. However, 40 days later, he decided to play another season and joined the Tampa Bay Buccaneers, citing "unfinished business." One season (and one divorce) later, Brady declared he was retiring "for good" on the one-year anniversary of his previous announcement. "When I woke up this morning, I figured I'd just press record and let you guys know first," he said in a video posted on social media. He then thanked everyone for their love and support throughout his career with the NFL.
Because Brady played his final season with the Buccaneers, New England Patriots owner Robert Kraft struck him a deal — he could play one final game with the Patriots and retire as part of that team. Brady was drafted by the Patriots, where he played for 20 seasons before moving to Tampa Bay for his final three years. However, rumors suggest that other NFL teams are now vying for Brady to come out of retirement and play for them, potentially challenging Kraft's offer.
Tom Brady makes it clear he's focusing on family amid rumors he's coming out of retirement
Although Tom Brady has already announced his retirement from the NFL, it was recently said on the "Rich Eisen Show" that people believe there's a chance the star quarterback could come out of retirement again. "The one place that folks are saying to keep an eye out for is Miami," Eisen said, suggesting that Tua Tagovailoa's injuries could put the Miami Dolphins in a situation where they need to hire a replacement quarterback — and Brady happens to be living in Florida.
However, Brady has taken to Twitter to poke fun at the speculation and shut down any rumors of a possible comeback. "Anyone who thinks I have time to come back to the NFL has never adopted a 2 month old kitten for their daughter," he tweeted.
Brady has recently signed a 10-year contract with Fox Sports to be their lead analyst, with plans to start his broadcasting career in the 2024 season. While it's possible for him to make another comeback for the 2023 season, it seems unlikely, given his current commitments.