Ryan Reynolds Moved On Fast To Another A-Lister After His Engagement To Alanis Morissette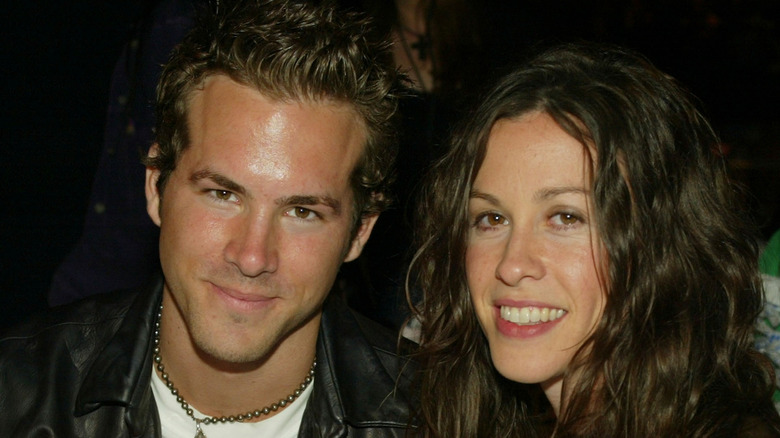 Kevin Winter/Getty Images
Ahh, celebrity romances. They're up, they're down, they're on they're off. And they usually seem to happen in somewhat quick succession of one another. Case and point? Ryan Reynolds' and his former romance with Alanis Morissette. Though this relationship was all so long ago now that you could be forgiven that these two were ever even together. 
It all started way back in 2002 when the two Canadian stars first started dating. Two years later, the "The Proposal" star popped the question but they never actually made it down the aisle. Yep, in the words of Morissette herself, "You Outta Know" this one didn't actually end in marriage, as the two ended up going their separate ways in February 2007. "They remain close friends and continue to have the utmost love and admiration for each other," their reps told People in a joint statement at the time. "They ask that their privacy be respected surrounding this personal matter."
But it wasn't long at all after that when Reynolds found himself back in the headlines for romancing another very famous lady — and that one did actually end with him tying the knot.
Ryan Reynolds started dating Scarlett Johansson mere weeks after splitting with Alanis Morissette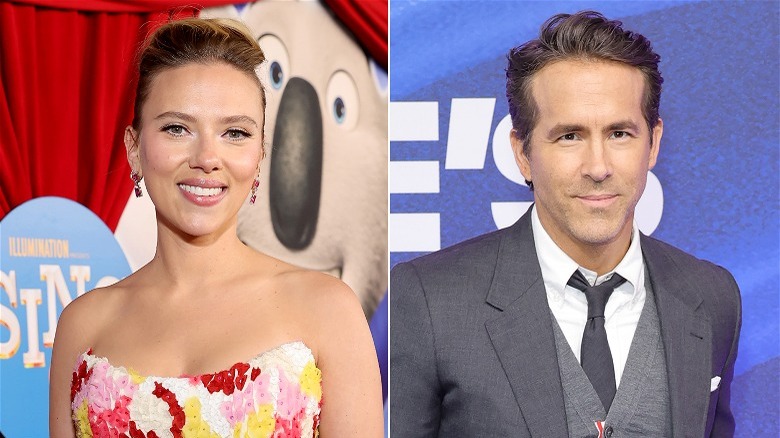 Amy Sussman/Getty & Emma Mcintyre/Getty Images
Ryan Reynolds didn't waste much time when it came to moving on from his broken engagement with Alanis Morissette. In April 2007, just two months after it was confirmed he'd split with the singer/songwriter, the "Deadpool" star was spotted getting cozy with none other than Scarlett Johansson. People reported they were holding hands and not exactly hiding the fact that they were a couple. Reynolds and Johansson then continued to be spotted together all over the place over the following months, including out and about in Hollywood and even sunning it up together in Barcelona, Spain.
And it wasn't long before Reynolds was back down on one knee, either. The old romantic proposed to Johansson just over a year after they were first spotted together, asking her to marry him in May 2008. The "Black Widow" star said yes, and they didn't waste much time in making it official. Reynolds certainly didn't repeat his three-year engagement with Morissette (who wrote a song about her split with the actor), as, this time, he was officially a married man four months after popping the question.
Ryan Reynolds moved on after his divorce with Blake Lively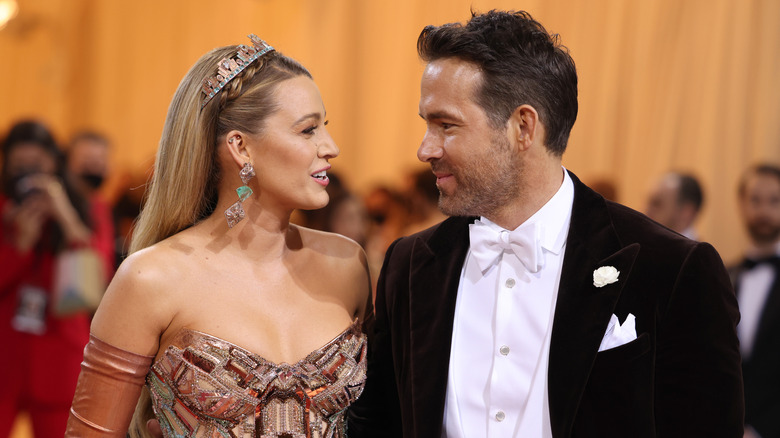 John Shearer/Getty Images
Ryan Reynolds' romance with Scarlett Johansson just wasn't meant to be, though, and they confirmed in December 2010 that they were separating. "After long and careful consideration on both our parts, we've decided to end our marriage. We entered our relationship with love and it's with love and kindness we leave it," they said in a statement. But it wasn't that long until Reynolds had another gorgeous new lady on his arm.
Reynolds met his now wife, Blake Lively when they worked together on the movie "Green Lantern," but it wasn't until several months after their very first meeting that things turned romantic. It's thought the two realized they were meant for each other around Fall of 2011, just less than a year after Reynolds and Johansson confirmed their split. Reynolds explained what happened when they went from friends to something more during a 2016 interview with SiriusXM's EW Radio Town Hall, recalling, "We were buddies then. I remember it was funny because, for about a year after Green Lantern had come and gone and all that stuff, we were both single. We went on a double date. She was on a date with another guy, and I was on a date with another girl. That was the most awkward date [from their perspective] probably because we were just like fireworks coming across." 
Reynolds and Lively got married in September 2021, and the rest, as they say, is history!