Aubrey Plaza's Wedding Was Just As Unconventional As You'd Expect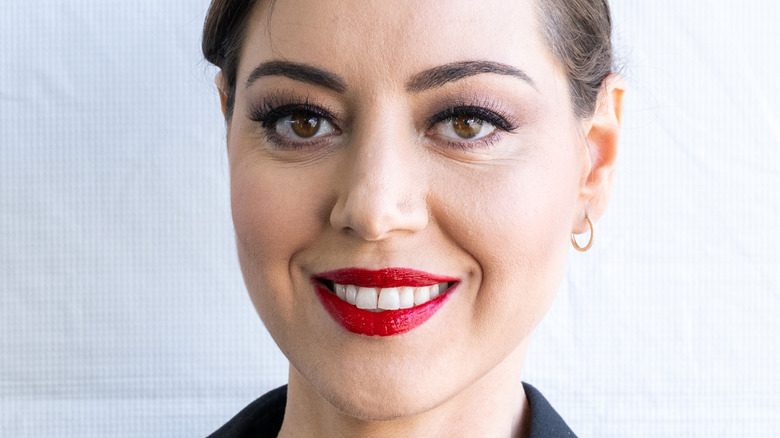 Amanda Edwards/Getty Images
Fans of "Parks and Recreation" know Aubrey Plaza as April Ludgate, the hilariously apathetic intern based out of Pawnee, Indiana. Over the course of the show's seven seasons, fans see April marry her best friend Andy, relocate to Washington D.C. to work for Ben Wyatt's congressional re-election campaign, and ultimately return to Indiana and have children of her own. Throughout it all, April's deadpan humor endears her to fans, especially because it's presented in such stark contrast to the enthusiasm of Pawnee's parks and recreation department director, Leslie Knope (Amy Poehler). Whether she's taking on an alternate persona (we see you, Janet Snakehole!) or convincing small children that she's a witch, April is one of the show's most entertaining characters.
But for those who've seen HBO's dark comedy, "The White Lotus," April's deadpan delivery is eerily similar to Plaza's character in that show, Harper Spiller. Maybe that's because Plaza herself relates to April's sense of humor. "Aubrey came over to my office and made me feel really uncomfortable for like an hour, and immediately I wanted to put her in the show," "Parks and Recreation" co-creator Michael Schur told the AV Club, explaining that he'd written the part of April specifically for Plaza. The actor's model-good looks coupled with the awkward energy of a teenager at prom make her an icon for nerds everywhere. And IRL, Plaza channels the same weird, quirky energy that's characteristic of so many of her roles.
Fans didn't realize Aubrey Plaza had gotten married
Jerod Harris/Getty Images
Remember in Season 3 of "Parks and Recreation" when April Ludgate weds Andy Dwyer in a surprise ceremony? The two married on a whim after only a month of dating. Turns out, Aubrey Plaza also did that ... sort of. Unlike April, Plaza had been dating her boyfriend Jeff Baena for around a decade, but like April, the actual marriage was on the spur of the moment. Appearing on "The Ellen Degeneres Show," Plaza told the host that she and Baena decided to tie the knot after they "got a little bored one night" during the COVID-19 pandemic.
Explaining that it was their 10-year anniversary, the actor recalled how she'd wanted to "do something," like "get an ice cream cone" or "get married." Baena had no objections, other than he was unsure how fast one could legally get married. "Onehourmarriage.com. That's real, look it up," Plaza said. The couple's surprise ceremony featured quirky details that would have made April proud, including a "love altar," a rosemary wreath from Plaza's neighbor, and a man dressed in a Hawaiian shirt. Though the "Scott Pilgrim vs. the World" star is hazy on the exact details, she's pretty sure it's legal.
It's unclear when exactly Baena and Plaza wed, but Plaza announced the news on Instagram on May 7, 2021, writing, "So proud of my darling husband @jeffbaena for dreaming up another film that takes us to italia to cause some more trouble." Following the post, her rep confirmed Plaza's newlywed status, per People.
Aubrey Plaza has a realistic outlook on romance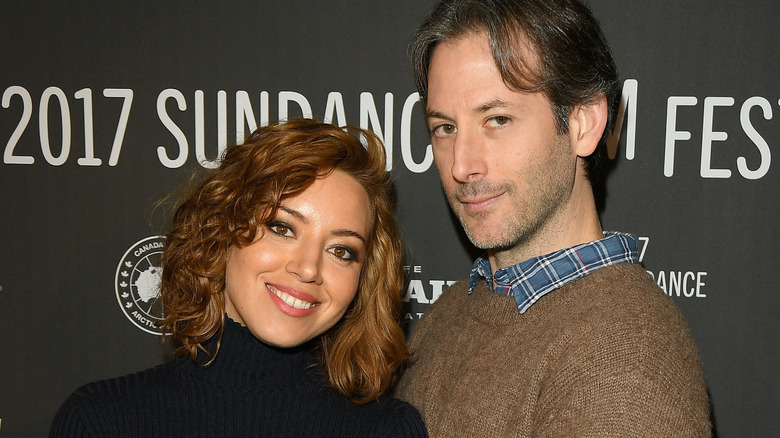 George Pimentel/Getty Images
Aubrey Plaza has long been open about what makes her relationship with now-husband Jeff Baena tick. Baena is a writer and director with a background in film, so he intimately understands his wife's job. "I think that when you're with someone that is in your field, they understand what you're dealing with on a deeper level. So obviously you are able to support each other and really understand kind of the journey that we're both on," Aubrey dished to People.
It also helps that the two are longtime collaborators who have worked together on projects like 2014's "Life After Beth" and 2022's "Spin Me Round." "I'd say it's an amazing experience to work with your partner in this way. I've worked with Jeff since his first movie. I've seen him evolve and I've seen him grow," Plaza gushed to MovieFreak in 2017.
And while some A-listers like to publicly flaunt their love, Plaza keeps hers on the down low. In the same interview, she noted that she doesn't like "talking super personal about [her] relationship." Meanwhile, Baena's Instagram profile is fully private. Romances in the public eye can seem picture-perfect, but nothing ever truly is. Helping to keep a realistic perspective is important; as Plaza told GQ, "I relate to being in a relationship that has peaks and valleys." Something tells us her unconventional marriage is one of the major peaks.