Guillermo Rodriguez: What We Really Know About Jimmy Kimmel's Sidekick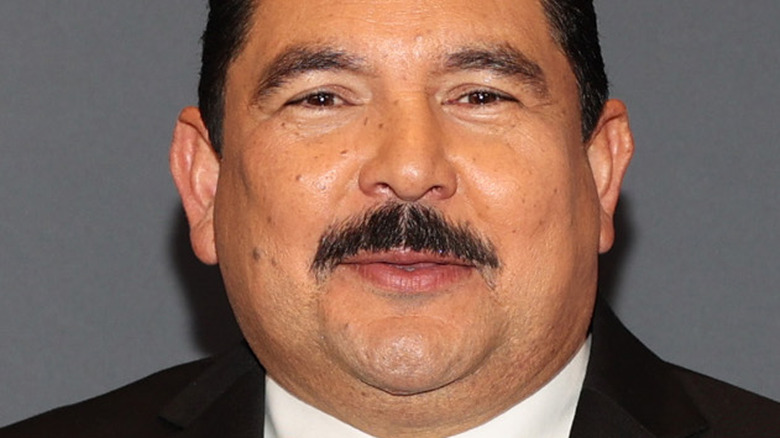 Natasha Campos/Getty Images
Many tune in to "Jimmy Kimmel Live!" for the host's late-night hijinx, but the show wouldn't be complete without his beloved sidekick, Guillermo Rodriguez. The Mexican-American has been on the talk show since its premiere in 2003 but he landed his role unintentionally. Rodriguez was originally the parking lot attendant for the studio and he got caught napping in Dicky Barrett's car. "He opened the door, he goes, 'What are you doing here?' I go, 'I'm trying to sleep — I'm so sorry!'" Rodriguez recalled to People. The former show's announcer immediately told Kimmel about the incident, to which he replied, "We got to put this guy on the show."
Rodriguez started off starring in "Jimmy Kimmel Live!" skits but then eventually traveled across the nation for segments showing him eating and drinking from local establishments. Sometimes he even performs daring feats, such as riding down the 70-floor Skyslide in Los Angeles and playing soccer on a roof with Neymar Jr. His job has its perks, however. Rodriguez is often a fixture at the Oscars and once got to kiss Charlize Theron and Scarlett Johansson. Although it's unclear whether or not Rodriguez is in a relationship, he is a proud father to his son and multiple dogs.
Guillermo Rodriguez is close with his son Benji
Guillermo Rodriguez is pretty private about his romantic life, but he's not shy about sharing his love for his son, Benji. The two have a mutual love of sports and are often seen wearing matching jerseys of their favorite teams. In 2020, Rodriguez shared a snap on Instagram of him and his son on a baseball mound wearing Timber Rattlers t-shirts. "Love my Benji he is the best," he wrote on National Sons Day. On December 1, 2022, Rodriguez gave a shout-out to Benji. "Happy birthday to my wonderful son," he shared while posting a pic of Benji with the Dodgers outfielder, Mookie Betts.
Rodriguez added to his family in March 2021 by adopting two adorable chihuahua puppies. "I rescued 2 chihuahuas. Welcome to la familia Rey & Chase! We love you already. Thank you very much @muttscouts for helping us save these beautiful dogs," he announced on Instagram. In the next pic, he and Benji are posing with a chihuahua in their respective arms, with two older fur babies lounging on the ground. Rodriguez may have a tight-knit household but he and Jimmy Kimmel have forged a close bond over the year. The two are now practically family.
Guillermo Rodriguez and Jimmy Kimmel's friendship runs deep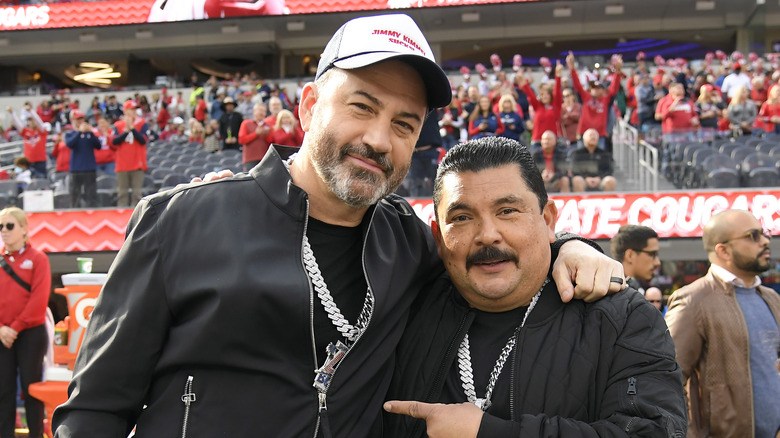 Kevork Djansezian/Getty Images
After working with Jimmy Kimmel for 20 years, it's only natural that Guillermo Rodriguez would consider him a close friend. In fact, the two television personalities are so tight that Rodriguez chose Kimmel to be his son Benji's godfather. Rodriguez and Kimmel also have frequent hangouts outside of "Jimmy Kimmel Live!" The former parking lot security guard told TV Insider, "We hang around together. I go to his house to watch football and everything. He's a great guy." Kimmel also showed love for his pal by naming his son William, which is the English version of Guillermo.
The BFFs also never forget each other's birthdays every year. On November 13, 2022, Rodriguez posted a pic of the two sharing a fist bump on the set of the late-night talk show. "Happy birthday Jimmy!" he wrote. In 2020, he shared a snap of himself cheek-to-cheek with Kimmel and captioned it with, "Happy birthday to the best boss @jimmykimmel."
Kimmel also gives Rodriguez birthday shoutouts regularly. On January 27, he posted a younger picture of Rodriguez sporting a mustache and wrote, "Happy 52 to my right hand amigo @IamGuillermo — still adorable after all these years." The previous year, he shared a hilarious shot of Rodriguez wearing a long red gown and declared, "Feliz cumpleaños a mi hermoso Guillermo!" Whether Rodriguez and Kimmel are hamming it up for television or chilling together watching sports, they prove that their friendship goes beyond the show.