Are Mel Gibson And Danny Glover Still Friends?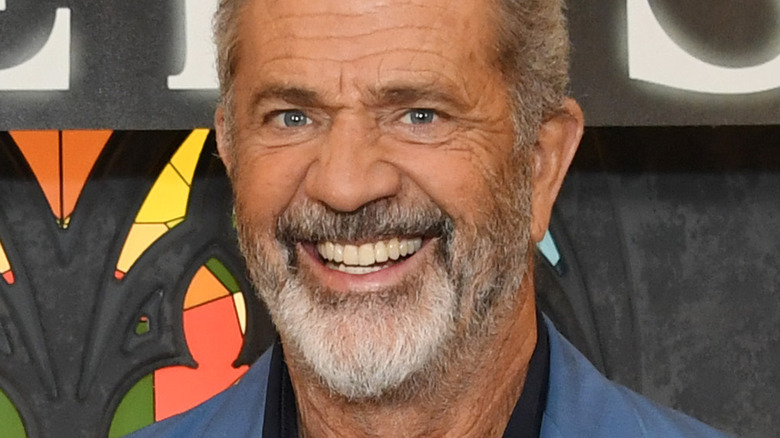 Jon Kopaloff/Getty Images
Mel Gibson has experienced some wild times on and off camera. He starred in the first three "Mad Max" movies, and his take on Max Rockatansky, battling to survive in the post-apocalyptic Aussie outback, was iconic. Next was the Lethal Weapon franchise. Gibson played former green beret turned maverick cop, Detective Martin Gibbs, whose mission was self-destruction and causing maximum mayhem and chaos. He was paired with Danny Glover's character, risk-averse Sergeant Roger Murtaugh, who did everything by the book. Not surprisingly, they were as mismatched as Johnny Depp and Amber Heard. Still, their chemistry was palpable.
The first installment grossed $61 million at the U.S. box office and earned rave reviews. The late film critic Roger Ebert gave it a huge thumbs up. "The movie's so tightly wound up, it's like a rubber band ready to snap," he wrote, claiming the two lead actors were a lethal match made in celluloid heaven. "Gibson is the perfect counterpoint, with his wild hair, his slob clothing, and his emotional misery," Ebert noted.
However, off-screen, Gibson's behavior began to mirror that of his most troubled characters. There was the offensive remark Wynona Ryder says she heard from Gibson about her being an "oven dodger." But, it was his infamous DUI arrest, where he embarked on an anti-Semitic rant and called a female cop "sugar t***," that spurred Hollywood to distance itself. But what about his Lethal Weapon cohort? Are Mel Gibson and Danny Glover still friends?
Danny Glover spoke up and stood by Mel Gibson during his darkest time of need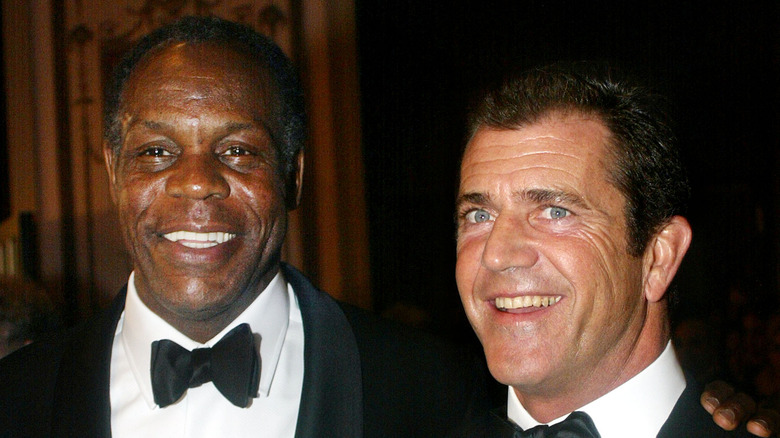 Mario Tama/Getty Images
Mel Gibson's downward spiral accelerated after RadarOnline obtained voicemails that he'd left for his ex-girlfriend and mother of his child, Oksana Grigorieva. Apparently, Gibson made "30 terrorizing telephone calls to her in 24 hours" after she ended their relationship. "The rantings are a twisted mix of more misogynistic insults and rage," RadarOnline claimed. The double life of Gibson had finally been fully exposed.
In Hollywood, when the going gets tough, the tough get going (to somewhere as far away as possible). During the down and trying times, you learn who your true friends are, and Danny Glover was one of Gibson's. "I love Mel. That's my friend," he told MTV. "He's had tough times. We've all had tough times." Glover said that he regularly checked in on Gibson and that when they collided at an LA memorial, "we ran up and hugged each other."
Glover is an outspoken civil rights activist. Still, he stood by Gibson's side throughout, despite him dropping the "n" bomb during one of his expletive-filled and rage-fueled Grigorieva voicemails. "Mel Gibson is my brother. I've been a part of the evolution of two men: myself and Mel. We've been around each other over 35 years," Glover told EURweb.com Spotlight. "I see the spirit of generosity that is part of who he is. I've been around him enough to know that Mel is a good person, a good human being," Glover insisted.
Mel Gibson and Danny Glover are back in the detective saddle again
Variety questioned how Mel Gibson could continue working on movies in light of his many scandals and controversies. However, in 2016 he was back — bigger and stronger than ever. Gibson was given "a 10-minute standing ovation at the Venice Film Festival." The rapturous applause was in response to the premiere of "Hacksaw Ridge," which Gibson directed.
The biographical World War II flick also scored six Academy Award nominations, including one for best director. It ultimately won two of the six for editing and sound mixing, but Gibson was well and truly back on top of his game. Per Celebrity Net Worth, despite his costly break-ups and multiple legal woes, Gibson is still worth a staggering $425 million. And to think people said his career was toast.
It didn't take long for "Lethal Weapon" fans to petition for a fifth franchise installment. After five years of rumors and speculation, their prayers still went unanswered. However, Glover was totally there for it. "I love working with Mel Gibson," he told Variety in 2018. "It was one of the best experiences I had in my film career." Well, he's about to have another as Gibson has confirmed that the movie's a go. He told ET that in addition to reprising Gibbs, he'll be taking over the director's seat due to the death of Richard Donner. And, yep, of course, Glover will be back as the long-suffering Murtaugh.