Jennifer Nettles' Family: Meet Her Husband Justin Miller And Their Son Magnus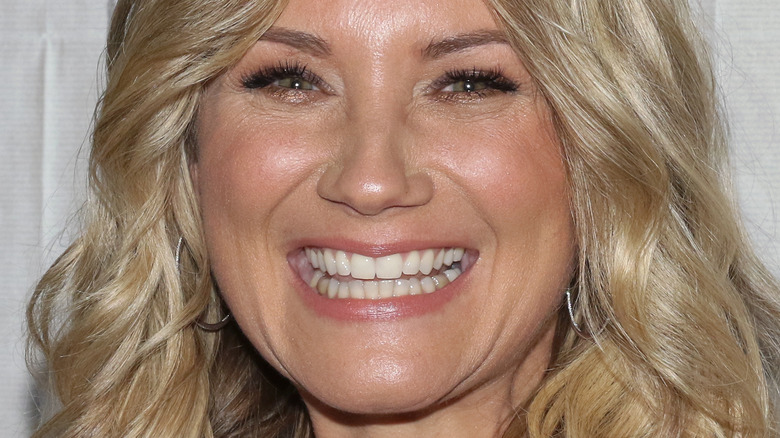 Jim Spellman/Getty Images
As the host of Fox's "Farmer Wants a Wife," Jennifer Nettles is on a mission to help city singles find love with farmers. Just one question: What do we know about her own love life?
Speaking of her latest gig in an interview with Hoda Kotb and Jenna Bush Hager for "Today," Nettles explained that she had been drawn to the show because of its success rate, IRL. While not traditionally a lover of dating shows, Nettles pointed out, "This show has been all over the world, and out of it, so far, there have resulted 180 marriages and over 410 children." Impressive, to say the least! As Nettles gushed, even if finding love on a reality show wouldn't be her own cup of tea, she couldn't help but want to be a part of helping others find genuine, lasting love. "I love a good love story," she gushed. 
Luckily for Nettles, finding love on a reality show wouldn't be necessary, anyway. After all, she's been married to husband Justin Miller for more than a decade. Having said that, even with so many years under their belts, this couple is known to keep things pretty hush-hush — at least, in the public eye. So, with that in mind, what do we know about Nettles and Miller and the son they share?
Talk about a country music dream come true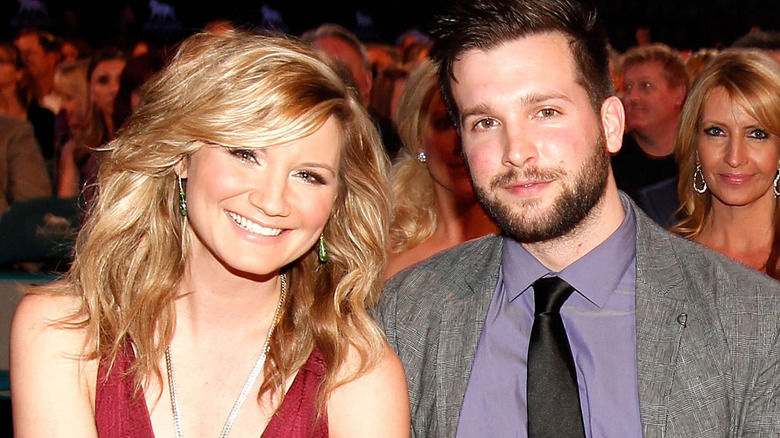 Christopher Polk/acma2011/Getty Images
It's just as well that Jennifer Nettles told the "Today" hosts of her love for love stories, because the beginnings of her relationship with Justin Miller read a little like a country music dream come true. 
Back in 2006, Nettles and Sugarland bandmate Kristian Bush got their first No. 1 hit on Billboard's country chart for "Want To." An incredible moment for the musicians, sure, but to quote Tina Turner, "What's love got to do with it?" As longtime fans of the band may remember, the music video for the song featured a sound asleep, shirtless love interest for Nettles. That would be Miller. That said, we're not entirely sure when exactly the singer and the model (now business owner) started seeing each other, or if they even kept in contact after that initial shoot. After all, Nettles has been known to keep her personal life hush-hush. Either way, according to People, the couple wed in 2011, and by that point, they'd been an item for around two years.
Aside from the fact that they're married, however, details on this pairing are scant. Miller rarely makes an appearance on the CMT award-winner's social media. In fact, in one particularly hilarious example, Nettles shared a picture to Instagram of herself, Miller, and their son ... all with painted faces. We'll call that taking privacy to a whole new level! 
But Justin Miller isn't the only man in Jennifer Nettles' life
Justin Miller may fly under the radar most of the time, but when it comes to the couple's son, Magnus Miller, Jennifer Nettles can't help but share a sweet pic every now and then. 
Born in 2012, at the time of writing, Magnus is just over 10 years old — and it's safe to say, the other man in Nettles' life is the apple of his mother's eye. Back in 2013, the Broadway star gushed to People over his "sweet demeanor." Speaking of his gentle nature, she quipped, "We made a deal before he was born. I said, 'Look, you can cook as long as you want, as long as you come out and latch like it's your job, and have a sweet demeanor.' He kept his part of the bargain!" However, even with her penchant for privacy, that was far from the last time she'd draw attention to her son. In honor of Mother's Day 2021, she posted a touching black-and-white picture of herself with Magnus, as well as her mother. "One is the mama who made me, One is who made me a mama," she wrote. 
Every now and then, Nettle's will share more glimpses of Magnus — at events and in holiday photos. And, on the odd occasion, Justin makes a (very) brief appearance in these Instagram photo dumps. Nettles is a proud mama and wife — but she's keeping her two boys close to her chest.