Who Is Brendan Fraser's Girlfriend, Jeanne Moore?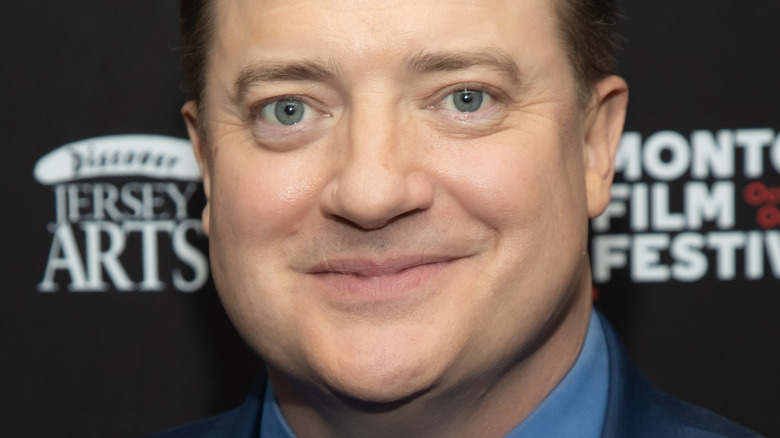 Manny Carabel/Getty Images
This article includes mentions of sexual assault.
Brendan Fraser's private life hasn't been as straightforward as his career. In fact, Fraser's personal struggles disrupted his work, slowing down the success he experienced in the '90s and '00s. It began in 2003, when then-president of the Hollywood Foreign Press Association Philip Berk reportedly groped him during a luncheon, The New York Times reported. Fraser accused Berk for the first time in a 2018 interview with GQ. "I didn't want to contend with how that made me feel, or it becoming part of my narrative," he said.
Berk admitted to touching Fraser's inappropriately in his 2014 memoir, though he said it was done "in jest," People reported. Fraser said he did way more. "His left hand reaches around, grabs my ass cheek, and one of his fingers touches me in the taint. And he starts moving it around," he told GQ. In a statement, Berk called Fraser's description "a total fabrication."
Four years after the episode, Fraser also saw the collapse of his marriage to Afton Smith. His divorce was no smooth sailing, either. After asking the courts to reduce his alimony in 2011, Fraser's ex-wife accused him of defrauding her by failing to disclose the full amount earned for two films, according to the petition. Then, in 2016, Fraser lost his mother to cancer, he told GQ. It was a difficult time, but Fraser has made a comeback — not just in his career, but in his love life, as well.
If you or anyone you know has been a victim of sexual assault, help is available. Visit the Rape, Abuse & Incest National Network website or contact RAINN's National Helpline at 1-800-656-HOPE (4673).
Jeanne Moore is a makeup artist and hairstylist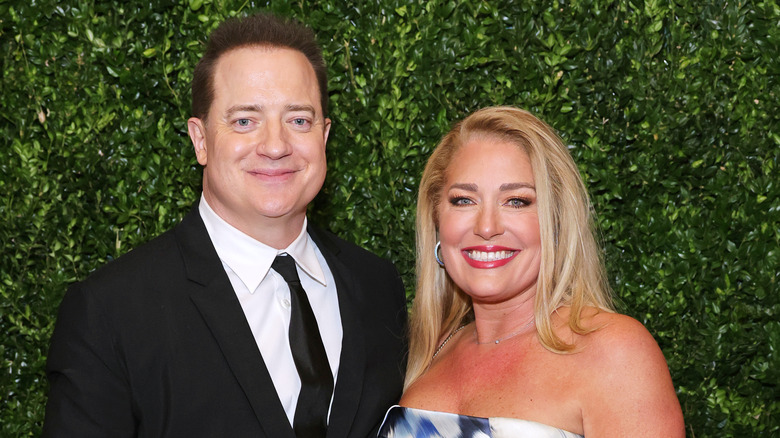 David M. Benett/Getty Images
Brendan Fraser keeps his relationship with Jeanne Moore pretty private. With everything he has faced in the past several years, "The Mummy" star has more than enough reasons to want to protect his relationship. The fact that he doesn't have any official social media accounts makes it easier for him to conceal details of his personal life. But Moore, on the other hand, is on Instagram, which thankfully gives us a glimpse into who Fraser's girlfriend is. 
Moore is a makeup artist and hairstylist who splits her time between Los Angeles and New York, according to her bio. Her business page lists some of the high-profile names she has worked with, including Paula Abdul and Marie Osmond. She seems to be particularly close with the former "American Idol" judge having given her several social media shoutouts over the years that include snippets of the two together, including of a ride on Magic Mountain. "One of [the] Best day[s] ever!" she wrote on Twitter in 2017, to which Abdul replied, "1 of THE BEST days of my life too!!!"
Moore is also into martial arts, indicating she is a black belt in Taekwondo. Having shared just a handful of posts in 2022 and 2023, Moore is unfortunately not all that active on Instagram, making it hard to gauge how far back she and Fraser go. However, the little she does post hints that the actor has welcomed her into his family.
Jeanne Moore is fond of Brendan Fraser's sons
Brendan Fraser hasn't publicly discussed his relationship with Jeanne Moore. But the couple made their red carpet debut in September 2022, when Fraser received a standing ovation for his role in "The Whale" that moved him to tears. Since then, Moore has been by Fraser's side as he rakes in accolades for the Darren Aronofsky film that solidified his comeback. Fraser made sure to thank Moore in his powerful acceptance speech at the 2023 SAG Award. "Without the love of ... the clarion call that is my girl Jeanne, I wouldn't be able to do any of this."
On Instagram, Moore has shown that she spends plenty of time around Fraser's children. In August 2022, a month before she and Fraser stepped out publicly as a couple for the first time, Moore honored Fraser's middle son, Holden, on his 18th birthday. "You are such an incredible, sweet, kind, funny and talented young man! It is an honor to know you and to be a part of your life!!" she captioned the post.
In the carousel, Moore included a series of shots that featured her not only with Holden, but also with Fraser's youngest son, Leland. The makeup artist even tagged Fraser's ex-wife, Afton Smith, in one of the pictures, suggesting they have an amicable relationship, as well. Indeed, Fraser also thanked his children's "super mom Afton" in his speech, so it sure sounds like they found peace after their messy divorce.