Ella Travolta Has Acted Alongside Her Famous Father John Travolta More Than Once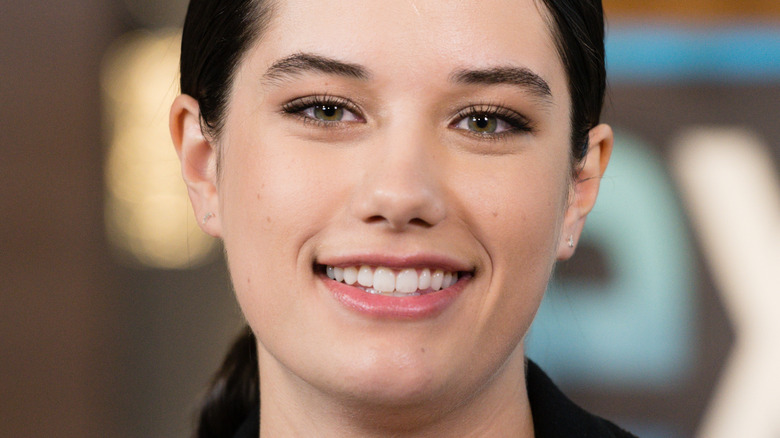 Noel Vasquez/Getty Images
John Travolta has a close relationship with his daughter Ella Bleu Travolta. They often post about one another on social media, and to celebrate her dad's birthday, Ella uploaded an adorable snap with a heartfelt caption. "Yesterday marked the birthday of my hero. The most incredible father, friend and role model anyone could ask for," she wrote on Instagram on February 19. Not only are they tight at the homefront, but the father-daughter combo have a longstanding working relationship, too. 
In 2009, John recruited his daughter to appear in the comedy "Old Dogs," which co-starred Robin Williams. "We decided it was OK to come out and promote, to introduce her to the world and to give her a beautiful future in film," the "Pulp Fiction" star told USA Today of the first time he worked with Ella.
According to Ella, acting and "performing" had been calling to her from a young age, but she never felt pressured from John, or her mother, Kelly Preston. "Whatever I would have chosen to do they would have supported me," Ella told People in 2019. Although she enjoyed the experience on "Old Dogs," Ella chose to step away from acting after the project. Around 2016, Ella was offered another part to act alongside her pops in "The Life and Death of John Gotti," but she elected to pass on the role. "She decided not to, she's gonna wait to do something different," John told People in 2016. A few years later, however, Ella was back on-set with her father.
How John Travolta helps his daughter during filming
Nearly 10 years after Ella Bleu Travolta made her on-screen debut with John Travolta, she was once again working with her dad when they teamed up on 2019's "The Poison Rose," which also featured Morgan Freeman. During filming, John took a snap of his daughter on the monitor and shared it to his Instagram page.
Once the film was released, Ella made the promotional media rounds. She spoke about the importance of keeping her last name, even though being known as the daughter of a Hollywood A-lister could be a burden. The "Grease" star's daughter mentioned how convenient it was to work alongside her dad. "The nice thing about acting with family or someone you're close with is you can run lines at home," Ella told KTLA 5 in 2019. "It's so fun to have this as the family business, and all get to do it together and experience it together," she added.
While some might cringe at the thought of having their dad at their workplace, Ella found it helpful. "He is the best mentor that I could ever ask for and having him there was just a gift," she told Extra in 2019. Although the "Swordfish" actor said he could be a handful on-set. "I am ridiculous. I'm behind the camera mouthing every word she says, doing her moves," he told "The Talk" in 2019, according to Entertainment Tonight. But that movie wasn't the last time John and Ella would work together. 
Ella Bleu Travolta lands parts without her dad
In 2021, John Travolta teamed up with Ella Bleu Travolta on a smaller project for a massive audience. The father-daughter duo was tapped to appear in a Super Bowl commercial for Scotts Miracle-Gro. Not only did they appear on-screen together, but the two were able to demonstrate their dance moves. Eventually, however, Ella branched out on her own.
Ella was cast in a campaign for Silk milk, where she sported a milk mustache. This was a spin on the famous "Got Milk" campaign from years earlier that featured her mother, Kelly Preston. Even though he wasn't working with his daughter this time, John was still on-hand for the shoot. "He's my biggest fan and I'm his biggest fan, so there's a lot of support going on," Ella told Parade in March.
Not only did Ella land ad-work, but she also nabbed her first role in a film that did not feature her dad. She was cast as the lead in "Get Lost," a modern, gritty retelling of "Alice in Wonderland." The film was shot in Budapest and Ella enjoyed not only the filming, but the travel. While speaking to Parade in March, "The Poison Rose" actor discussed the possibility of future projects. "There are some in the talks right now and definitely just still auditioning. I think that that's great practice," Ella said. Perhaps she will give John a call to be a co-star if she lands a massive part.