How Close Is Hayden Panettiere With Her Daughter Kaya?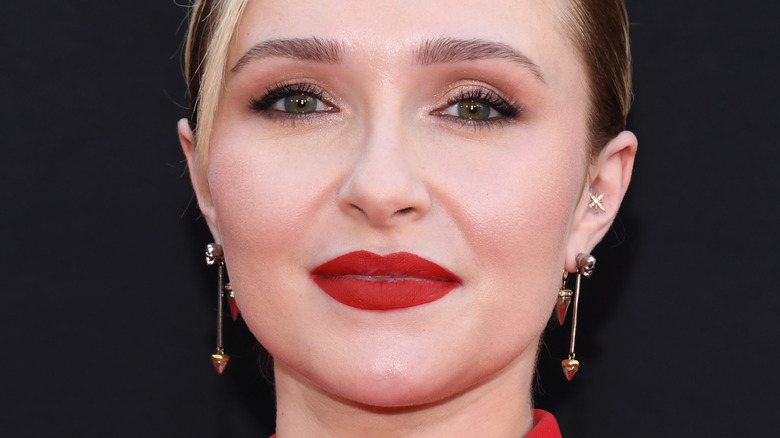 Jon Kopaloff/Getty Images
Hayden Panettiere has bravely spoken out about her unconventional relationship with her daughter, Kaya Evdokia Klitschko, over the years. The former "Heroes" star welcomed her only child into the world with her former fiancé, Ukrainian boxer Wladimir Klitschko, back in 2014 and the now-former couple couldn't hold back their excitement over becoming parents. "We are over the moon and madly in love!" the twosome told People shortly after their daughter's birth.
But, sadly, things have been pretty up and down between Panettiere and her daughter since then. Us Weekly reported in February 2019 that Panettiere hadn't spent a lot of time with her daughter after she split with Klitschko the year prior and Kaya moved with her dad to his native country of Ukraine. "She knows the child being with her is not best for [Kaya right now]. It's a sad situation," an insider claimed, citing the actor's unhealthy relationship with her now-former boyfriend Brian Hickerson as one of the reasons Panettiere hadn't been spending much quality time with her daughter. A source then told People in July 2019 that Panettiere was struggling being so far away from her daughter, though her lawyer clarified the mother/daughter duo still saw one another on a regular basis. 
But where exactly does Panettiere stand with Kaya today?
Hayden Panettiere called sending her daughter to live in another country 'the hardest thing'
In July 2022, Hayden Panettiere gave an update on her relationship with Kaya Klitschko, opening up about where they stand today while reflecting on the heartbreaking decision for her daughter to move thousands of miles away. "It was the hardest thing I could do. But the best thing for my daughter was to make sure she was okay, take care of myself and make sure I could be a good mom to her. And sometimes that means letting go," she confessed in a candid interview with People. The star revealed she'd just spent some time with her not-so-little girl (she admitted Kaya was set to be taller than her!) and noted, "She has a beautiful life ... She's just an amazing child. She's smart and she's funny and for whatever reason, she still loves me."
Panettiere's update came five months after she offered an insight into Kaya's well-being after fans shared their concern for her safety after Russia invaded Ukraine in February 2022. After a fan asked on Instagram if Kaya was okay, Panettiere noted that Kaya was "safe and not in Ukraine," but didn't share details on where her daughter was or who was taking care of her. As for her ex, Wladimir Klitschko, he shared a defiant message on social media in which he vowed to stay in the country and fight the Russian invaders.
Hayden Panettiere is planning some frank conversations with her daughter
Hayden Panettiere spoke more about her daughter, Kaya Klitschko, moving to Ukraine on "Red Table Talk" with Jada Pinkett Smith in September 2022, claiming she was under the impression that Kaya would be returning to the U.S. to be with her after spending some time with her dad. "I was gonna go work on myself and I was gonna get better, and when I got better that things could change and she could come to me and I could have my time with her. But that didn't happen," Panettiere said. The former "Nashville" star also shared her upset while suggesting she wasn't fully aware of the custody agreement she shared with Wladimir Klitschko.
But it sounds like Panettiere is doing much better when it comes to her relationship with her ex and daughter these days, as she told Women's Health in March 2023 she's already planning to get candid with Kaya by sharing her struggles with her when she's older. "[I'm] looking forward to the day where I get to have these conversations with her," the star admitted, proving she's still close with her daughter and plans to be for years to come. Panettiere has already been very frank with the world about what she's been through over the years, including experiencing postpartum depression following Kaya's birth.
If you or someone you know needs help with mental health, please contact the Crisis Text Line by texting HOME to 741741, call the National Alliance on Mental Illness helpline at 1-800-950-NAMI (6264), or visit the National Institute of Mental Health website.