Gracie Elliot Teefey: Selena Gomez's Little Sister Is Growing Up Fast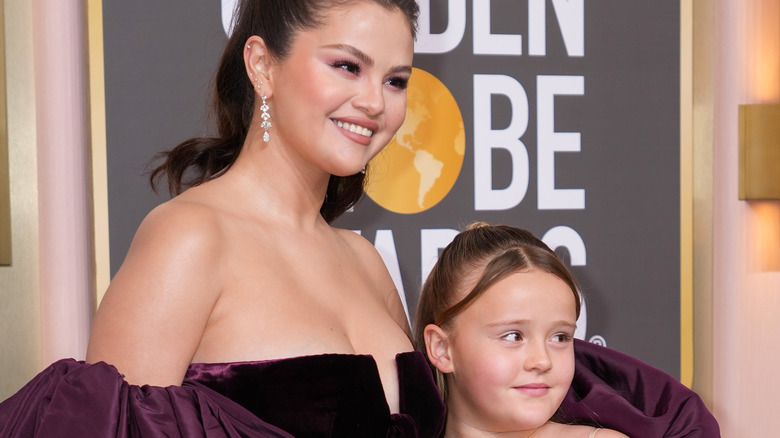 Kevin Mazur/Getty Images
It must be such a cool experience to have a famous sibling. A lot of the time in Hollywood, if one sibling is famous, the others are just by default. Maybe they're also actors or singers, or maybe they've delved into the land of influencers, kind of like Eminem's daughter, Hailie Jade. But for Selena Gomez's half-sister, Gracie Elliot Teefey, being well-known is just a part of the gig of being super close with your uber-famous older sister.
Selena has two half-sisters, actually: Victoria Gomez (the daughter of her father, Rick Gomez, and stepmother) and Gracie Elliot Teefey (the daughter of her mother, Mandy Teefey, and her stepfather). She also has a stepbrother, Marcus, from her stepmother. However, because Gracie grew up close by Selena and raised in the same house, at least until Selena moved out. How old is Gracie Elliot Teefey now and just how close is she to Selena still?
Selena Gomez's half-sister is over two decades younger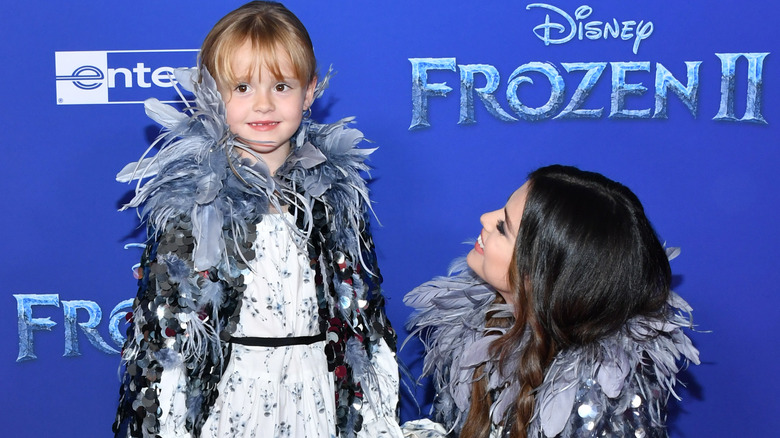 Amy Sussman/Getty Images
Selena Gomez's mom, Mandy, welcomed Gracie Elliot Teefey in June 2013 after marrying Gomez's stepfather, Brian Teefey. Gracie and Selena have a 21-year age gap, with the "Wizards of Waverly Place" alum taking on a caring role with Gracie, seemingly being very involved with her little sister's childhood and life. She posts Gracie on her social media often, like this heartwarming Instagram video from 2017. Her little sister says, "I'm not scared," and Gomez replies, "I know, because you're fearless, right? You're not scared of anything, right?" She wrote in the caption, "I will forever let my sister know she is strong, bold and beautiful," also writing that she encourages Gracie to "know her voice matters."
In 2019, Gomez's little sister made her debut red carpet appearance at only six years old at the premiere of "Frozen 2." Gracie and Gomez dressed in matching gowns and capes to keep within the princess theme, getting to take photos with characters from the movie. "Honestly, it was the coolest feeling," Gomez said on BBC One's show "Sounds." "I said to her, 'This is my favorite carpet I have ever done.'" Gomez also noted that any event she brings Gracie to is chosen by her little sister and is never forced. She also said that Gracie has "become very dramatic" and took charge on the red carpet.
Gracie Elliot Teefey is a typical little sister to Selena Gomez
But Gracie Elliot Teefey isn't the little girl who proudly accepts validation from her older sister anymore (at least not without a bit of attitude). Because now she's the kid who will flame Selena Gomez for not knowing how to make a TikTok. In 2021, Teefey told Gomez, "You embarrass me," when the "Naturally" singer couldn't figure the app out and longed for the days of only Snapchat. Gomez also told Vogue in December 2022 that her younger sister is already snooping through the goods in her closet. "I thought I'd have a little more time with my clothes, but that's just not the case," she said, probably hoping Gracie wouldn't become a blouse fiend until she was at least a teenager. But, lucky for Gomez, Teefey is getting a head start.
To maybe hinder Teefey from stealing, we mean borrowing, more clothes from Gomez, matching and coordinating are a must. The sisters wore somewhat coordinating dresses of pink to Gomez's 30th birthday bash in July 2022, as seen on Instagram. Teefey followed Gomez down the steps for her big entrance to create a tender moment. The next January, Gomez took her little sister as her guest to another red carpet, this time for the Golden Globes. The two have such a close bond, and it's sweet to see Gomez give Teefey so much care and attention.